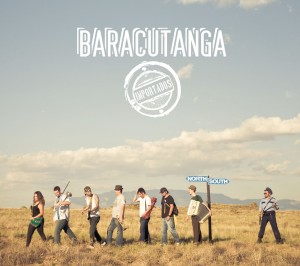 Baracutanga, Importados
A Review
You don't need to know a cumbia from a
festejo from a candombe to dig Importados, the first full-length album from Albuquerque's rhythm wizards, Baracutanga. A seven-piece band whose members come from as far north as Kansas and as far south as Bolivia, Baracutanga mixes South American rhythms in innovative ways, making unusual rhythmic combinations that might also include Middle Eastern and Cuban forms. They incorporate folkloric instruments, such as the quena, an Andean flute, and top it off with modern North American harmonies and instruments—electric guitar, vibes—to create a unique and highly danceable fusion.
The album's sheer musicality might come as a surprise to those who know the band only as a high-energy live act that fills the dance floor. Yes, you can play the album at high volume and dance till you drop, but you can also settle back in your easy chair and appreciate the
craftsmanship of the writing and arranging, the attention to detail, and the sonic textures. Recorded in four different studios in Albuquerque, Santa Fe, and Cadiz, Spain, the album
features more than 50 instruments and 25 musical styles, and just about every one of those
instruments and styles finds just the right place.
The 10 original tracks include some sharp cultural/political observations. There's the biting cumbia "Son de la condenada," a song about crossing the border that vocalist Jackie Zamora (Peru) describes perfectly as "tragic and danceable." The repeated figure played on the muted trumpet of Paul Gonzales (Albuquerque) in this tune is an inspired touch that deepens the tragedy. "Su Majestad la farsa" focuses on the often overlooked contributions of the
undocumented and other marginalized peoples. "Sangra Pachamama," which combines samba, reggae, and the Andean kullawada styles, speaks to Mother Earth's wounds.
The most fervently political tune on the album, the candombe "Deja de matar," pleads for an end to violence. Written in response to the killing of James Boyd by Albuquerque police, the song calls out to all citizens, police and civilians, in a cry of protest and hope. It effectively
incorporates Inner Circle's "Bad Boys" as well as a rap, in English, by guest poet Hakim Bellamy, winning the 2015 New Mexico Music Award for best original arrangement.
The cultural/political content owes much to Kilko Paz (charanga, surdos, drum kit, cajón). Son of famed Bolivian activist Silvia Rivera Cusicanqui, his name appears in the writing credits for all but two of the tunes.
There are also love songs, such as the lilting samba "Paixao" and the Afro-Peruvian landó
"Peregrina;" a cooking song, the chacarera "Te llama mi tambor;" and the mesmeric festejo with Cuban batá "Pasaporte," which chronicles Zamora's sadness when the stamp hit her passport as she departed from her native Peru to return to the United States. (She wrote the lyrics on the flight back, and she feared they might be her last: turbulence threatened to bring the flight to a violent end.)
Then, there are tunes that are just for sheer pleasure. "Finding Memo," a salsa party tune that features a montuno on the vibes, played by percussionist Nick Baker (Kansas City). Throughout the album, his vibes often provide a melodic rhythmic foundation for complex syncopated structures. Baker and Gonzales are largely responsible for the modern North American
elements in the album's music, with help from Randy Sanchez (guitar and Cuban tres) and
Micah Hood (trombone), both from Texas.
The exuberant "Rumba de Burque," which won the New Mexico Music Awards Albuquerque Song Competition, extols the city's virtues, and it showcases the tight, expressive, rhythmically deft bass of Carlos Noboa (Ecuador).
Some of the rhythms and acoustic instruments may have deep folkloric roots, but on
Importados, Baracutanga writes and performs with a brash confidence that is electric and
wholly modern.
© 2015 Mel Minter. All rights reserved.