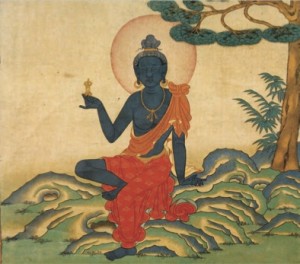 Louie Belogenis's Blue Buddha, Blue
Buddha (Tzadik Records)
A Review
On Blue Buddha (Tzadik Records), Louie
Belogenis, the free-blowing Buddhist
saxophonist, teams up with Dave Douglas, the shape-shifting trumpeter, to embark on a what is billed as a sort of spiritual ceremony,
supported by the luminous, effects-driven electric bass of Bill Laswell and the spacious, clean, intense drumming of Tyshawn Sorey.
You won't come away from this one whistling a catchy melody because it's not about melody. Its seven tracks are about the interplay among the musicians, who all get writing credits in this freely improvised session, recorded on February 27. The rhythmic/melodic ideas flow freely, and Belogenis and Douglas seem to have a strong connection, responding to and enlarging one
another's thoughts, often at an extremely high tempo.
"Purification," opens the album with a deep breath that's held, then released in a long
exhalation. Belogenis and Douglas know that both water and fire purify, and the listener gets both. Belogenis's sax has a healing quality to its sound that recalls late Coltrane, and Douglas harnesses his horn to the task. The tattoo of Sorey's drumming and the ambience of Laswell's bass, which at times sounds more like an organ, anchor the free movement.
Belogenis maintains that he aims for peacefulness, but it is an often harsh and furious peace that at times feels like a sonic assault on the third eye, as in "Wrathful Compassion" and "Double Dorje." One moment stands out in the latter tumultuous track: a single delicate tone, struck from the bell of a cymbal, that Sorey joyously places in one suddenly quiet space. The entire track turns on that moment. Throughout the album, Sorey has a composer's ear for the right sound at the right place.
Both "Renunciation" and "Truth of Cessation" aim for healing, with Belogenis and Douglas
reaching for spiritual plateaus through the most visceral sounds their instruments can
generate. Similarly, the closing track, "Lineage," finds Belogenis and Sorey feverishly picking at the lock that blocks the way to an expanded spiritual reality.
The visceral abstractions of Blue Buddha sear the ears with a spiritual fire that may burn too hotly for comfortable listening. It is an uneasy experience with moments of wonder, a spiritual shock-and-awe ceremony.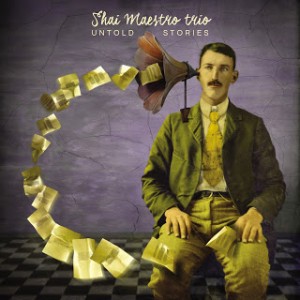 Shai Maestro Trio, Untold Stories (Motema Music)
A Review
Untold Stories (Motema Music), the third recording from pianist Shai Maestro's trio and the first to come to my ears, may be an
imperfect effort, but Maestro delivers
moments of arresting beauty and gives us glimpses of a singular sensibility and unique compositional voice. There's a keen artistic
intelligence at work at the piano, searching for simple clarity and often achieving a
luminous transparency that opens the ear to the music. The eight tracks, all composed by Maestro (with bassist Jorge Roeder and drummer Ziv Ravitz also getting credit on one), are equally divided between studio and live recordings.
Maestro's delicate opening on the first track, "Maya's Song," has the simplicity of a nursery rhyme, and it quickly introduces a tricky, syncopated figure on the left hand that is elaborated by both Roeder and Ravitz. The right hand states the theme over the increasingly dense and
urgent motive in the left as the piece expands into a section that reveals its Spanish/Sephardic roots. A lively bass solo gives way to a muscular but nimble piano solo that swells in triumph. Maestro then reintroduces the syncopated figure on his left to bring the tune back home. The listener is carried effortlessly along as though on a wave. The ride is smooth, but there is always the sense of a powerful, unseen propulsive force that sustains the movement.
"When You Stop Seeing," counters that propulsion with a reflective, thoughtful statement whose inspiration comes from the image of a floating transparent bubble that appears in a poem
written by a friend of Maestro. The pianist finds a sonic equivalent in chords constructed out of fifths, and he carries the theme to an anthemic pitch. The final moments of the piece are
introduced and defined by two breathtaking chords that are as unexpected as they are
beautiful—and worth the full price of admission.
Maestro makes use of cycling structures to good effect throughout the album, though
occasionally, as on the track "Elusive," the line between mesmerized and bored can get a little thin. This same tune suffers from a mix that brings the drum way too high, a problem that plagues several other tracks, as well. On "Elusive," the thump and clack of the drummer
interrupts the delicate, flowing line of the piano, and while there was no doubt an artistic
intention at work here, the result is not successful for this listener. On "Treeology," recorded live, the drum kit is divided, with some elements placed in the left channel and others in the right. It's a distracting and unnecessary overproduction that violates the dynamics of a concert performance.
Those complaints aside, Untold Stories tells us that Maestro is a pianist and composer coming into his own. This clear-eyed romantic may not have found his voice quite yet, but he will, and his search illuminates everything it touches.
© 2015 Mel Minter. All rights reserved.