In the interest of getting the word out on several albums, here are three short reviews for your reading pleasure.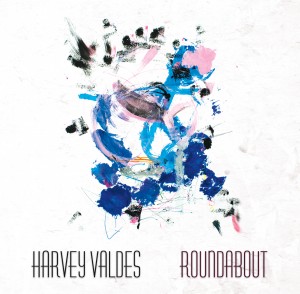 Harvey Valdes, Roundabout (indie)
Guitarist Harvey Valdes presents a take-no-prisoners improvisational approach on his solo release, Roundabout, whose nine tracks find him not just improvising on tunes, but
remaking them. His tone is rich, his finger-playing clean and unhurried, and he uses multiple voices, counterpoint,
reharmonization, free association, and a very elastic sense of time to give full expression to his thoughts. The tracks are sturdy, abstract musical journeys—even his sense of swing is abstract—but Valdes' strong spatial
consciousness and sensitivity to timbre carry an emotional charge. The songs include familiar standards such as "How Deep Is the Ocean," "Stella by Starlight," "You Stepped Out of a Dream," "All the Things You Are," as well as Miles Davis's "Blue in Green" and Dave Brubeck's "In Your Own Sweet Way," and these familiar melodies all but evaporate under Valdes' improvisational approach, appearing only fleetingly. His inventions, however, occasionally attenuate and, in conspiracy with his plastic sense of time, can leave the listener searching for solid ground. At his best, though, Valdes carries the listener thoughtfully along on his adventurous inventions.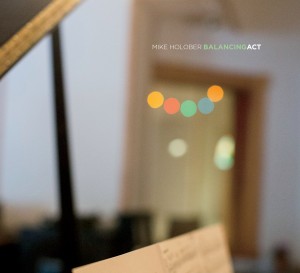 Mike Holober, Balancing Act (Palmetto Records)
When pianist/arranger/composer Mike Holober needed a break from his work with big bands such as the Westchester Jazz
Orchestra, Gotham Jazz Orchestra, HR Big Band, and WDR Big Band, he decided to take a busman's holiday and put together a small big band, the eponymous octet Balancing Act. The heavyweights include Kate McGarry (voice), Marvin Stamm (trumpet, flugelhorn), Dick Oatts, (alto and soprano sax, flute), Jason Rigby (tenor sax, clarinet, bass clarinet), Mark Patterson (trombone), John Hebert (bass), and Brian Blade (drums). The eight beautifully arranged tracks include five Holober originals (four with lyrics) and one from Rigby, matched with a complete reimagination of "Piece of My Heart" that makes one ponder the masochistic nature of the lyrics, and Billy Joel's "Lullabye: Goodnight My Angel." The performances
throughout are top drawer, approaching the rhapsodic at several turns, including Rigby's
soloing on the first track, Holober's urgently swinging "Book of Sighs;" Hebert on Rigby's "Idris," an homage to New Orleans drummer Idris Muhammad that also features Louisiana native son Blade; and Oatts on Holober's "Canyon." McGarry's voice, which has a permanent and beautiful ache caught in it, is used effectively throughout as an instrument. The centerpiece is Holober's "Grace at Sea," whose open harmonic structure invites invention. Grace is a boat, and you can hear the wind and the slap of the waves against her hull. Patterson harnesses his solo to the composition, developing an organic statement rather than just blasting away. In fact, all the
solos on the album exhibit that fine quality. Holober's fluid playing exhibits a refined sensitivity, and his comping on "Idris" delivers both structure and propulsion. He paints with sound, and he has deftly used the colors and textures these fine musicians provide to produce a satisfying
collection of interior ("Book of Sighs," "When There were Trains") and exterior ("Grace at Sea," "Canyon") landscapes.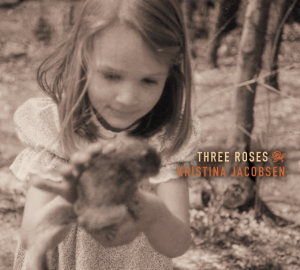 Kristina Jacobsen, Three Roses (indie)
How a kid from Great Barrington,
Massachusetts, came to play country music in a Navajo family band and go on to become a Ph.D. ethnomusicologist and the leader of an all-female honky-tonk band is a story I will pursue elsewhere. For now, let's just say that Kristina Jacobsen's first album, Three Roses, proves that she is a certified country singer/songwriter who couldn't be more
authentic if she had been born backstage at the Louisiana Hayride in Shreveport, a
program that she celebrates in a song of the same name. She delivers her 11 originals in a yodeling alto that can warm your heart, bite off a searing denunciation, or celebrate good times with equal fervor. The songs revolve, for the most part, around family, both blood and chosen, and she is especially adept at portraits. "Long Returning Road," written with Janni Littlepage, was inspired by the lives of two female ancestors whose dreams were torpedoed by life's realities. "Inez" paints a Navajo woman—"A Latter Day Saint, but she drinks pop and whisky"—who's been beaten down but not conquered. "Has-Been Cowboy" flips off a man turned into a bitter bully with a limp. "Dogs and Children" delivers a startling simile that compares an abused dog with its owner: "Like her, he's a carcass on a chain." "White Knuckles" tells of a successful woman's emotional dislocation, and how her
infant's white knuckles grasping her finger relax her own frozen grip on anxiety. There's grit, dust, desolation, and abandonment—hey, it's country music—and love and redemption enough to make up for it. Jacobsen, who plays guitar and lap steel, is backed by a fine group of
musicians, and they help her, as she says in her song "Ms. Loretta Lynn," "sing it sassy . . . sing it downright brassy." (The album release party for Three Roses will be held on January 23, 2016, in Albuquerque. Contact kristinabiamusic@gmail.com for info.)
© 2015 Mel Minter. All rights reserved.