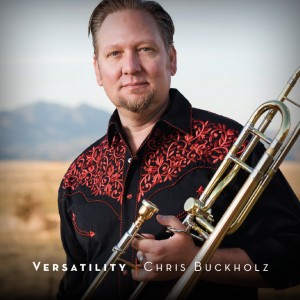 Chris Buckholz, Versatility (indie)
A Review
Trombonist Chris Buckholz christened his double album Versatility because it showcases his indisputable ability to live comfortably in both the jazz and classical worlds—something widely and apparently incorrectly considered impossible by musical pundits. He might just as well have named it Virtuosity, because that quality is on display in every track—and
always in the service of the music, not his ego. Add Buckholz's scholarship, curiosity, humor, and respect for the material, and you have the ingredients for a satisfying and diverse collection of music that stretches from the 17th to the 21st century.
Buckholz has two previous releases, the 2006 jazz album Muse and the 2012 classical album A la Albéniz, which, he claims, make him the first trombonist to release both a solo jazz album and a solo classical album. With Versatility, he is also likely the first to release a solo jazz-and-classical album.
Buckholz does not segregate the genres. He allows 19th-century band music by trombone
virtuoso Frederick Neil Innes (1854–1926) to reside next to Jerome Kern's "All the Things You Are," delivered at a blistering tempo by a jazz quartet; a recent samba by Robert Paul Washut, Jr., performed with a full jazz band, to groove alongside a 17th-century oboe concerto by
Albinoni, recast as a trombone sonata; and the "Aria et Polonaise, Opus 128," of Joseph Jongen (1873–1953) to rub shoulders with an avant-garde original, "Improvisation No. 1," one of the most entertaining and technically stunning performances on the album. Buckholz's careful
sequencing makes for smooth transitions between styles and centuries, and his informative
liner notes enhance the experience.
A number of highly capable supporting players and aggregations make it possible for Buckholz to wander all over the musical map. He relies on pianist Sean Botkin on several trombone/piano duos. Three small combos featuring top New Mexican players enliven the jazz and Latin
numbers, and the UNM Jazz Band I, under the direction of saxophonist Glenn Kostur, and UNM Wind Symphony, under Eric Rombach-Hall's direction, expand the musical palette on three numbers.
One of the wind band numbers is Innes's charming "The Sea-Shells Waltz." Though written in 1880, it was never published. Some detective work by Buckholz unearthed a recording by
trombonist Leo Zimmerman (1866–1935) in the Library of Congress, from which Buckholz
produced a piano reduction. He found handwritten parts, dated 1906, in the U.S. Marine Band Library, from which, with help from the Zimmerman recordings, he arranged the edition
performed on the album. This version will be published by Cherry Classic Editions next year—136 years after the piece was composed.
Buckholz also provides the first recording for trombone and piano of Arthur Frackenpohl's (b. 1924) lovely "Pastorale," originally written for cello and piano.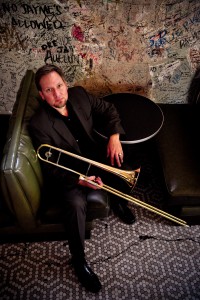 Buckholz possesses both the musical sensibility and the
technical virtuosity to produce the right tone for each piece. On the Albinoni, for example, he finds the rounded sound and the stately cadence appropriate to the baroque, while on his sterling composition "The Avenue," an homage to Art Blakey, he uses a flatter, darker, rakish tone and swings
easily. This track, listed at a running time of 2:55 on the cover, actually comes in almost 12 minutes longer. Thank goodness, because it makes room for swinging solos from Buckholz, Kostur, trumpeter Paul Gonzales, pianist Stu MacAskie, bassist Colin Deuble, and drummer Arnaldo Acosta—with the rhythm section in complete control of your tapping foot. (Only one piece on the two discs misses the mark: Buckholz's "Descarga," which imprisons Acosta behind bar after bar of a monotonous rhythmic figure too high up in the mix.)
Whatever the genre, Buckholz's lithe virility, intellectual rigor, and nuanced emotion illuminate the music and the listener.
© 2015 Mel Minter. All rights reserved.