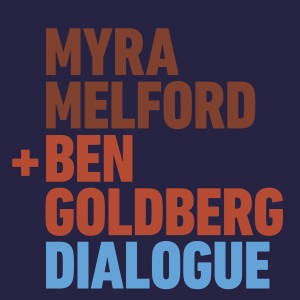 Dialogue, Myra Melford and Ben Goldberg (BAG Production Records)
A Review
Pianist/composer Myra Melford and
clarinetist/composer Ben Goldberg engage in serious play on their first-ever duo release, Dialogue (BAG Production Records). Serious, but never solemn, and always with a playful disregard for the orthodox.
The two share several characteristics that have allowed them to contribute as a
sideman in each other's projects and that also make for an electric pairing. First, there is the absolute command of their instruments that
supports a fearless confidence, a willingness to take corners on two wheels and to see just how far they can tip this thing over without crashing.
Second is their love of the blues, and while the form may be radically altered, its grounding presence is usually close at hand. Both Melford and Goldberg seemed to have internalized the blues to such an extent that it perfumes almost every composition or improvisational line. Just about everything they do centers on their respect for it and for the almost 100 years of jazz that have preceded them—however wide their orbit might be.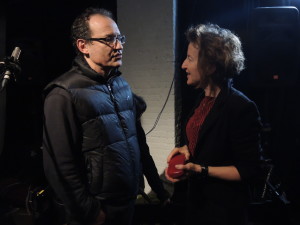 Third, whatever other influences they may have absorbed, both have walked through a door that was first opened by Thelonious Monk, another fellow who had thoroughly absorbed the blues. It's not that they imitate Monk, though Melford does occasionally wring overtones out of her instrument in a Monk-like way, as on her composition "Moonless Night." They have their own distinctive voices, but they have expanded on Monk's idiosyncratic yet steel-trap-logical harmonic conception, his love of melody, his rhythmic displacements, and particularly for Melford, his fascination with little motive kernels of sound. (I don't know where Melford might have contracted the Monk virus, but Goldberg did study with Monk disciple Steve Lacey.)
The shared characteristics are offset by a very different feel that each has for the music.
Perhaps it has to do with the nature of their respective instruments or of their respective
temperaments—or both. Melford, however abstract her music might get, remains passionately concrete, physical. Goldberg, however visceral he might get, carries an almost Buddhist-like
detachment, a sort of calm at the center of the improvisational storm. That's not to say that he is short on feeling. Detachment requires passionate commitment.
The compositions include spare
abstractions, such as Melford's "Miniature," which features a flutelike line on the
clarinet against wide-spaced tones from the piano. The darting agitation of "The Kitchen," another Melford composition, showcases the collaborative independence of her hands. Sometimes they are
sequentially connected in an extended melodic line, and at other times they are playing contrasting lines simultaneously, trading foreground and background roles. Churning block chords under a flighty clarinet in her "City of Illusion" lead to a funky vamp and a blues resolution.
Goldberg's "Your Life Here" and "Passing Phase," with their long lines, carry an assured sense that everything will be all right. It's not Pollyanna-ish optimism that he offers, but a comforting conviction. His gentle song "Anymore," which has a tasty New Orleans feel, is looking for lyrics (and
almost quotes "I'll Be Seeing You" along the way). His "1 through 8" and "9 + 5" frolics both feature unison playing on characteristically complex lines, and the latter includes a common Monk fragment almost a minute into the tune.
Dialogue offers two masters at work on a high wire. Playful, adventurous, ruminative, celebratory—it touches on a wide range of emotions, incorporates a variety of styles, and seriously refuses to take itself too seriously.
© 2016 Mel Minter. All rights reserved.