Reviews of new albums from pianists who started on different instruments—Marc Copland on sax, Florian Hoefner on trumpet—celebrate their decision to move to the keyboard.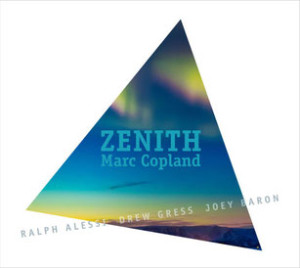 Zenith, Marc Copland (innerVoice Jazz)
Marc Copland knocked me out when he
appeared at the Outpost last year in John Abercrombie's quartet. He was so keyed into what the moment needed from him, and he delivered it with passion, humor, touch, and a killer rhythmic instinct. So I jumped on the
opportunity to review his new release, Zenith (on his new label, innerVoice Jazz) when it
appeared in the mailbox. Featuring Ralph Alessi (trumpet), Drew Gress (bass), and Joey Baron (drums), Zenith finds Copland at the—wait for it—summit of his abilities.
Both Copland and Alessi, colorists at heart, excel at painting abstract sonic atmospheres, and Copland's broad harmonic palette gives them plenty of room to stretch out. Copland takes the writing credit for four of the six tracks, with the three-part "Air We've Never Breathed," ascribed to the entire quartet, and Duke Ellington's "Mystery Song" rounding out the selections. Copland explores and exploits harmonies that, however unexpected, hit just the right notes. If harmony had a pocket, he'd be deep in it. As it is, he is deep in the rhythmic pocket when comping under Alessi's solos, finding the right accents harmonically and otherwise.
Alessi never wastes a note. His spare, lyrical stylings are freighted with emotion. Just check out the heartbreaking line in his solo in the final part of "Air We've Never Breathed." On that same track, Baron takes a hold-your-breath solo on the cymbals alone. "Timbre timbre timbre"—the musical equivalent of "Location location location"—might be the axiom for these four guys.
Gress and Baron are beautifully matched, finding just the right measure of swing and funk that a tune demands—from the
easygoing swing on "Sun at Zenith" to the edgy, exhilarating boil of "Waterfalls" to the high simmer under "Mystery Song." Check out the opening on this track, where Gress and Baron set up contrasting rhythmic
figures that seem mismatched at first but slowly and magically lock together in a deeply swinging groove.
Beautifully recorded, mixed, and mastered by Katsuhiko Naito, Zenith offers up a
quartet that seems to beat with one heart and is well acquainted with the thrilling sensation of weightlessness.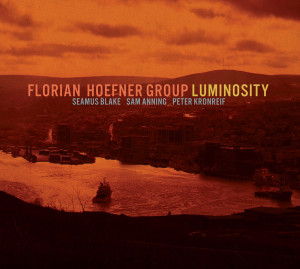 Luminosity, Florian Hoefner Group (Origin Records)
German-born pianist Florian Hoefner's third release as a leader—and my first encounter with him—Luminosity (Origin Records) reveals a thoughtful composer who revels in finding original ways of getting from point A to point B and beyond. Winner of the ASCAP Young Composer Award in both 2010 and 2011, he sets himself compositional challenges that, Houdini-like, he overcomes.
Take "The Narrows," the opening track and one of the more subdued and beautiful of the album's eight originals. As explained in the notes, Hoefner compresses the entire composition within the space of an octave, requiring the
ensemble's highest and lowest notes to stay within that interval. It's a limitation that the
quartet, which includes Seamus Blake on saxophones, Sam Anning on bass, and Peter Kronreif on drums, overcomes with aplomb. On "Newfound Jig," the album's liveliest track, Hoefner transforms a traditional Irish tune into a romping burner over what he calls a "non-generic 12/8 groove." "Circles" recirculates a 24-beat cycle, and "The Bottom Line" fuses the tenor sax and bass into a unison line. "Elements" finds a rhythmic and harmonic inflection halfway through the form that gives the soloists full rein and forces the group to head home poste-haste.
Hoefner gives the musicians more than a simple lead sheet. He hands them detailed parts, even down to sketching out the groove for the drummer. This allows him great control over the shape of the music, whose architecture is rock solid, and it does not inhibit the musicians. For proof, just give an ear to Blake's ferocious
presence, which animates every track. He can turn a melody inside out and upside down, blow it apart, and put it all back
together. (Humpty-Dumpty would have benefited from his skills.) Anning and
Kronreif keep everything well anchored, with a hint of rock's insistent beat.
Hoefner himself spins long, clean lines on his improvisations that ripple with unexpected
voicings in the left hand and rhythmic surprises. His poignant solo on the closing track, "The North Country," is especially satisfying.
Luminosity is complex but fully accessible jazz, and as satisfying as it is, something tells me that Florian Hoefner has just begun to find his voice. That bodes well for our listening future.
© 2016 Mel Minter. All rights reserved.