Short reviews of the latest releases from these masters.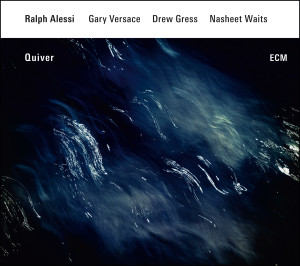 Quiver, Ralph Alessi (ECM Records)
Ralph Alessi carves sound the way a hawk carves the air, gliding, soaring, riding thermals—then a sudden turn and swoop when a target presents itself. In Alessi's case, the target is typically a moment of heart-swelling lyricism that steals your breath. Alessi is joined by pianist Gary Versace, bassist Drew Gress, and drummer Nasheet Waits, and you can only marvel at their communication. Waits and Alessi in particular seem to have reserved a unique a telepathic pathway. The 10 original compositions more often suggest a harmonic center than actually declare one, providing tremendous improvisational latitude, which is not abused. There's a quiet urgency to the entire album, and an impressionistic palette and a lightness of touch informs every track. Alessi is a master of color, and he uses a wide range of timbres. "Shush" opens with the trumpet sounding squeezed and claustrophobic, and Alessi opens it up through a seven-minute journey. "Heist" has something ecclesiastical in the sound and in the opening line. Speaking of lines, Alessi writes incredibly long and complex lines that sound more improvisational than composed, and only unison playing betrays their true character. Quiver requires quiet concentration from the listener and rewards it amply.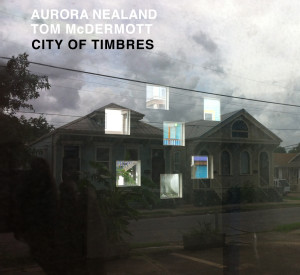 City of Timbres, Tom McDermott and Aurora Nealand (indie)
It's no secret that pianist/composer Tom McDermott ranks high on my list of favorites, thanks to his infectious rhythms, dazzling double-jointed pianism, subversive humor, and devil-may-care improvisational derring-do. His singular compositional voice blends disparate elements—say, James Booker and Chopin—and evinces a high regard for the Americas' syncopated rhythms, a deep knowledge of historic forms, and where appropriate, an antic disregard for propriety. All of that is on display on City of Timbres, on which he conspires with the similarly adventurous Aurora Nealand (vocals, soprano sax, clarinet, and more), with percussive contributions from Michael Skinkus. Nealand's unapologetically raw, animal sound on clarinet and the un-self-conscious tinge of girlishness in her down-and-dirty vocals heat up the blood. The album includes New Orleans and jazz standards, originals from both McDermott and Nealand, a Tom Waits cover, and a Cuban tune with a rakish McDermott vocal. Among the standouts are the multitracked Nealand solo on "Memory Made and Mistook," which conjures the Pogues collaborating with Phillip Glass; the layered electro-acoustic madness of "Four Hands Are Louder Than Two," on which McDermott plays mad scientist; the centrifugal dreaminess of McDermott's "Opulence;" and his tender solo "A Valsa Entre Quartos."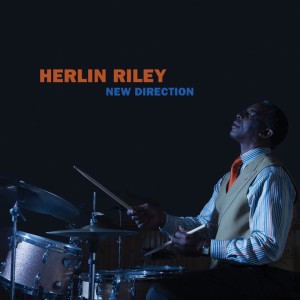 New Direction, Herlin Riley (Mack Avenue Records)
If you need to know the time, just ask virtuoso drummer Herlin Riley. He's unfailingly right on it. On New Direction (Mack Avenue Records), he puts together an able quintet with four young cats: Bruce Harris (trumpet), the only one older than 30; Godwin Louis (saxes); Emmet Cohen (piano), who contributes two strong originals; and Russell Hall (bass). Guests include Mark Whitfield (guitar) and the inimitable percussionist Pedrito Martinez. Excepting the traditional "Tootie Ma," with Riley on tambourine and vocals, and Cohen's tunes, the 10-track album is devoted to Riley originals. The opening, title track is a bit of a genre salad, with the musicians not quite on the same page, and the first couple of compositions are a bit heavy on earnestness, but things settle in quickly after that. Two tracks, "Cross Bar" and "Connection to Congo Square," feature Martinez and Riley in flat-out astonishing drumming. Harris and Louis shine throughout, and Hall contributes especially nice work on the "Congo Square" number. New Orleans' second line rhythms flavor everything Riley does, even when they're not specifically present. He is a surprising rhythm machine of exceptional dexterity and power, and his double-stroke rolls alone are worth the price of admission.
© 2016 Mel Minter. All rights reserved.