Epicenter (Clean Feed Records ), the recent impressive release from bassist/composer Chris Lightcap's Bigmouth, offers a sonic love letter to New York City, with ferocious references to the city's raunchy rock 'n' roll history ("Down East") to delicate love songs that recall tender moments in Lightcap's personal history ("Arthur Avenue"). Along the way, the composer tips his hat to a wide range of influences that stretches from Velvet Underground to Ornette Coleman, and his layered compositions are ably fulfilled by Bigmouth's sterling personnel—Chris Cheek and Tony Malaby (tenor saxes), Craig Taborn (Wurlitzer electric piano, piano, organ), and Gerald Cleaver (drums, percussion).
This Thursday at the Outpost, this stellar quintet, touring in support of the new release, will grab you by your musical lapels for a tour up and down the boroughs and byways of New York City.
A New York State of Mind
Epicenter, released in March 2015 and finding its way to 20 or so "best of" lists for the year, began life as New York: Lost and Found, a project commissioned by Chamber Music of America on a New Jazz Works grant. The project's seven compositions were inspired by various cultural touchstones and landmarks in Lightcap's adopted city.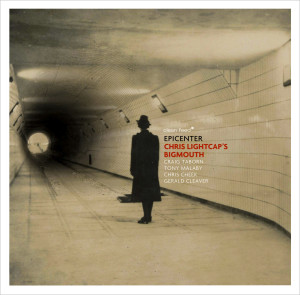 New York City had been a huge cultural inspiration for Lightcap when he was attending Williams College up in the Berkshires. Books and movies about the city—he reels off a short list in a phone interview from his home in Windsor Terrace, Brooklyn: Catcher in the Rye, Mean Streets, The Panic in Needle Park, Shadows, and Killer's Kiss—charged his imagination, and then, of course, there was the music. He traveled down to the city a couple of times a month to play unpaid gigs with friends.
Prior to this project, Lightcap had never attempted to write to a single overarching theme or narrative, and actually shied away from that concept. "So I thought maybe I'll just try to challenge myself a little bit and work along those lines," he says.
As it turned out, the approach actually helped him in structuring the music. "It helped me get my hands around what kind of choices to make musically," says Lightcap. "I had a really great composition teacher in college who taught me early on that a big part of the challenge in writing music is what to write. Once you start writing, just write one thing, one idea—it doesn't matter what it is—and then suddenly you have choices, and it gets easier and easier. So this is another thing to give me choices."
Composing for an Improvising Ensemble
Epicenter opens with "Nine South," which references the highway that Lightcap took on his trips into the city. It's propelled by a rapid, repeating line on the Wurlitzer that has an almost calliope quality. Called "the lactic acid line" by Matt Mitchell, the first pianist to play it, this tortuous and torturous line is balanced by the two saxes playing harmony parts in long tones at a relaxed pace, setting up a compelling tension. It's a technique that Lightcap uses to good effect in several of the compositions. ("Well, you just gave away my whole compositional approach, man. Thanks a lot," Lightcap complains mock-seriously when I mention this to him.)
Of course, it's just one of many approaches Lightcap employs, but they all work to create a balance and clarity in the sound. "I like writing where you can really hear the sound of the instruments and orchestrate, and I really like to think contrapuntally," he says. "There's a lot of just basic nuts and bolts, practical types of decisions you have to make when you're putting together music for a band."
What a band it is. Each member leads his own ensembles, and all are as comfortable in the straight-ahead world as in avant-garde circles. Lightcap calls them "fearless improvisers, always pushing the boundaries of what they can do, but who also have that ability to be musical and be team players and balance those two things so well."
To accommodate these players, Lightcap writes "in a way that's more flexible and modular by design, where you can move things around," he says. It helps keep the material fresh, elevates the potential for surprises, and strengthens the ensemble character of the music.
Rock 'n' Roll
Lightcap's huge bass sound and his deep groove has anchored the music of a long list of jazz luminaries. He's played in Matt Wilson's acclaimed quartet since 1998 and with Regina Carter since 2000, passing through Albuquerque with both in recent years. However, it was rock 'n' roll that first got this Latrobe, Pennsylvania, native excited about music, and in Bigmouth, that influence can be heard clearly.
The hammering piano on "Down East" is an homage to Velvet Underground's "I'm Waiting for the Man," from the seminal album Velvet Underground and Nico. The final track on Epicenter, a piece not included in the New York: Lost and Found project, is a wild ride on another tune from that same album, "All Tomorrow's Parties." It is free, swinging, and anthemic all at once, and there is no rock 'n' roll band in the world that could come close to the intensity generated by Chris Lightcap's Bigmouth on this one.
Chris Lightcap's Bigmouth
Thursday, March 31, at 7:30 p.m.
Weil Hall at the Outpost Performance Space
210 Yale SE, Albuquerque
Tickets $20 general/$15 members and students
For tickets or more information, go here or call 505-268-0044.
© 2016 Mel Minter. All rights reserved.