Real Midnight, the new release from Birds of Chicago—the collective of musicians that centers on the peripatetic singer/songwriters J.T. Nero and Allison Russell—demonstrates that words and music put together in just the right way can melt hearts, heal wounds, and stiffen backbones. Again and again on Real Midnight, Nero and Russell, who will be in concert in Santa Fe and Albuquerque this week, manage to snare big feelings in the tiniest details ("He can see her now he can see her now/Sunlight through her camisole"), memorialize hallowed moments of youth in a handful of words ("We watched you fade/Dim star of the palisades/Drowning in the sun"), and celebrate truths that can make you shudder ("Nobody keeps anything/Nobody gets to keep anything/I'm trying to catch a feeling/I'm just trying to catch a feeling").
Their music has been called "secular gospel," and like gospel music and the blues, it acknowledges life's realities of loss, impermanence, and desperation but also finds in them the seeds of compassion, hope, and wisdom. They don't sugarcoat the grim realities, either ("Real midnight's gonna come/Real wolves at your door/With blood on their tongues"), nor do they deny the power of dreams ("I believe in harmony oh though I've never seen it/if my heart is beating you know I'm still dreaming").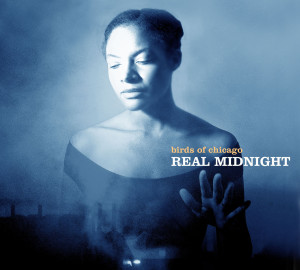 The album's idiosyncratic songs return time and again to young lovers now long gone, old memories of youthful exuberances, and involuntary regrets. The gritty, melancholic voices of Nero and Russell, whose timbres complete one another, plumb the mysteries with sweet harmony and a very capable backing band. Then, there's producer Joe Henry, whose masterful work with Solomon Burke at the end of that great singer's life foreshadows the heart-filling spareness of Real Midnight.
Nero and Russell welcomed their first child, Ida, onto the planet a couple of years ago now, and that event seems to have changed their perspective a bit. While they appear no less peripatetic, ever on the road from one town to another, they seem now to have a rearview mirror and a heightened sense of the potential for dangers ahead. Real Midnight recommends that you "hold on tight don't let your baby go" and find life's sweetness in the small, genuine moments that never leave you.
Birds of Chicago
Awna Teixeira Opens

Saturday, April 9, at 7:30 p.m.
at Skylight
139 W. San Francisco St., Santa Fe
Tickets $17 (advance)/$22 (day of show)
For tickets or more information, go here or to Hold My Ticket (112 2nd St. SW, Albuquerque), 505-886-1251.
Sunday, April 10, at 7:30 p.m.
at The Cooperage
7220 Lomas Blvd. NE, Albuquerque
Tickets $17 (advance)/$22 (day of show)
For tickets or more information, go here or to Hold My Ticket (112 2nd St. SW, Albuquerque), 505-886-1251.
© 2016 Mel Minter. All rights reserved.