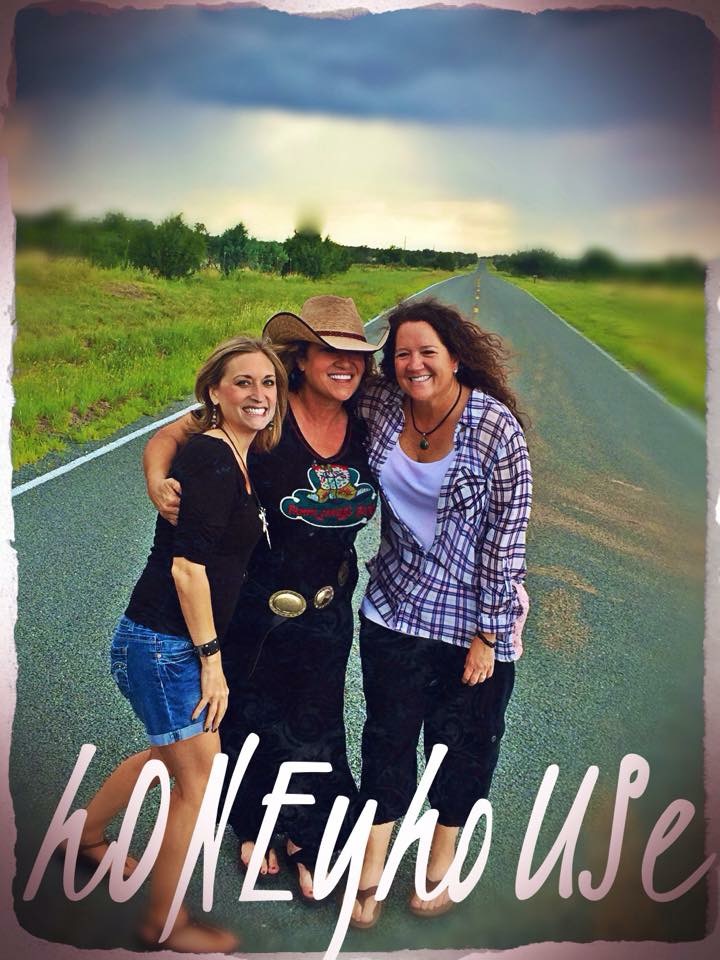 BACK FROM A SONGWRITING/RECORDING TRIP TO NASHVILLE, HONEYHOUSE GETS SET TO RECORD A LIVE ALBUM IN ALBUQUERQUE
If you see little red marks up and down the arms of Mandy Buchanan, Yvonne Perea, and Hillary Smith—collectively known as hONEyhoUSe—there's no need to be concerned. They're still pinching one another after a dream week in Nashville, where they opened for the Burrito Brothers at Douglas Corner Café, performed at the Blue Bird Café, and spent marathon songwriting sessions in the studio with award-winning luminaries on the Nashville scene.
Back home, they're preparing for two performances at the Outpost this Sunday, which will be recorded for a live album to be released this summer.
Dancing Their Way to Nashville
Last year at Michael Hearne's Big Barn Dance up in Taos, hONEyhoUSe caught the ear of singer/songwriter/producer Lari White, three-time Grammy winner and producer of Toby Keith's platinum-selling album White Trash with Money.
"She's just like, 'Hey, I need for you guys to be in my studio,' " says Smith. "We didn't really know what that meant. We were a little star-struck."
What it meant was, Y'all get on over here, and let's write some songs and record some demos.
"We really had no expectation," says Buchanan. "We were just going to go hang out with Lari and write with her, and we didn't really know what to expect." They thought they'd do some sightseeing and check out the music scene.
As it turned out, writing tunes with White was just the beginning. They contacted Jane Bach, a friend of Perea and a songwriter of number one tunes for Reba McEntire and Ray Price. Bach said she wanted a day in the studio with them. "And we said, 'OK,' " says Buchanan.
Then, White said she wanted them to write with Roxie Dean, another songwriter of number one tunes. "And we said, 'OK,' " says Buchanan, pitching her voice a little higher.
Then, Jody Maphis, a friend of hONEyhoUSe, asked if they'd like to open for his band, the Burrito Brothers. "And we said, 'OK,' " says Buchanan, pitched higher still. "And then the Blue Bird, and it was just like the whole week was full before we knew it."
Bach invited them to the studio of Duane Sciacqua, Glenn Frey's guitarist for 15 years, to record a demo of one of their songs. "I think Mandy jumped in Jane's lap when she said that," says Perea.
The sightseeing that hONEyhoUSe had intended to do had to go by the wayside as they became part of the music scene for a week.
What Goes Around . . .
hONEyhoUSe had some help on the trip from angels who helped with expenses, and as the opportunities grew during the week, so did the support.
"We don't expect anything, and we get the world from people who just care about us," says Perea, "and it surprises us and shocks us every single time."
People who care about hONEyhoUSe are just sending around what comes around. On the trip to Nashville, thanks to the support they had received from one angel in particular, the band was able to take along a good friend of Buchanan's, Tammy, who had recently and unexpectedly lost her husband.
As the band was sitting in the studio talking with Tammy about her experience, Perea was reminded of a guitar lick she had recorded on her phone back in September 2014 and named "This Will Be a Hit." She started playing the lick, and a song began to coalesce around Tammy's words and Perea's lick.
At the band's invitation, Bach jumped in to help on the song. "Jane, with her infinite wisdom of writing, went to town and was like 'This song is a blessing. This song is a blessing,' " says Perea.
"So it just kind of came together with Tammy there," says Smith. "She was just kind of giving us words and experiences. So because she was there, that song got done."
Titled "Like Stars Falling," the tune may well show up on the next hONEyhoUSe studio album, and with Bach behind it, it could get picked up by another artist.
Songwriting 101
The structured, deliberate songwriting approach of Bach—and of all the Nashville songwriters—was a lesson to hONEyhoUSe. Perea describes their approach as being more "granola." All three were grateful for the experience and the lessons learned.
White and Bach no doubt saw something special in hONEyhoUSe. Bach extended the songwriting sessions for three days, and White, too, insisted on several days in the studio, writing and recording. The session with Dean also produced good tunes—including one favorite titled "Catch Us."
"It's so validating," says Smith. "That we're being asked to collaborate with these kinds of writers that have had these kinds of successes and marketability—for us, that's like fairyland."
"Their teachings for us were invaluable," says Perea. "It was three different ways of going 'Oh!' 'Oh!' 'Oh!' "
The songwriting continued back in Albuquerque. Another new tune, "Promise Land," came together quickly one morning just 10 days ahead of the concert, where it may get its debut.
The Live Recording
In recent weeks, the band has been planning the concerts at the Outpost, trying to nail down what songs to perform and how long of an album to release and in what formats and under what title. Recording live is always a gamble because there are no do-overs: what you hear is what you get. But a live recording can also deliver juice that a dry studio recording cannot capture.
The band has played scores of house concerts, playing in intimate spaces to 60 to 100 people who deliver an immediate, tangible feedback that generates a special energy. "There's no separation," says Perea.
hONEyhoUSe wants to document that energy, and where better than the friendly confines of Weil Hall at the Outpost Performance Space, where they'll be joined by bassist Danielle Andrade and percussionist Dianne DeLeon.
So if you want to be part of the history of a band that is on the move, hie yourself over to the Outpost this Sunday. You are sure to hear fan favorites, and you're also likely to get treated to some tunes that have not yet been released.
hONEyhoUSe
Sunday, April 17, at 1:00–2:30 p.m. and 5:00–6:30 p.m.
Weil Hall at the Outpost Performance Space
210 Yale SE, Albuquerque
Tickets $25, general admission
For tickets, go here.
© 2016 Mel Minter. All rights reserved.