Clarinetist Bill Payne and pianist Carol Liebowitz found their way to pianist Connie Crothers along completely different but equally serendipitous paths, which crossed, metaphorically at least, in Crothers' studio. Their album Payne Lindal Liebowitz (New Artists Records, 2015), on which they are joined by violinist Eva Lindal, testifies to their preternaturally acute ears and their remarkable ability to collaborate on spontaneous compositions whose expressiveness and coherence equal that of any written work.
Taking a chance
Payne picked up the clarinet at age 10. He'd wanted to play the trumpet, but his uncle's old licorice stick was available, and Payne thought that would do just fine. As it turned out, he's ridden the clarinet all over the United States and Europe.
He started out with the Young Americans, an organization that brings music education and performance opportunities to young people, freelanced in Chicago, barnstormed around the country in the Russ Carlyle Orchestra, "playing sweet big band music in long forgotten ballrooms," as he says in his bio. On a lark, he headed off to New York, and when he ran out of money, he signed on with the Ringling Brothers Circus, staying with the circus for five years. He's played on cruise lines, in European circuses, in Broadway shows, and with a classical saxophone quartet, and toured with any number of name performers from Margaret Whiting to Kaye Ballard.
While on the road with Sugar Babies, Payne was chatting with the trombone player about jazz, and she told him to call Connie Crothers when he got home. "I didn't really know about Connie.
. . . The trombone player said, 'She's really great. She'll loosen up your playing. She studied with Lennie Tristano.' At that point in my life, I was open for anything, so I took a chance," Payne says.
No ticket needed
Classically trained at the High School of Performing Arts and NYU, Liebowitz encountered the music of Lennie Tristano in a jazz history course midway through college and was knocked out. Around the same time, she came across an ad placed by Connie Crothers in the Village Voice, offering lessons in spontaneous improvisation.
"I put it in my wallet, and I thought, 'When I finish college, I want to study jazz, and I'm going to call this person,' " she says.
A couple of years later, having graduated, Liebowitz was passing by the Carnegie Recital Hall and saw that Crothers would be performing there. Kismet. So at the appointed date and time, she showed up for the event, figuring that she'd easily get a ticket because the hall was never sold out for contemporary music.
"When I showed up—the biggest crowds right outside and in the lobby, and I could not get a ticket," she says. "I had no idea there was a scene, you know, that so many people studied with Lennie and Connie and other people associated with the scene. Luckily, the elevator guy snuck me in."
What she heard amazed her, and shortly thereafter, she placed the call to Crothers and began her study of jazz.
Hands, heart, and brain
The music that Payne, Lindal, and Liebowitz perform on their album makes you wonder if they aren't all playing to a secret shared melody or set of changes, so coherent and focused are the compositions. But they aren't doing that at all. They come to the performance equipped with hands, heart, and brain, and they trust to the creative connection they feel with one another to produce music with meaning.
"There's nothing we come prepared with," says Liebowitz.
"There's nothing preconceived at all," adds Payne.
The only sensible explanation, then, for this captivating and eloquent music is magic.
"It feels like magic when we're playing," says Liebowitz. "I love the personal sound of both Bill and Eva, and just hearing a note just thrills me, and it just goes from there."
"It goes places that we don't know it's going to go there, but that's where it goes," says Payne, who compares it to a lively conversation. "When we're talking together, we're not sitting there pondering about every word we're going to say. The words come out."
The first requirement is knowing your instrument, says Payne, and all of them are more than passing familiar with their instruments. Agile and expressive, they work every available sonority to communicate.
"Once you become natural, at one with your instrument, then it becomes like speaking," he says. You don't have to think about it. It just happens. Just like we're talking. Exactly the same thing."
"There's no thinking involved," Liebowitz adds.
And ears, too
There is listening, though, but a different sort of listening than in a verbal conversation between two people.
"Listening is totally essential," says Liebowitz.
"I think we work off each other, but it's not consciously," says Payne. "A lot of things happen that we never envision could happen."
"Things happen, and when we listen back, we're like, "Whoa, how did that happen?' " says Liebowitz.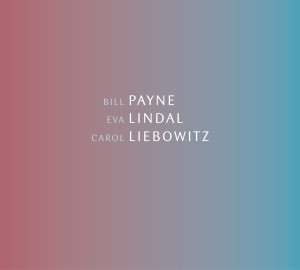 The composition "Blue Flame," for example, has three distinct sections, and all three of the musicians end each one together and start off together on the following section—as if it were written. They're following an unimpeded and unforced flow and intuitively discover stopping and starting points—just as they find meaningful and affecting interactions throughout.
That relaxed and intuitive approach allows the innate musicality of the players to blossom and generates some intensely lyrical moments. It also stimulates trust in a listener and pulls your ears into the music.
Listen this way
For those who are unfamiliar with improvised music—aka spontaneous composition, etc.—Payne has a suggestion for how to approach it.
He gave Payne Lindal Liebowitz to a coworker at his day job in Las Vegas, Nevada. "He's absolutely not into anything except like country and western, and rap, and he's a young guy, right?" says Payne.
The next day, the guy comes into work and asks, "Well, what kind of music is that?"
"It's improvised music," Payne says.
"Well, I don't understand it," his coworker says.
"Well, here's a good way to look at it," Payne explains. "If you just imagine the music as movie music—and you're the movie—you're set."
Just let it take you away, and it will.
Interlace I and II
Thursday and Friday, May 5 and 6, 7:30 p.m.
Weil Hall at the Outpost Performance Space
210 Yale SE, Albuquerque
Tickets $20, general admission/$15, members and students
$35, two-night pass/$25, two-night pass, members and students
For more info and tickets, go here or call 268-0044.
Program details can be found here.
© 2016 Mel Minter. All rights reserved.