The New Mexico Jazz Festival and the New Mexico Jazz Workshop's summer jazz and blues series bring stellar talent to town. This year we've got the likes of NEA Jazz Masters Dave Holland, Charles Lloyd, and Dr. Lonnie Smith just for starters at the festival, and Brian Lynch and Matt Savage are among the stars lighting up the NMJW series.
The festival and summer series also offer top-drawer musicians in New Mexico an opportunity to perform in listening rooms and on stages where their music does not have to compete with bar chatter and the clink of silverware on china. This three-part series features ear-worthy local (or formerly local) acts stepping into the spotlight in the coming weeks. First up is guitarist John Maestas (now residing in New Orleans), with his group Juán Tigre, with Stephen Lands (trumpet/vocals), Shea Pierre (keyboards), Max Moran (bass/vocals), and Alfred Jordan (drums).
From the 505 to the 504
Four years ago, guitarist John Maestas, a kinetic and headstrong young man who had already made a name for himself on the New Mexico music scene, decided to skip college and further his musical education and career outside of academia's walls in New Orleans.
"The people that I found myself listening to most and being inspired by most came from there," says Maestas. "I really really dug Allen Toussaint, I really dug Nicholas Payton, I really dug Louis Armstrong."
Also, says Maestas, New Orleans is the birthplace of the rhythm section. "I wanted to learn more about the craft and more about the function of my instrument, and how a rhythm section operates," he says. "I needed that."
In New Mexico, Maestas was leading jazz groups, and he found the expectations around that role somewhat confining. What's more, he didn't feel he was "well versed enough" to perform the role properly. New Orleans' free-floating musical scene, where a musician can move from one genre to another—from funk to trad jazz to metal to experimental to hip-hop to whatever—in the course of a single day appealed to his voracious appetite for new musical experiences.
The decision to head to the Big Easy has served him well. He's churning out prodigious amounts of music as a performer (leader and sideman), composer, producer, and record label owner. What's more, all of that music sounds nothing like anything you've heard from him before and more like John Maestas—vivacious, curious, fun, and funky—than anything he's done in the past.
Slipping into the scene
Maestas had his arrival in New Orleans delayed by Hurricane Isaac, and when he did finally get into town, the power was out. "I just dropped my shit off and went down to the French Quarter
. . . and grabbed a beer and met a bunch of people and hung out," he says. "By the time I got home at four in the morning, the power was on. I was like, Yeah, this is a sign, man!"
For the next week, Maestas just sat in wherever he could, beginning to build relationships. He met Steve Lands, who is the most recent addition to the Preservation Hall band, the very next day through mutual friend Claudio Tolousse. "We jammed in the park and found that we were just instant friends," says Maestas. Lands invited him to sit in on a gig that night, and things kept building from there.
Before long, Maestas found himself included in a "solid crew" of 30 or 40 musicians who play in each others' bands all the time and who are called on to back up everyone from Donald Harrison to Jason Marsalis to George Porter, Jr. Maestas pulled from this crew to form Juán Tigre, which, by the way, was his nickname as varsity bowler in high school. The band blends a variety of genres in a slippery and heady concoction—more pop/rock than what Maestas was doing in New Mexico, but charged up with jazz harmonies, funky rhythms, and sound/FX samples.
Pulling it together
As much as Maestas has grown musically in New Orleans, he's also developed his chops on the business side of things. "What does it take to sell?" he asked himself, seeing musicians who were maybe not as accomplished as those in his circle making a solid living from their music. "That's the side of things I need to figure out."
That sort of thinking led Maestas to acquire a garment printer and turn out 100 shirts for his new label, Bubble Bath Records. "I'm slinging them out of my truck," he says.
The label, which is scheduled to launch on Halloween and already has 14 artists signed on, is Maestas' attempt to create a community that can promote one another's music and raise the standing and income of musicians playing original music. He noted that playing trad jazz or funk for tourists on Frenchmen Street can make you $100 to $300 a night, but playing original music, "you might be lucky to make $20," he says. What's more, with many artists who play in each other's bands releasing their own albums independently, the marketing dollars are spread thin, and the competition helps no one.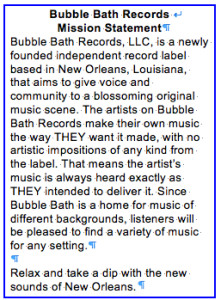 "I thought, This is dumb. Maybe we can put this all under one umbrella, put it all under one label, and push the label," he says. "That would be way easier to push one thing, and in doing so, it pushes everybody up." So instead of 10 gigs scattered around the city, maybe there's one Bubble Bath Records showcase that features all the bands and introduces the acts to each other's audiences. "That's the idea: to make this whole community work for each other," Maestas says.
New Mexico audiences will get to hear two of the signed bands: Juán Tigre and Max Moran's Neospectric. Moran, who has been in Donald Harrison's quintet for several years now and whose résumé includes a who's who of New Orleans music, will be using the same personnel to play completely different music.
The New Mexico residency
Maestas has been regaling his New Orleans mates with tales of the Southwest for years, and he has so whetted their appetite that he had to find a way to get them here. So the enterprising guitarist put together a proposal for a three-part residency at Savoy, Seasons, and Zinc. The residency has now expanded to eight appearances with his mates, and a celebration of his mentor guitarist Michael Anthony.
John Maestas presents Juán Tigre
July 22, 8:00 p.m.
Scalo Northern Italian Grill
3500 Central Ave SE, Albuquerque
255-8781
John Maestas presents Juán Tigre
July 24, 6:00 p.m.
Seasons
2031 Mountain Rd NW, Albuquerque
766-5100
John Maestas presents Max Moran and Neospectric
July 26, 6:00 p.m.
Santa Fe Plaza (Santa Fe Bandstand series)
John Maestas presents Juán Tigre + After-Hours Jam Session
July 27, 7:00 p.m.
Ben Michael's Restaurant
2404 Pueblo Bonito Ct. NW, Albuquerque
224-2817
John Maestas presents Juán Tigre
July 28, 6:00 p.m.
Savoy Wine Bar & Grill
10601 Montgomery Blvd NE
294-9463
Claudio Tolousse/John Maestas presents Juán Tigre (double bill)
July 29, 7:00 p.m.
Monte Vista Firestation
3201 Central Ave NE
255-2424
Music Master Class with John Maestas and Friends from New Orleans
Music as a Language and Lifestyle (#playwellwithothers)
July 30, 1:00 p.m.
Grandma's Music
9310 Coors Blvd NW
292-0341
John Maestas presents Juán Tigre
July 30, 8:00 p.m.
Zinc Cellar Bar & Bistro
3009 Central Ave NE
254-9462
New Orleans friends go home.
John Maestas presents a Celebration of the Life, Career,
and Influence of Michael Anthony (Uncle Mike)
August 6, 8:00 p.m.
Scalo Northern Italian Grill
3500 Central Ave SE, Albuquerque
255-8781
© 2016 Mel Minter. All rights reserved.