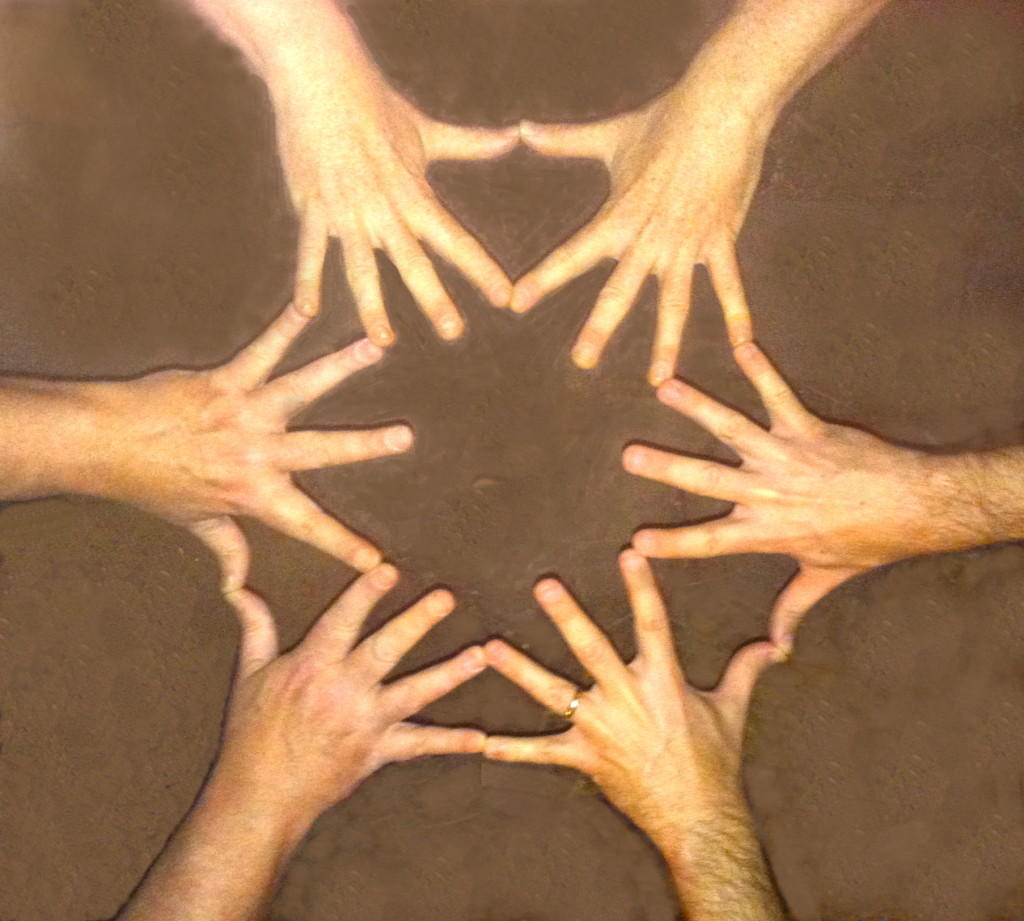 The New Mexico Jazz Festival and the New Mexico Jazz Workshop's summer jazz and blues series bring stellar talent to town. This year we've got the likes of NEA Jazz Masters Dave Holland, Charles Lloyd, and Dr. Lonnie Smith just for starters at the festival, and Brian Lynch and Matt Savage are among the stars lighting up the NMJW series.
The festival and summer series also offer top-drawer musicians in New Mexico an opportunity to perform in listening rooms and on stages where their music does not have to compete with bar chatter and the clink of silverware on china. This three-part series features ear-worthy local (or formerly local) acts stepping into the spotlight in the coming weeks. Second up is the Right about Now trio, with Lewis Winn (guitar),  Jon McMillan (bass), and John Bartlit (drums).
Jamming
In the beginning, back in 2010, they never intended for their music to be heard by the public. Winn, McMillan, and the late drummer Jim Magnarella just wanted to get together and jam.
"What it turned into almost immediately was, we would just blow," says Winn, whose edgy melodies, labyrinthine improvisational skills, and cut-to-the-chase intelligence have seared the ears of New Mexico audiences for decades. "We would just play without talking about it, without changing anything, without any cues or discussion whatsoever."
Then, they would write tunes, but not necessarily on paper, "and never play them again," Winn notes.
This cavalier attitude went on for a couple of years, until McMillan suggested that the trio do a listening session. He'd been recording the jams—"It seemed prudent," he says—and had culled out material from untold hours of jams that he thought was worth following up on—about 36 tracks' worth.
"There were a number of great tunes—half of them that we had forgotten about," says Winn, and parts of jams just begging to be worked up into formal compositions. "It gave us a renewed purpose," he says, but unfortunately, Magnarella passed away shortly after that in 2012.
Transition
Devastated by Magnarella's passing, Winn and McMillan found themselves on the fence with regard to the trio. "On the one hand, we want to keep doing this because it's cool, and we want to honor him by continuing with it," Winn says. "At the same time, we can't just go and replace him—not the next day, that's for sure."
The trio, with Douglas Cardwell on drums, played out for the first time, performing their original material, at Magnarella's memorial service.
Eventually, Winn and McMillan decided to invite Bartlit, who'd been Winn's "first-call guy" since the late '80s, to join them. "Not only did the stuff we were doing with Jim still work, it kicked into a whole other gear," says Winn.
Shooting hoops
The process has remained much the same as it was in the early days, with one important difference: when the trio discovers something they believe in in their jam, they work on it to produce a finished tune.
Most of the trio's tunes initially "come out of my twisted thing," says Winn. He might bring a riff or a melody to the session, but it's the trio that together, in a fluid collaborative process, edit and tweak and refine that nugget into a composition.
Bartlit compares the sessions to guys getting together once a week to play basketball. "We get together and play—with no agenda," he says. "Just getting together and working out with the guys." The sessions, in addition to bringing new material to the surface, serve to keep everyone's jazz chops in order.
Someone may be in a mood and start playing from that, and off they go. "Being an engineer, I tend to think of it in terms of a lab, an experimental laboratory," says McMillan.
"What happens in here only happens in here," says Winn. "I might have a pretty well-formed idea for a tune in my head, but I could show that to twenty people and nineteen and a half of them wouldn't hear what these guys are hearing." Even more likely, he says, an idea will just show up in the session.
"It squirts," says McMillan.
Wherever it comes from, the trio now has a repertoire of original tunes that run the gamut from relaxed bossas ("Somewhere Warm"), with Winn on his big archtop, to rollicking rockers ("Rabbit Hole"), with Winn spinning out chewy riffs on his Telecaster. Then, there's an elegiac tune so new it's still unnamed, and so moving that you may need a handkerchief.
This Saturday, the trio will offer up a rare public performance at the New Mexico Jazz Workshop's Summer Concert Series, where they're opening for pianist Matt Savage. It's a splendid opportunity to hear three of the finest musicians resident in New Mexico stretch out, and the evening may include, in addition to finished compositions, a purely improvisational session that might someday be transformed into a finished composition.
Right about Now/Matt Savage
New Mexico Jazz Workshop's Summer Concert Series
Saturday, July 23, 7:00 p.m. (doors @ 6:30 p.m.)
Albuquerque Museum Amphitheater
2000 Mountain Rd. NW
Tickets $15 to $18 available here.
For more info, call 505-255-9798 or visit the NMJW website.
© 2016 Mel Minter. All rights reserved.