This slideshow requires JavaScript.
I can't hardly believe it's been a month, dear reader, since we last met. In the interim, I traveled back east to visit my mom and then up to New York to hang with friends old and new. While in the city, I trekked out to Brooklyn on the F train for a concert at iBeam, a musician's cooperative in Gowanus. The program featured three piano duos—Carol Liebowitz with saxophonist Nick Lyons, Kazzrie Jaxen with guitarist Adam Caine, and Virg Dzurinko with trumpeter Ryan Messina—and it was a night to remember. More than any other medium, music for me has the capacity to open doors deep in the psyche, and at iBeam that night, doors were swinging open left and right.
Which brings me to today's subjects: Rahsaan Roland Kirk, Bill Evans, and Omar Sosa. Each of them has keys to those doors, and each is the subject of a film worth seeing and supporting.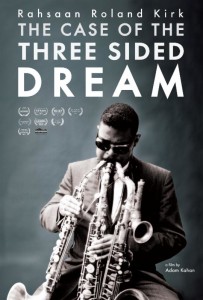 Rahsaan Roland Kirk: The Case of the Three Sided Dream
A Film by Adam Kahan
Garden hose, conch shell, saxophone, broken wooden chair—Rahsaan Roland Kirk could make music out of anything—or anythings, for that matter, given his ability to play several wind instruments simultaneously. That's because, as Adam Kahan's imaginative and award-winning film The Case of the Three-Sided Dream makes abundantly clear, every sound was music for Kirk—from birdsong to vagrant city rumblings. Born blind, he was guided by his ears—"He could hear around the corner," says trombonist Steve Turre—his imagination, and his dreams. It was a dream that led him to play multiple instruments at once, and two dreams that led him to change his name from Ronald Theodore Kirk to Rahsaan Roland Kirk. Politically aware and active, Kirk spoke out fearlessly on the civil rights movement in the United States, and his Jazz and People's Movement made use of the civil rights tactics of civil disobedience, disrupting a taping of The Dick Cavett Show, in an attempt to elevate the status of jazz, which Kirk preferred to call "black classical music." In 1975, Kirk suffered a stroke that paralyzed the right side of his body, but the stroke was no match for his inventiveness and his commitment to the music. He modified his horns so that his left little finger could play what he used to play with the four fingers of his right hand. Kahan's film makes use of interviews with Kirk and others (most poignantly, his wife Dorthaan), performance footage, and delightful cartoon sequences to capture Kirk's multifaceted genius, his irresistible music, and his enormous and appealing personality. Release date: August 26. Available as a preorder on iTunes and on DVD via Amazon.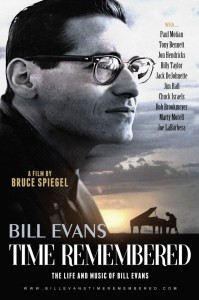 Bill Evans—Time Remembered, The Life and Music of Bill Evans
A Film by Bruce Spiegel
The two pianists who bookend my collection of favorite keyboard masters are Bill Evans and Thelonious Monk. I've often wondered how such different players could equally hold my admiration, and in Bruce Spiegel's film Bill Evans—Time Remembered, pianist Eric Reed finally clued me in: "Bill Evans, Monk, Art Tatum—the same kind of thing: they dared to be different." It's embarrassingly obvious now, but it had never occurred to me that Evans' style was in direct opposition to the hard bop vocabulary that was in the ascendant when he came on the scene. Pellucid poignancy was not the currency of the day. Thank goodness for Miles Davis, whose hiring of Evans gave the pianist's career the boost it needed. (His first release as a leader, New Jazz Conceptions on Riverside, sold only 800 copies.) The film covers the length of the artist's life, with footage of Evans and interviews of friends, colleagues, and family, most especially his niece, Debby (yes, she of "Waltz for Debby"). Evans' piano provides the score, and if his lyricism isn't enough to melt your heart, the story of his near lifelong battle with inner demons, both blunted and sharpened by a pernicious heroin habit, and his personal tragedies surely will: the death of virtuoso bassist Scott LaFaro at age 25; the gruesome suicide of Evans' longtime girlfriend, Ellaine Schultz, after he left her for another woman; and the suicide of his older brother, Harry, whom he idolized all his life. For Evans, the music always came first, and he paid a price for that arrangement. He also left us with some of the most beautiful music ever recorded. How he managed to do that is a mystery probably beyond the reach of any film, but this one gets close. Spiegel, a producer/editor at CBS News/48 Hours and an Emmy-winning documentarian for 9-11, finds a good balance between the musician, the music, and the human being. Release date: September 15.
Update: I've been informed that due to delays in the ASCAP approval process, the release date has been pushed back to January 2017.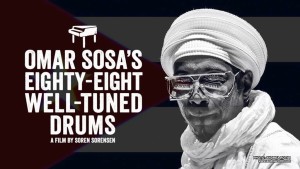 Omar Sosa's Eighty-Eight Well-Tuned Drums
A Film by Soren Sorensen
Among living piano masters, Omar Sosa holds a special place in my heart. His rhythmic excursions to the Other World routinely plunge into the wellsprings of joy and love, offering vibrant celebrations of life and empathic solace for life's difficult times. Filmmaker Soren Sorensen (My Father's Vietnam, 2016) has completed a feature that follows the career of Sosa from his beginnings in Camagüey, Cuba, to his present-day recordings and performances with Italian trumpeter Paolo Fresu, with his Afri-Lectric Experience, and with his latest band, the Quarteto AfroCubano. As Sorensen says, "The crazy thing about this project is that production is now complete! My small team and I need money not for ourselves but for graphic design, festival submissions, legal fees, errors and omissions insurance, marketing, and publicity." To that end, he has established a Kickstarter campaign to raise those funds, and there is but a short time left to reach the goal. Please check out the movie's trailer and Sorensen's appeal on the Kickstarter site, and consider giving Sorensen and his team a hand.
Update: The Kickstarter goal was met, and the film is set for release in early 2017.
© 2016 Mel Minter. All rights reserved.