The latest release from drummer Matt Wilson, featuring a large ensemble, and the new solo effort from pianist Kevin Zoernig have one thing in common: they both mine deep seams of emotional content.
Matt Wilson's Big Happy Family,
Beginning of a Memory (Palmetto Records)
A Review
Drummer Matt Wilson lost his wife, Felicia, to leukemia in June 2014. On Beginning of a Memory, Matt Wilson's Big Happy Family, which includes all the members, past and present, of his longest-running ensembles—the Matt Wilson Quartet, Arts & Crafts, and Christmas Tree-O—comes together in a freewheeling session to honor and celebrate Felicia, and begin the creation of a new set of memories. The eminent drummer, who, as a composer and performer, marries zany wit, intense musicality, and an arresting humanity, commands a group of 13 top-drawer musicians, listed below. Nine of them assembled for a studio session to run through 17 tunes—all but 3 from Wilson—with the other four providing their contributions later. The music was placed on their music stands without written arrangements. The result is a raw and exuberant collection of performances that reflect Wilson's diverse palette, from the slow shuffle blues of "Lester," with an electrifying solo from trumpeter Terell Stafford, to the nearly free ensemble playing on "Searchlight" to "No Outerwear," which sounds like the score for a '50s movie, tweaked with the wry Wilson humor. The album never descends to solemnity. In fact, it opens with a raucous marching band that sounds like a halftime show at a football game ("Score!!"). But it does offer elegiac moments, the most profound of which has to be "Flowers for Felicia." The tune combines Wilson's "Orchids," written for his wife, with one of her favorite songs, the Carter Family classic "Wildwood Flower," and the depth of gratitude expressed will steal your breath. In the end, the album is really about what all Wilson albums are about: his joyous energy and his immersion in life and all of its mysterious, confounding, and downright hilarious aspects.
Beginning of a Memory includes the following cast:
Terell Stafford, trumpet
Kirk Knuffke, cornet
Jeff Lederer, tenor and soprano sax, clarinet
Joel Frahm, tenor and soprano sax
Andrew D'Angelo, alto sax, bass clarinet
Gary Versace, piano, organ, accordion
Larry Goldings, prepared piano
Martin Wind, acoustic bass
Paul Sikivie, acoustic bass
Chris Lightcap, acoustic and electric bass
Matt Baltisaris, acoustic guitar and dobro
Matt Wilson, drums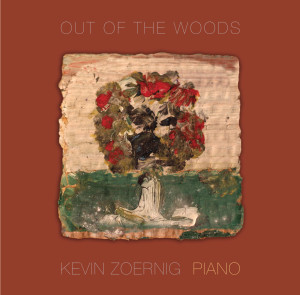 Kevin Zoernig, Out of the Woods
(Future Song Productions)
A Review
Award-winning pianist Kevin Zoernig, based in Las Vegas, NM, opens his solo effort Out of the Woods with a dark, jagged, and claustrophobic number, "The Woods," that establishes the place he will be getting out of. The remaining 12 tracks explore more open spaces with more abundant light, beginning with "Sedalia," a luminous Satie-esque ode to a Midwestern town. Here, Zoernig eschews a strictly linear development. Instead, he recasts the tune's elements from slightly different angles as they repeat, emphasizing space rather than time. It's an approach that he uses in many of his originals (there's one standard, Arlen/Mercer's "I Had Myself a True Love"), turning a different facet of the piece to the audience with each successive chorus. Like a sculpture, the compositions allow you to take in one area and then another, and you can also step back and absorb the piece as a whole. Though the album is listed as a jazz release, his harmonies and rhythms often introduce a touch of Americana, as on "Temporarily Romantic," whose episodic character reinforces the ascendancy of space over time. Zoernig's tenderness of touch and his clarity of tone on this tune make it easy to understand why he was awarded the Bill Evans Scholarship by Keyboard magazine back in 1984, and "Fantastic Garlands," with its tightly entwined harmonies that struggle forward but refuse to entirely resolve, reflects his study with music theory master George Russell, made possible by the scholarship. Other highlights include "El Porvenir," which, despite its title ("The Future"), feels like a study of memory and might transfer beautifully to a guitar arrangement (it calls to mind early Metheny). "Considering Flight" opens with a sudden, smooth, upward-moving figure that Zoernig explores through multiple variations. The story of "Shirley Lou" opens delicate feelings, and the shaded heart of "A Kiss Away from Fear" might make you wonder if the fear preceded or followed the osculation.
© 2016 Mel Minter. All rights reserved.