The title of the latest from Omar Sosa and Paolo Fresu is Eros, and that god accompanies Catherine Russell through her latest release, Harlem on My Mind.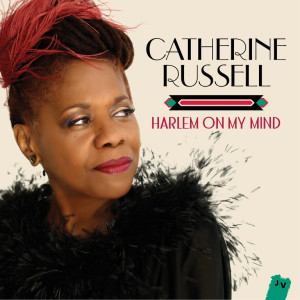 Catherine Russell, Harlem on My Mind (Jazz Village)
A Review
Two or three tracks into Catherine Russell's latest, Harlem on My Mind, I hit the pause button and said to my wife, "I think I'm in love."
"I am, too," she replied.
What's not to love? Does anyone swing a lyric as winningly as Russell, whose uncanny rhythmic sense enlivens every tune, and what about that voice? Whether a simmering whisper or a blare of trumpet, it's as supple and expressive an instrument as you'll find. Then, there's her profound celebration of the culture of black Americans. Every time she opens her mouth, you can hear New Orleans, Memphis, Chicago, Harlem—the vast enriching contributions of our Africa-linked people and their admirers. (The title track could only have been written in America. Where else would a Russian immigrant Jew compose a paean to black culture, employing the very swing that that culture introduced, and hand it over to black superstar Ethel Waters?)
Russell's unguarded heart is just plain sexy. Her full-frontal declaration of love in "The Very Thought of You" makes you wish you were the one she is addressing because she is clearly addressing some one. Then, there's the sated postcoital languor of "You're My Thrill," the blue-tinged "You've Got the Right Key but the Wrong Keyhole," and the romantic intimacy of "When Lights Are Low" and "Talk to Me, Talk to Me." Eros is definitely in the house.
The fact that she is backed by a stunning small big band doesn't hurt, either. She luxuriates in the sound. The horn arrangements of saxophonists Andy Farber and Mark Lopeman preserve the tradition and move it forward at the same time, and you could say the same for Jon-Erik Kellso's trumpet and John Allred's trombone. Then, there's the sly guitarist Matt Munisteri, who is as careful about what notes he doesn't play as he is about those he does.
With every release, Catherine Russell elevates her standing as an exuberant and premiere interpreter of America's great songbook, from the favorites that everyone knows to less familiar gems unearthed by Russell and musical director Munisteri. Harlem on My Mind will make your day.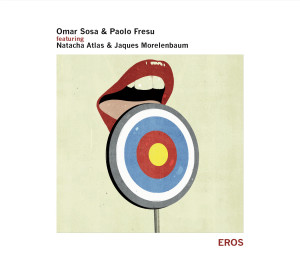 Omar Sosa and Paolo Fresu, Eros, (Otá Records)
A Review
Cuban pianist Omar Sosa and Italian trumpeter Paolo Fresu seem to have set out to create a mood suite with their latest release, Eros, and in that, they have been successful. The album pulls in influences from Cuba to Arabia and everywhere in between to explore the mysteries of love, and its lush layering of acoustic and electric instruments and electronically generated sounds could provide an eminently suitable audio background for romantic interludes. Unfortunately, however, unlike the duo's first release, Alma, the music does not reward close listening despite its luminous moments. For the most part, the compositions feel open-ended, with no destination, though complex rhythmic elements and a lively percussion "section" keep things moving forward. They are the musical equivalent of a soak. Exceptions include Sosa's composition "La Llamada," which first appeared on his masterwork album Mulatos; "Why," which sets off on a journey from the first propulsive notes; and the "ghost track," "Kypris," which is a pretty substantial ghost, seeing that it appears in the track listing. (Speaking of listings, I can find no composition credits for the tunes, at least one of which was composed by someone other than Sosa and Fresu. It's an odd omission, given that all of the album's graphic elements are carefully credited.)
Sosa contributes acoustic piano, Fender Rhodes, MicroKorg, samplers, multi-effects, percussion, vocals, and programming to the proceedings. Fresu commands trumpet, flugelhorn, multi-effects, and percussion. The flugelhorn offers a welcome contrast to Fresu's tone on trumpet; his resolutely vibratoless, unvaried timbre can get a bit wearing.
The duo is ably assisted by cellist Jacques Morelenbaum and the Quartetto Alborada (Anton Berovski and Sonia Peana, violins, and Nico Ciricugno and Piero Salvatori, cellos), but the real surprise for me is Maghreb vocalist Natacha Atlas, who is featured on only a couple of tracks. Her resonant, supple, and soulful voice carries an irresistible haunt in it, and she effortlessly blends jazz and Arabic vocal techniques. If you, like me, are not familiar with her work, you may find yourself scouring the Internet for information.
© 2016 Mel Minter. All rights reserved.