A mother and child are walking through an open-air marketplace in Baghdad when an explosion shreds the air. The smoke clears, the mother is gone, the child searches for her in vain.
Homing pigeons circle desperately over a house whose roof, blown away by a direct hit, once served as their nesting place—and as the secret meeting place for forbidden trysts between a Sunni and a Shiite.
A handicapped teenage boy frantically attempts to flee from an attack by car bomb and automatic weapons, all but certain of his impending death.
In many Iraqi conversations, anxious relief surfaces in phrases such as "The explosion happened. I was so lucky" or "I was almost. . . ."
Oud player/composer Rahim Alhaj, a native of Iraq and a naturalized American citizen, came into possession of a number of letters written by Iraqis who described such events, experienced during the American occupation and the subsequent hideous sectarian violence. Their personal stories so touched Alhaj that he determined to give them voice in music, composing Letters from Iraq, Music for Oud and String Quintet, in a white heat in 2014 and 2015. The eight short pieces, faithful and powerfully emotional reflections of the writers' experiences, will make their New Mexican debut this Sunday at Chatter, and the album, recorded in Albuquerque by New Mexican musicians, will be released on February 10 on the Smithsonian Folkways Recordings label.
Short stories
"Basically, these letters are short stories, real stories, of what happened to Iraqi women and children," says Alhaj. Some of these letters came to him directly, some were passed on to him by others, and one story was told to him face-to-face by his nephew, the handicapped boy who fled an attack. The letters came to Alhaj during his 2014 visit to Iraq—his second since fleeing into Jordan as a refugee in 1991—and he was able to meet most of the letter writers.
His emotional first visit in 2004 had focused on family and homecoming, but on this second visit, Alhaj arrived as something of an outsider. "I went with American eye," he says, "not Iraqi." Though naturalized as a U.S. citizen in 2011, he had still held a memory of Iraq as home, but the American soldiers and tanks in the streets of Baghdad awakened the realization that Albuquerque, New Mexico, is now his home.
His outsider status gave him an objectivity and stoked his curiosity about the experiences of the Iraqi people. "I ask questions, like anyone who's curious. I need to understand what's going on—politically, socially, economically, geopolitically," Alhaj says. "Then I encountered this story that made me really interested to make this project." A teenager's letter "blew my mind," he says.
Staying faithful
At first, Alhaj thought he might take the letters on a lecture tour, but he decided that music would be a more powerful way to communicate these experiences and would potentially reach more people.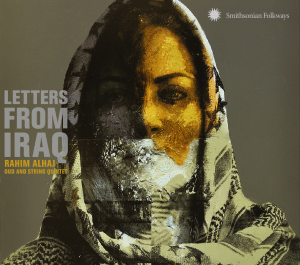 "I must be very faithful to these letters," Alhaj says. "I have to be honest to what they said, and I have to translate that to music." In his previous recordings, the music was about Alhaj's own experiences, and he was driven to prove himself by demonstrating his virtuosity. But he repeatedly stresses that this project is "not about Rahim Alhaj, but about the stories, line by line."
He started composing while still in Iraq and finished the music, which came to him quickly, in 2015. "Composition has to be organic. I believe that composition is not an intellectual process as much as an emotional process," he says. So he tried to put himself in the writers' shoes. "How does this boy feel the moment this explosion happens, and he's so close to death and he cannot face it, cannot escape it? What's he really thinking? His mom, his friends, a song he learned, soccer . . . right?"
The pieces function as program music, carefully reproducing the experiences described in the letters—from the inner dialogue of the writers to the surrounding environment. So the sound of bullets whizzing by become short, zinging strokes on a violin string. The steps of Alhaj's nephew trying to flee the explosion become slow thumping sounds on the bass and cello. The conversation of forbidden lovers becomes an articulate exchange between oud and violin. Homeless pigeons circling overhead become a swirling motif.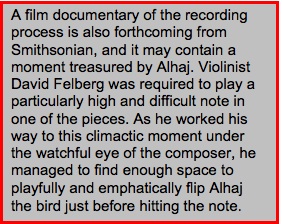 A Western voice
Alhaj chose to use a string quintet for the music, first, because "I'm an American now," he says. "This is my home. I used the quintet because this is the Western classical voice—the quartet plus bass."
For Alhaj, who also plays the violin, the strings also have a tonality and a musicality "so deep and profound. . . . The sadness needs that kind of instrumentation. The bowed instrument has magnificent expressiveness." Alhaj has written sumptuous lines for the strings—especially the violin.
The expressiveness comes too from the skilled musicians chosen for the project: David Felberg (violin I), Ruxandra Marquardt (violin II), Shanti Randall (viola), James Holland (cello), Jean-Luc Matton (bass-viol), who are supported by the percussive expertise of Issa Maluff.
Alhaj likens the music to a painting in which the musicians faithfully imitate the scenery in their notes. "I call that activation of the note," says Alhaj. How do you do that? "That's the genius of the player."
The notes they are activating in these pieces—even the solos—are through-composed, though the music is so immediate and present that a listener might well think it is improvised.
From tears to hope
Alhaj says that there are a lot of tears in this music. He often jokes about how sad his music is, but it derives from a deep well of sadness that he has befriended—or that has befriended him—and he turns that sorrow to use reaching into people's hearts.
"My hope is to reach people, because these things have been forgotten," he says. "This is real, and the world has to understand. It could happen anywhere. This record is not just about Iraq. It happened in Syria, it happened in Libya, it happened in Yemen, it could happen here—the same stuff. I'm hoping this record can reach more people, to open their eyes and hearts: 'Wait wait wait a minute—not under my name, not again.' "
The sadness of the music is redeemed in the final two pieces, which offer hope for peace and a celebration. "Of course, there's hope," says Alhaj. "Otherwise, we cannot live. To make it happen, you have to really work on it. Hope is not a wish. Hope is a responsibility to me."
This Sunday
Alhaj originally conceived of these pieces for oud and string orchestra, but because orchestras are expensive and not always available, he revised his concept for the quintet. At the Chatter concert, however, the quintet will be expanded into a full string orchestra, with six violins, three violas, three cellos, and two bass-viols, providing a rare opportunity to hear the pieces as originally conceived.
Rahim Alhaj's Letters from Iraq
Chatter Sunday Series
Sunday, October 30, 10:30 a.m.
at Las Puertas
1512 First St. NW, Albuquerque
Tickets $5 to $15
Advance purchase strongly recommended.
For more information and tickets, visit www.chatterabq.org.
© 2016 Mel Minter. All rights reserved.