For guitarist Joshua Breakstone, inspiration comes from the tune, and his cello quartet, inspired by a happy accident, provides an unusual vehicle for elucidating the tune's heart. This Thursday, the quartet—with Mike Richmond (cello), Chris Conner (bass), and John Trentacosta (drums)—will explore tunes on Breakstone's latest release, 88 (Capri Records), an homage to pianists, which has been rising on the airplay charts.
The song's the thing
"Everything comes from songs for me," says Breakstone. "Tunes are what motivate me. I try to express what I love about a tune. What is it about this tune that moves me or breaks my heart, or that I think is funny or that I think is exciting?"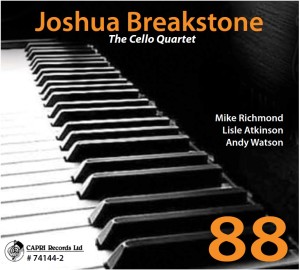 On 88, the tunes providing the motivation come from the pens of some of the guitarist's favorite pianists/composers, including Harold Mabern, Sonny Clark, Cedar Walton, Elmo Hope, Mal Waldron, Tadd Dameron, and Lennie Tristano. The sprightly, singing head of a Breakstone original, "Eighty-Eight," rounds out the album with a personal tribute that reflects the kinship Breakstone feels between the guitar and the piano, both of which supply harmony and solos.
There's not, however, a piano to be found on the album. Though Breakstone has played with a who's who of jazz pianists over the course of his career, it's the cello quartet (with Richmond, bassist Lisle Atkinson, and drummer Andy Watson) that tips its cap to the keyboard masters.
Enter the cello
The cello quartet has become a Breakstone mainstay, making its third appearance on record with 88, but the idea for the quartet entered the guitarist's life quite unexpectedly in Japan, where Breakstone has racked up 50 tours over the years. The late bassist and promoter Mitsuru Nishiyama, a good friend who was getting on in age, didn't want to lug the bass around anymore. So he suggested that he play cello, instead, and provide a bassist and drummer.
Breakstone figured the cello would be added into the trio as another solo instrument, the same way a sax or trumpet might. "I love the sound of the cello, and I figured, 'That's nice. We'll have a solo instrument like that.' "
Early in the tour, though, Breakstone heard the group in a different way: "Basically as a string group, and percussion," he says. "That's when it really became of interest for me." He began writing and arranging for a string section, creating a very different dynamic in the quartet.
Richmond, who's won GRAMMYs in both the jazz and classical genres as a bassist, does, of course, solo on the recording—and how. His solo on "If You Could See Me Now" is filled with heart-melting regret. Playing pizzicato for the most part, he swings effortlessly. (Special praise, by the way, to Atkinson and Watson, whose swinging rhythms are as certain and unobtrusive as gravity.)
Express yourself
Front and center on the album, string section notwithstanding, is Breakstone's distinctive sound: a warm, round, and mellow tone. On a ballad such as Waldron's "Soul Eyes"—played at an impossibly slow tempo that plumbs the tune's depths—that mellow tone can conjure a warm bath by candlelight. On burners such as Hope's "Moe Is In," it cushions the ride as effectively as a Rolls-Royce.
"The prize in jazz is to develop our own unique way of expressing ourselves, to develop our own voices on our instruments," says Breakstone.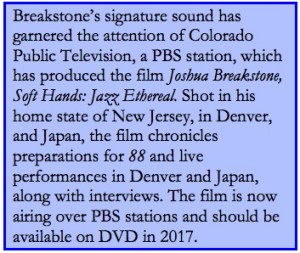 As a teacher, it's a concept that he stresses for his students. "People get lost because it's a long process, especially for younger students who are learning about their instruments, learning about improvisation, learning about the history of jazz. . . . [All of that] is just a tool that we use to get to that next place of expression, to say something unique in our own way."
Matching the mellow tone to single-note lines that move fluidly from one idea to the next—economically and often wittily—Breakstone always has something unique to say.
Joshua Breakstone Cello Quartet
Thursday, November 10, at 7:30 p.m.
Weil Hall at the Outpost Performance Space
210 Yale SE, Albuquerque
Tickets $20 general/$15 Outpost members and students
For tickets or more information, go here, or call 505-268-0044.
Friday, November 11, at 7:00 p.m.
Museum Hill Cafe
710 Camino Lejo, Santa Fe
Tickets $25/$20 Santa Fe Music Collective members
For reservations, call 505-983-6820.
© 2016 Mel Minter. All rights reserved.