Brazilian vocalist/pianist/percussionist/composer Claudia Villela possesses several gifts rarely found together in a single person: an astonishing vocal instrument, a wide-open heart, a profound sensitivity to the present moment, and the improvisational daring to follow the music wherever it may lead her. In short, she can transport an entire room of strangers to a separate, blissful reality that leaves the everyday in the dust. My advice for anyone attending her concert with Brazilian pianist/accordionist/composer Vítor Gonçalves this week at the Outpost is to be prepared for anything and to go gladly wherever she takes you.
Taking a therapeutic approach
Maybe it's Villela's degree in music therapy from Brazilian Conservatory of Music that allows her to create that magical space for her audience. She chose that field of study as a compromise between her interests in medicine and music. After settling in Santa Cruz, California, in the mid-eighties—she now splits her time between households in the U.S. and Brazil—she sang in two choirs before wining a scholarship to study with the great jazz vocalist Sheila Jordan at the Manhattan School of Music. There, she wedded her deep feel for a range of traditional Brazilian music—samba, bossa nova, the carnival groove partido alto, baião, choro, and more—with a fresh jazz sensibility to create a sound all her own.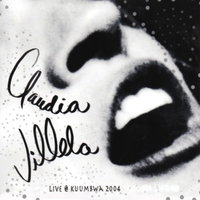 Making magic
Perhaps the first thing that grabs a listener's attention is Villela's five-octave range, but perhaps even more astonishing is her ability to cleanly and oh-so-rapidly articulate the long, fluid lines of her compositions—often in perfect unison with her accompanist. Then, there is the range of sonic textures that she can summon. Take the final cut, "Bachianas Brasileiras #5/Caravana," on her album NPR Live at Kuumbwa 2004, which she begins with the pure head tones of a chaste choir girl and ends with an earthy, visceral sound much closer to a randy alley cat. Her vocal percussion, too, is a wonder, conjuring everything from chekeres and cuícas to delicate birdsong.
Ally all that with her happy improvisational risk taking, and you begin to approach a recipe for magic.
"This magic is something so fluid, but we keep looking for a basic, more essential truth to it," she says. "We don't know when the magic [will happen], I guess. It's a matter of really of tuning into something that's totally beyond yet something so personal. Those moments are bliss because they go so deep."
One essential ingredient for the magic, says Villela, is the audience. "You guys are giving me the gift to make me be able to face myself and receive that light and then reflect," she says. "It's something that has to do with everybody's energy, don't you think?" In this sense, Villela sees herself as a facilitator, channeling energies to move the room to another plane.
Going with the flow
Vítor Gonçalves is Villela's cofacilitator on this tour. Alerted to his abilities by a common friend, Villela first met Gonçalves at Brazil Camp in California, where they both teach, and they quickly found a musical bond.
"He's a fantastic musician. He's wonderful—his spirit, his wit, his depth, his ability," says Villela. "I'm very excited to come with Vítor. He's so fast. If I don't expect anything and just go with the moment, then there is something being created that is much bigger than just me and just him."
Getting on record
Villela has several albums to her credit that are well worth investigating, among them the aforementioned NPR Live @ Kuumbwa 2004, Inverse Universe (with longtime collaborator guitarist Ricardo Peixoto), and Dreamtales, a completely improvised collection of tunes with pianist Kenny Werner.
It's been a while since her last release, though, a situation that she attributes to the vicissitudes of life, as well the struggle between her inner selves: the self-critical control freak versus the not-judging in-the-moment other.
"This is eating me up," she says.
It's a matter of focus, of pulling together the personal resources—energy, time, money, space—to finish one of her unfinished projects. She does say that she has been playing the piano more lately, and she promises to have something new to release in the coming year.
Meanwhile, the New Mexican audience can marvel at her spellbinding presence in the moment and enjoy the profundity and fun of her very live self.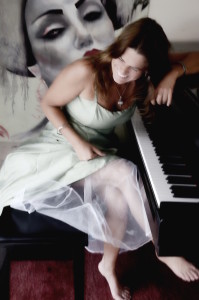 Claudia Villela and Vítor Gonçalves
Thursday, November 17, at 7:30 p.m.
Weil Hall at the Outpost Performance Space
210 Yale SE, Albuquerque
Tickets $20 general/$15 Outpost members and students
For tickets or more information, go here or call 505-268-0044.
© 2016 Mel Minter. All rights reserved.