Thh-ip fffffff . . . Needle drop, the punctuation to your anticipation. The once-familiar sound, all but eliminated by CDs and digital files, is making something of a comeback these days. Albuquerque's own singer/songwriter/guitarist Roger Jameson is contributing to the trend with his new release, "Big Black Bird," backed with "Drive-In Picture Show," on a 45-rpm heavy vinyl disc. This Friday at The County Line, he'll celebrate its release in concert with his Jaded Heart Band—Alicia Ultan (viola), Dave Williams (keyboard, sax), Mike Fox (bass), and Mike Mangan (drums), with guest Rick Crouse (guitar, drums), who will open the evening—and he'll even throw in a digital download card with the purchase of the vinyl.
A poet of broken dreams, unfulfilled promises, lost love, haunted memories, and damnably persistent hope, Jameson admits to a deeply romantic streak in his work, and "Big Black Bird" has all the earmarks familiar to his fans—and common to the classic country songs that he loves. There is the lonely motel room, the "sad and empty sunshine," the longing for home—all delivered with a raspy ache in the voice over a driving rhythm.
It's classic three-chord rock and roll that might put you in mind of Bob Seger, Springsteen, and the like, and it's a sweet spot for Jameson, who says his songs "write themselves through me." The classic rock and country of the '70s is the musical home base for Jameson, and he mines the same emotional seams he finds in that music. "You're singing about hope, you're singing about the next day's going to be better," he says. "I think it makes for good writing. I think it makes for good listening."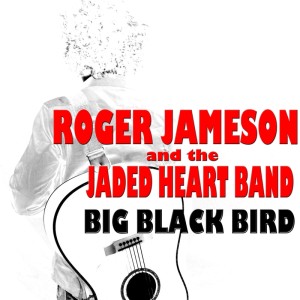 The B side, "Drive-In Picture Show," offers an upbeat antidote, with a rocking celebration fueled by a classic '50s saxophone that will light up the dance floor. Both tunes, at bottom, are love songs, and that is the format that best suits him, says Jameson.
The decision to pair such classic material with vinyl evolved from a number of considerations. First, Jameson just was not interested in putting out another CD at this point, and he'd been wanting to do something on vinyl for a time. Doing a full LP was a bigger bite than he wanted to take, so a 45 seemed a perfect fit for these songs, which he'd been holding onto for a few years.
Second, "I wanted to work with John Wall at Wall of Sound Studios," he says, and these two tunes offered a good way to get started with the award-winning producer.
"Honestly, there's something really satisfying about listening to something on vinyl," he says. "I think we captured it pretty good on here."
The production is excellent, and the warmth of the vinyl sound has Jameson thinking that he will never produce anything on CD again, despite the cost and inconveniences of vinyl. In fact, he is planning an acoustic set for his next recording project, again working with Wall.
But this month—first at The County Line on January 6 and then again at The Blue Grasshopper's new taproom at Montaño and Coors on January 21—the focus is on good ol' rock and roll with a full band.
Roger Jameson and the Jaded Heart Band
Friday, January 6, 6:00 to 9:00 p.m.
The County Line
9600 Tramway NE, Albuquerque
No cover
For more information, visit The County Line website,
which is horribly out of date with respect to musical events
but appears to be reliable otherwise, or call 505-856-7477.
© 2016 Mel Minter. All rights reserved.