This slideshow requires JavaScript.
It's all jazz, but it's all different.
All These Hands, Michael Dease (Posi-Tone Records)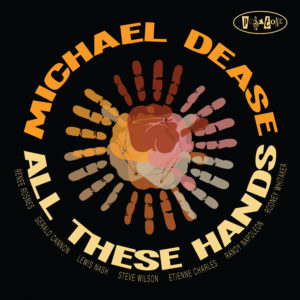 Michael Dease's humanity comes pouring out of his trombone on All These Hands (Posi-Tone Records). His 12 original, straight-ahead compositions trace the story of the spread of jazz across the United States, paralleling the African-American migration from the South up through the Midwest and the Eastern Seaboard and reflecting the musical character of different cities and regions. Upbeat, open, and curious, Dease sings on his horn with a near-human vocal quality that makes this a personal and intimate statement from top to bottom. He is accompanied by a stellar cast, including Rene Rosnes (piano), Gerald Cannon (bass), Lewis Nash (drums), Steve Wilson (flute, alto and soprano saxes), and Etienne Charles (flugelhorn, trumpet). Special guests help out on several tracks, most notably guitarist Randy Napoleon on "Delta City Crossroads," a soulful blues duet with Dease, and bassist Rodney Whitaker, who closes the album with a solo piece, "Up South Reverie," a powerfully emotional performance that encapsulates the anger, displacement, perseverance, and hope in the African-American history. Among the numerous highlights are the dancing, big-band feel of "Territory Blues;" the sweet swing of "Benny's Bounce," which references Benny Golson's "Along Came Betty" in homage to Philadelphia and which benefits from the light but propulsive touch of Nash on the drum kit; the party-hearty "Memphis BBQ and Fish Fry," with its foot-tapping funk; and the sunny "Chocolate City," which celebrates the role of the train.
Infinitude, Ingrid and Christine Jensen with Ben Monder (Whirlwind Recordings)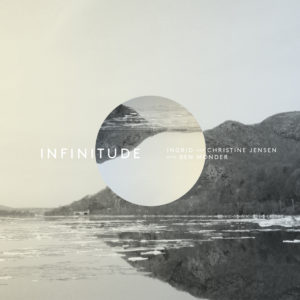 Space, glorious space, and lots of it. With guitarist Ben Monder, bassist Fraser Hollins, and drummer Jon Wikan percolating away underneath, the sisters Ingrid and Christine Jensen, on trumpet and saxophones, respectively, stretch out on 10 tracks that include eight originals from one sister or the other, one from Monder, and Kenny Wheeler's "Old Time." The horns unwind thoughtful, relaxed, conversational lines over the energetic rhythm section. The spacious quality of the music contextualizes and accommodates just about anything the musicians come up with. When they go out, they go out with grace, the space softening their lines, and when they get frisky, it absorbs but never negates their energy. Solos are concise, focused, and well structured, and the sisters' attention to timbre deepens the communication. Monder's inspired rhythmic sense, timbral variety, and harmonic/melodic contributions produce a delightful friction that spurs the music forward. There's the lovely slow groove of Christine's "Swirlaround," which features a beautiful soprano sax solo followed by an edgy Monder counterpart. The entwined horns on Christine's "Octofolk" and Ingrid's urgent duo with Monder on her "Duo Space" charm the ear. Ingrid's lyrical "Hopes Trail"—almost a lullaby—lays a balm on our disenchantment and concludes with a "Yes We Can" statement of determination. "Trio: Garden Hour" has an almost ecclesiastical air, though Monder and the sisters play with an uninhibited freedom. "Old Time" features a deft ensemble improv, and the track's organic development reflects the liquid flow of the music across the entire album.
Stabilimento, Roberto Occhipinti (Modica Music)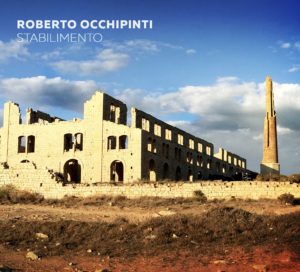 Though new to me, Canadian bassist/composer/producer Roberto Occhipinti is no stranger to Canada's Juno Awards, the Canadian equivalent to the Grammys, which have recognized his work multiple times. Equally at home in a wide variety of musical settings, Occhipinti's career has stretched from the Winnipeg Symphony to Jane Bunnett's award-winning Afro-Cuban ensemble to his own six-piece funk band, Soul Stew. On Stabilimento (Modica Music), his fifth release as a leader, the bassist's taste for Latin flavors threads through the entire album, and how could it not, with the rhythm section rounded out by two Cubans, drummer Dafnis Prieto and pianist Manuel Valera, on six of the nine tracks, which include six originals. High points include the opener, "Tuareg," taken at a relaxed gallop and perfumed with North African scents. Valera's dense comping chords add harmonic depth, and his pushing against the rhythms laid down by Prieto deepen the groove. Here and throughout, saxophonists Luis Deniz (alto) and Tim Ries (soprano and tenor) contribute elegant and substantive solos. Caetano Veloso's lovely ballad "Dom de Illudir" showcases Occhipinti's easy sophistication and Ries's depth. The undulating title track adds a trombone, French horn, bass clarinet, flutes, percussion, and a string quartet to the ensemble, and Occhipinti manages the crowd with ease. The final three tracks feature pianist Hilario Durán, drummer Mark Kelso, saxophonist Quinsin Nachoff, and a string trio, who deliver on the album's most affecting track, Wayne Shorter's essay on loneliness and angst, "Penelope."
© 2017 Mel Minter. All rights reserved.