Hypnotically beautiful and profoundly peaceful, Transparent Water (Otá Records), the new release from Cuban pianist Omar Sosa and Senegalese kora master Seckou Keita, invites you to step out of the hurly-burly and submerge yourself in its sacred space for spiritual refreshment.
Blending jazz, Afro-Cuban, and African traditions spiced with folkloric instruments from multiple continents, Transparent Water pools a world of musical influences into 13 tracks—10 Sosa/Keita collaborations and 3 Sosa originals. In addition to Sosa (grand piano, Fender Rhodes, sampler, microKorg, vocal) and Keita (kora, talking drum, djembe, sabar, vocal), the album calls on several guest artists: Japanese koto player Mieko Miyazaki, Chinese sheng and bawu player Wu Tong, Venezuelan percussionist Gustavo Ovalles, Korean geomungo player E'Joung-Ju, and French synth wizard Dominique Huchet (bird EFX). Sosa and Keita deftly manage all of these ingredients to create aural concoctions that continually delight the ear with welcome surprises.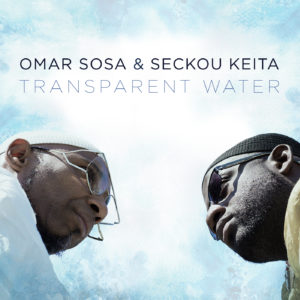 Setting the stage, the first track "Dary," opens with the sound of water, followed by a liquid tapestry of strings, piano and kora blending so closely as to be almost indistinguishable and gently flowing over a bed of percussion from Ovalles. Then, a simple and sublime melody comes floating above this stream on the piano. After a couple of choruses, Sosa and Keita trade improvisations, rhythmically supporting one another—so much space and so much rhythm.
Other highlights include the prayerful "Black Dream," which features Miyazaki on koto and Wu on sheng, a mouth organ whose sonic quality and capabilities fall somewhere between a harmonica and an accordion. Keita's voice, which seems to originate in the chambers of his heart, makes its first appearance.
The gentle, dancing groove of "Mining-Nah" sets the body swaying, and the darker "Tama-Tama," with waves of sound billowing on repeated arpeggios, includes a breathtaking passage where Sosa's Afro-Cuban rhythm figure rubs against Keita's West African one.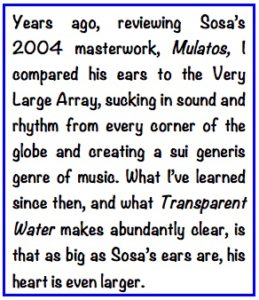 "Oni Yalorde" introduces the bawu, a free reed instrument with a ghostly flutelike sound. The tune conjured images of curling smoke rising from the caterpillar's hookah over a gently rolling landscape of piano, kora, percussion, and vocal.
The elegiac line of "Recaredo 1993" is introduced on the sheng and set off brilliantly by the koto. This is such a delicately beautiful tune that you might find yourself holding your breath. Breathe deeply. Infuse yourself in its peace.
Kudos to Sosa and Steve Argüelles, who produced the album (executive producer is Scott Price), recording in Germany, France, and China. Special praise must be heaped on Argüelles, whose mixing of the multiplicity of sounds is so well balanced and organic that you might be tempted to overlook his contribution.
Years ago, reviewing Sosa's 2004 masterwork, Mulatos, I compared his ears to the Very Large Array, sucking in sound and rhythm from every corner of the globe and creating a sui generis genre of music. What I've learned since then, and what Transparent Water makes abundantly clear, is that as big as Sosa's ears are, his heart is even larger.
© 2017 Mel Minter. All rights reserved.