The late pianist Connie Crothers, who lives on the same trunk of the jazz tree as pianist Lennie Tristano, with whom she studied, has been the center of gravity for a number of impressive musicians who have flourished under her watch. Among those Crothers colleagues are clarinetist Bill Payne and saxophonist Charley Krachy, who appear on three albums reviewed here. Each of the albums features what drummer Carol Tristano, Lennie's daughter, thought might well be described as organic improvisation. You might also call it spontaneous improvisation (but not free). The first two recordings are The Stone Set/Conversations, a double album that pairs Payne with Crothers. Released in 2011, it is still as fresh now as then. The second is Conversations, a brand-new release that pairs Krachy with renowned blues/jazz/Americana guitarist Woody Mann, who himself studied with Tristano. The albums couldn't be more different, but the two duos share one thing: they live as comfortably and joyously in musical improvisation as dolphins do in the sea.
Connie Crothers and Bill Payne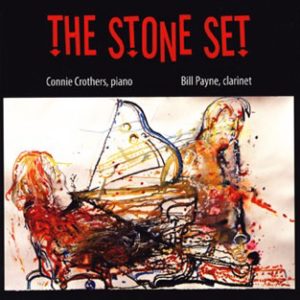 The Stone Set/Conversations (New Artists Records)
A review
The two albums consolidated in this set, with Connie Crothers on piano and Bill Payne on clarinet, were laid down nearly three years apart: The Stone Set was recorded live at The Stone, John Zorn's mecca for new music in New York City, on September 17, 2009, while Conversations was recorded in Crothers' Brooklyn loft over three days in October 2006. Perhaps the most remarkable thing about both of these albums is that on every track, Crothers and Payne are playing the composition together.
So what? you say.
Well, yes, except that not one of these compositions was written down beforehand. What's more, neither of the two musicians knew what they were going to play until they played it. Yet they are riding the same beam of light on every tune, enjoying free-flowing conversations that run the gamut from circus music (Payne played in circuses for years) to the opalescent harmonies of Messaien. One of them starts the conversation, and off they go, pursuing whatever feeling the sound elicits and vice versa. Both possess lightning-quick reflexes. They almost seem to hear what the other is playing before it's played, and they follow a slippery but irreducible logic. As Crothers would say—this related by another Crothers devotee, pianist Virg Dzurinko—it's prerational. Its logic resides in the feeling.
Payne was without doubt a bird in a previous lifetime (check out "Revolt of the Birds" on The Stone Set). His sonorities come straight from the jungle, whether he is excavating deep woody tones down in the belly of his instrument or trilling reedy and flutelike at the very top. He draws on the entire history of the instrument in his playing—from Johnny Dodds onward—and his time in the circus gives even his most abstract lines a concrete purpose: commenting, reflecting, illustrating, driving the action forward.
Speaking of driving, Crothers commands all 88 keys on the piano, her muscularity matched only by her transparency. She circles and cascades, splashing great swatches of color across the sonic landscape and employing a wide dynamic range.
The Stone Set is the looser and more daring of the two, with a special energy that may have to do, in part, with a lively and appreciative audience. Conversations feels a bit more formal and makes use of counterpoint more often. It may be the Apollo to The Stone Set's Dionysius. Both albums have their share of astonishing interaction, melodic virtuosity, and meshing of rhythmic gears.
Among the many highpoints on the live album are "The World Is Completely Mad," on which the two surround a single idea; "Connie's Dream," which recalls a dream's urgent but obscured wisdom; "Your Dream," on which they paint your ears with sound; "Jubilation," with its wail of pleasure at the two-minute mark; and the sprightly and nimble "Momentum Times Two," which all but demands an improvisational troupe of dancers to join the fun.
The music would lend itself beautifully to dancers. When this idea was mentioned to Payne, he noted, "That's one of things I've wanted to do for years." Just as the artist Jeff Schlanger improvised paintings as a third nonmusical member of the group at The Stone—two of those paintings grace the CD package—Payne would like to collaborate with an improvising dancer.
On Conversations, highlights include the lovely long opening lines on "Conversation #3;" the 3-D music of "Conversation #7," on which the light and exuberant clarinet flutes over a piano that goes from twinkle to rolling thunder; and the luminous "Conversation #12," on which Crothers indulges her sensuality.
This complex music demands attentive listening and an open heart. It will not give itself up to a cursory hearing. But close listening will be rewarded many times over.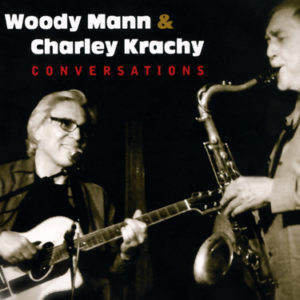 Woody Mann and Charley Krachy
Conversations (New Artists Records)
A review
Guitarist Woody Mann and saxophonist Charley Krachy couldn't stop swinging even if big hairy guys put guns to their heads and demanded it. They probably swing in their sleep. Conversations will have you tapping your foot, snapping your fingers, and soaking up its warm bluesy tones.
Mann spent four years studying with blues guitarist the Reverend Gary Davis, followed by five years of improvisational studies with Lennie Tristano. Along the way, he got himself a B.A. and pursued postgrad studies at Juilliard. He draws on a variety of genres in his playing, with influences that range blues and jazz to classical and flamenco.
Krachy's primary musical education came from Benny Goodman, Louis Armstrong, and Lester Young, courtesy of a big Stromberg-Carlson gramophone. He's never forgotten those lessons in musical storytelling and the blues. He extended his studies with saxophonist Lenny Popkin and pianists Kazzrie Jaxen and Connie Crothers.
Mann and Krachy have been playing together for decades, and you can hear it. They pick up on one another's lines like old friends sharing a story. They've honed their delivery over the years, too, making efficient use of every note. But it's not rote storytelling by any means: they are always open to surprising themselves, and you can hear them pick up each other's unexpected melodic wrinkles with delight—and run with them.
Their album opener, the Jule Styne standard "It's You or No One," opens the highlight reel, and they get right to swinging, with Mann walking behind Krachy's flowing lines. It's two guys riding the same roller-coaster. They counter with a deeply elegant blues on Basie's "Pound Cake," with Mann as nimble as Krachy is warm.
On Lee Konitz's "Subconscious-Lee," they roam the labyrinth together; listen to Mann opening things up with some lovely chording around the three-minute mark. Konitz's "Kary's Trance" features lovely, long unison lines and counterpoint, with Krachy "plucking" the sax like a guitar. The original and spontaneously improvised "Blues Bounce" gets a nice intro from Mann before the two of them unwind an optimistic blues in counterpoint.
They provide an enlivening reverie with Cole Porter's "You Be So Nice to Come Home To" and close the proceedings with Mann's "A Night in Tbilisi," which underscores the Eastern Europe influences in flamenco.
The varied program, the nuanced and elegant playing, the endless improvisational inspiration, and the human warmth of these two masters make Conversations a deeply satisfying excursion.
© 2017 Mel Minter. All rights reserved.