Two new releases spotlight masters of different territories in the musical universe, pianist Marc Copland and flutist Nicole Mitchell.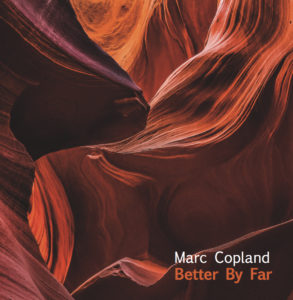 Marc Copland
Better by Far (InnerVoice Records)
A review
Transparency, freedom, and groove—that might summarize the music on Better by Far (InnerVoice Records), the latest release from pianist Marc Copland, with Ralph Alessi (trumpet), Drew Gress (bass), and Joey Baron (drums). Virtuosity and feeling might best describe the playing, which should be no surprise given the personnel. The follow-up to 2016's much-lauded Zenith, Better by Far picks right up where its predecessor left off.
The album includes five Copland originals, three group improvs, and one standard, Monk's "Evidence." (That tune is based on the chord changes of "Just You, Just Me," and Monk's title emerges from his indisputable logic: "Just You, Just Me" means "just us," but to get "justice," you need "Evidence.")
Copland's fluid harmonic sensibility is perhaps the most important ingredient in the quartet's sound. His rich and shifting chordal ground opens huge spaces for the quartet to explore, and Copland is smart enough to give these guys the freedom to wander about. They respond with a relaxed and focused intensity.
Alessi, in particular, seems to float on the harmonies. Of course, his musical intelligence and what seems to be his innate sense for architectural structure don't hurt any, and even his most abstract musings are well supported by honest feeling. The spare, balanced, upright beauty of his playing informs the entire album.
The rhythmic interplay in the quartet is no less impressive. As on Zenith, Gress and Baron are locked in, even when they are rubbing incommensurate rhythms against one another, as they do on the improv "MR DJ." Baron's contribution to "Evidence" is especially valuable. Copland asserts his own rhythmic skills. Check out the rhythmic dislocation he introduces early on in the opener "Day and Night," and the way his hands play off one another later in the track. He also builds rhythmic surprises into his compositions, as with the meter shifts on the title track.
The high points of the album have to be the two waltzes, "Gone Now" and "Dark Passage," and the ballad "Room Enough for Stars," on which Copland's tenderness blooms. The improvs add a nice balance, with their more aggressive and freewheeling approach. All in all, Better by Far may not surpass Zenith, but Copland and his quartet continue to lay claim to the upper regions of today's jazz.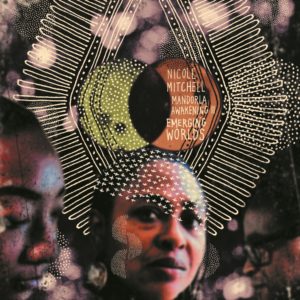 Nicole Mitchell
Mandorla Awakening II: Emerging Worlds (FPE Records)
A review
Flutist, composer, bandleader, and educator Nicole Mitchell has impeccable credentials in the world of modern music. She's won recognition from Downbeat and the Jazz Journalists Association as Jazz Flutist of the Year multiple times, and she's founded several forward-looking aggregations, including Black Earth Ensemble, Black Earth Strings, Ice Crystal, and Sonic Projections. She served as the first woman president of the avant Association for the Advancement of Creative Musicians, and she was a member of the first class of Doris Duke Artists, the expansion of whose artistic and personal freedom is encouraged with a sizable cash grant.
Despite all of this, I somehow managed to have never heard her music, and now, after hearing Mandorla Awakening II: Emerging Worlds (FPE Records), I can't get her out of my head.
Where to begin? First, this is a work of symphonic scope, despite the fact that there are only nine musicians onstage. The album was recorded live at its world premiere on May 2, 2015, at the Museum of Contemporary Art in Chicago, and every one of its stellar participants deserves mention: avery r young (vocals), Kojiro Umezaki (shakuhachi), Mitchell (flute, electronics), Renée Baker (violin), Tomeka Reid (cello, banjo), Alex Wing (electric guitar, oud, theremin), Tatsu Aoki (bass, shamisen, taiko), and Jovia Armstrong (percussion).
Steeped in Afrofuturism, a cultural and philosophical approach that blends science fiction, magical realism, and Afrocentrism and whose beginning is marked by Sun Ra's hallucinatory abduction by aliens ("space is the place"), the music is based on an epic futuristic scenario written by Mitchell. The scenario's objective is to address the question "What would a world look like that is truly egalitarian, with advanced technology that is in tune with nature?" To answer that question, the scenario smashes together two worlds: one dystopian and the other utopian, and the music tells the story of this conflict while examining the "incoherent violence focused on Black youth," as the composer tells us in her liner notes.
Second, the music challenges your ears and your imagination. Mandorla Awakening is not meant for easy listening. It requires an intellectual, emotional, and aural commitment from the listener. It rewards that commitment with a powerful artistic experience: a sound movie that plunges forward in richly emotional and sonically diverse episodes, incorporating everything from howling dystopian guitars to the gentlest utopian fluting, from classical to jazz, world fusion to blues, gospel to avant-garde, plus spoken word for good measure. At moments, it conjures a time and place that is nearly palpable.
It begins with the shock wave of "Egoes War," whose throbbing dystopian theatricality sets the stage for the journey ahead before downshifting to the gentle "Sub-mission," all flute, violin, shamisen, and percussion. The celebratory "Dance of Many Hands," with its mesmeric ostinatos, and the loopy happiness of "Listening Embrace," another sort of dance, follow. Howling guitar and laid-back flute battle it out on "Fastwall Timewalk," and interlocking flutes and blues guitar blend with the sonorous, Gospel-inflected vocal of avery r young on "Staircase Struggle." "Shiny Divider" features a call and response between young and the instrumentalists on the subject of spilled Black blood. The struggle gives way to "Mandorla Island," a utopian sound painting that develops into a whirling Middle Eastern dance. The final track, "Time wrap," finds a seed of hope after a propulsive and agitated beginning, featuring a blues-inflected vocal from young.
Mandorla Awakening offers an exhilarating journey that will leave you in a place quite different from that where you started, and it may awaken musings that pursue you ever after.
© 2017 Mel Minter. All rights reserved.