Early on in 20 Feet from Stardom (2013), Morgan Neville's Oscar-winning and highly recommended documentary about backup singers, Bruce Springsteen notes that while the physical distance between the star and the backup singers is only a few feet, it is a long, hard journey to get across that distance. Lisa Fischer, a longtime member of the supporting cast for the Rolling Stones, Luther Vandross, Sting, and other pop/rock/soul royalty, has seemingly been catapulted into a solo career by the film, but the journey from back to front actually took nearly 40 years—and that despite winning a GRAMMY in 1992. The trip required intense personal honesty and growth, and it has at last placed her otherworldly talents front and center where they rightfully belong.
With a 4+-octave instrument and a musicality that match those of the divas—from Aretha Franklin to Patti LaBelle to Mariah Carey to Whitney Houston—Fischer has been mesmerizing audiences around the world, backed by her band, Grand Baton, featuring JC Maillard on guitar and keys, Aidan Carroll on bass, and Thierry Arpino on drums. This coming weekend, she will lift Albuquerque's spirits at the fifth annual gala fundraiser for Outpost Performance Space at the Albuquerque Museum's amphitheater. It is a concert that is not to be missed.
Early struggles
A native of Fort Greene, Brooklyn, Fischer grew up in a challenging home environment. Her dad left the family when she was 14, and her mom, who gave birth to her at age 16, passed away when Fischer was just 17, leaving her to raise her two younger brothers. Inexpensive powdered eggs often substituted for the real thing.
Fischer, however, had found her calling early on. "I think kindergarten," she says, pinpointing the time she realized that she had a special instrument. "I knew I had something. I didn't know what it was. I had a fire burning in my belly, and I just needed to jump up and down and react to it. I didn't know what it was. I just knew that I needed to be singing."
It didn't occur to her until years later that singing could be a way to pay the bills. Initially, she says, she looked at it the way she looked breathing: "I have to do it. It's something that makes me feel whole." Encouraged by her parents, both of whom sang, she pursued "her crazy dreaming" about singing, attending the High School of Music and Art in Manhattan, and then winning a scholarship to Queens College, where she began to study opera. Unfortunately, the scholarship did not cover expenses, and she had to cut short her college education to earn a living, singing in various joints and eventually working her way into the studios as a session singer.
Getting lucky with Luther
Introduced to pop/soul icon Luther Vandross, Fischer began touring and recording with him in the early '80s and continued with him up till his death in 2005. "I was really very lucky to be around Luther Vandross," she says. "Everything that he did, everything he would say, I was like a sponge."
Fischer shared her demos with Vandross, looking for his input. "I really wanted his professional opinion about 'How can I be a better me,' " she says, "and I think he understood that."
He also understood what exceptional talent this young woman possessed, and he put her in touch with his management and got her a record deal at Elektra Records. In 1991, Fischer put out the album So Intense and won the GRAMMY for Best Female R&B Vocal Performance with the song "How Can I Ease the Pain." (It tied with Patti LaBelle's Burnin', on which Fischer sang backup.)
Meanwhile, Fischer had also upped her exposure by touring with the Rolling Stones. She won that job after auditioning for Mick Jagger's solo tour, and she's been touring with the band since 1989. Anyone who's been to a Stones concert knows full well what her voice can do to your spine and the hairs on the back of your neck, and she can out-Mick Mick.
So the girl who'd survived on powdered eggs was now eating caviar for breakfast with rock royalty. She seemed poised to jump across those 20 feet in the early '90s, but as it turns out, she wasn't ready.
Heartbroken and confused
The sudden attention that the GRAMMY brought put Fischer in an uncomfortable spotlight that she likens to the white-hot light that a child's magnifying glass can generate. "That's what it felt like," she says. "There was so much coming at me"—like the stranger who accosted her in a record store, informing her "You are not better than Diana Ross. I just need you to know that."
Fischer felt she was in two worlds. On the one hand, she was a solo artist, but on the other, she was still a backup singer—and who was she exactly anyway? "I didn't know what an artist was, because I had been a backup singer," Fischer says. "The train was moving so quickly, I didn't have time to pack."
As she tried to finish a second album, amid tremors in the recording business, she found herself feeling lost. "It just wasn't happening," she says. She left Elektra to sign with another company, but once she got out of the Elektra deal, the execs at the second company changed their minds. "At that point, I was so heartbroken and so confused," she says.
She couldn't get a grip on that solo artist world, and she didn't know whom she could trust. So Fischer returned to backup singing full-time because she knew she could count on that. Nonetheless, she carried a wound, which she treated with food. It took some time for her to come to terms with her eating disorder and find her center again.
An unexpected gift (for her, for us)
As Morgan Neville explained in a video interview with New York Times pop critic Jon Pareles, Gil Friesen, chairman of A&M Records, attended a Leonard Cohen concert under the influence and became fixated on the female backup vocalists. He asked Neville to make a film about backup singers. When 20 Feet from Stardom was completed, Friesen jokingly complained that it was the most expensive joint he had ever smoked. It sure paid off, though—with an Oscar. The film brought Fischer back into the spotlight, capturing her astonishing vocal presence and her amiable, open, and down-to-earth personality. This time, she was ready.

The film, she says, allowed her to understand that a record company was not a necessary ingredient in a solo career. It could be a magical relationship if built on love and respect, but otherwise, it wasn't essential.
Fischer also came to understand and accept that she has no idea what an artist should be, but she does know how to follow her heart. "I feel safer. I'm older. I've had time to actually have an opinion about stuff," she says. "It's not that you don't care about what people feel or think, but you want to balance it with what you think or feel."
She'd also found someone she could trust: vocalist Bobby McFerrin's manager, Linda Goldstein, whom she had come to know a couple of years earlier when there was talk of her working on a project with McFerrin. When the calls started coming in after the film's release, Fischer contacted Goldstein—"I need help"—and Goldstein agreed to manage her solo career. "It doesn't feel like just management," says Fischer. "It feels like a playful, joy-searching partnership."
Among the first things Goldstein said was "You need a band. You need musicians that are there for you."
Goldstein had met JC Maillard in Guadeloupe, and she put him and Fischer in the same room. "I just immediately felt a connection with him," Fischer says, and the two started working together on songs. (Fisc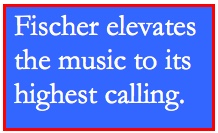 her's repertoire runs across everything from jazz standards to Led Zeppelin, not to mention a version of "Gimme Shelter" that takes the song from its cataclysmic social chaos to a prayer for love and peace.) Maillard invited drummer Thierry Arpino and bassist Aidan Carroll into the mix. Arpino's classical training resonated with Fischer. "He has that same balance of classical versus being free," she says. Oklahoma native Carroll has a broad musical background. "He's just so free," Fischer says. "So this sense of freedom, not being stuck in one particular box, is why Grand Baton. They listen."
With the support of the band and Goldstein, Fischer has been able to focus less on business and more on the music and on making a connection with the audience. She is still a bit uncomfortable being the center of attention, and she's had to find a way to present herself and get past her self-consciousness.
When it is pointed out that she didn't look too self-conscious onstage with the Stones in a dress split up to here, a neckline scooped down to there, and grinding against Jagger, she notes that in that situation, she is playing a role, as an actor does. "You leave yourself at the door," she says. It's different when it is just her front and center being herself.
"I needed a way to process it where I wasn't so self-conscious," she says. So she makes the performance about the music, not about her. The music is lucky to have her—as are the dance troupes and artists she has been collaborating with on other projects, such as Lang Lang, Yo-Yo Ma, Billy Childs, and the Alonzo LINES Ballet.
She's become more herself with Grand Baton. "I feel like me," says Fischer. "I've actually had a minute to just ignore myself long enough to allow myself just to be." It's less presenting a persona and more allowing herself to open up.
That is really good news for the audience because she is a generous spirit with a huge heart and a truly remarkable instrument that can communicate that heart's wisdom in fine degrees, penetrating beyond the everyday and carrying the audience with her into another realm. Fischer elevates the music to its highest calling.
Fifth Annual Outpost Gala Fundraiser
Featuring Ms. Lisa Fischer and Grand Baton
Friday, May 26
6:00 to 10:00 p.m.
Gala tickets (6:00: dinner, silent auction, and concert): $150
Concert-only tickets (8:30 p.m.): $25–$50
Albuquerque Museum
2000 Mountain Rd NW
For complete information and tickets, go here.
© 2017 Mel Minter