Just about every jazz fan should be able to find something they like among these four very different recordings from the Ted Brown Quartet, Bill Frisell and Thomas Morgan, the Anyaa Arts Quartet, and Fabian Almazan and Rhizome.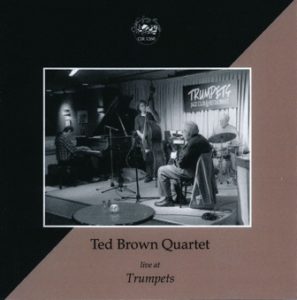 Ted Brown Quartet
Live at Trumpets (Cadence Records)
A review
It's 1946 or so, and you are strolling down 52nd Street in Manhattan on a lovely summer evening, and wafting out of the Deuces front door is a velvet-toned saxophone. No, wait, it's actually 2006 and 2010, and you're not in Manhattan, but in Montclair, New Jersey, at the Trumpets Jazz Club, where saxophonist Ted Brown, all of 78 and 82 years old (in 2006 and 2010, respectively), is recording tracks for Live at Trumpets (Cadence Records), with Jon Easton (piano), Don Messina (bass), and Bill Chattin (drums). Brown actually did walk down 52nd Street in 1946, where he heard Bud Powell and Lester Young, and again in 1947, when he caught up with the Miles Davis Nonet, with Lee Konitz on sax. That led to his studies with Lennie Tristano and a stint in Warne Marsh's quintet in California. At the Trumpets sessions, Brown delivers his characteristically lyrical and unhurried take on nine standards, powered by a superb rhythm section that purrs along like a V-12 Jaguar on the open highway—lithe and powerful. No matter how high the tempo, Brown remains relaxed and unruffled, telling stories while surfing the changes. High points include "When You're Smiling," delivered with an apparently effortless lyricism; a rakish "Sweet and Lovely;" "Pennies from Heaven," with Brown's unerringly rhythmic first six notes and the dense building-block chords that open Easton's solo; and "Love Me or Leave Me," on which the piano and bass shine. The entire collection is a spirit-lifting, toe-tapping excursion down Brown's improvisational streams.
Bill Frisell and Thomas Morgan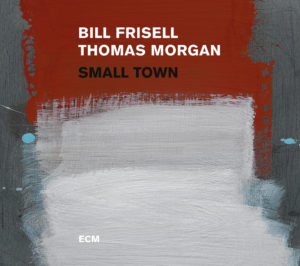 Small Town (ECM Records)
A review
Is there any more complete American musician than Bill Frisell? The guitarist, whose crystalline tone, 3-D soundscape, and economy are instantly recognizable, is completely at home in just about every American musical genre, from avant jazz to down-home country blues, and he's quite happy mixing them together, as he does on Small Town (ECM Records), in a duo with acoustic bassist Thomas Morgan. Frisell met Morgan in a session with drummer Kenny Wollesen when the bassist was just a kid. One particular note that the youngster delivered in that session struck Frisell with its presence and rightness, and he took note. They played together again in a session with the late drummer Paul Motian, and Frisell invited Morgan to sit in with some of his own groups. Recorded live at the Village Vanguard, Small Town spotlights the uncanny rapport that the two have developed: a mind sync that allows each of them to anticipate what the other is about to do perhaps before the other knows himself. You'll hear it in "Subconscious Lee," which the two pulled out in tribute to saxophonist/composer Lee Konitz, who showed up in the audience that night. The album opens with one of its highlights, Motian's "It Should Have Happened a Long Time Ago," an offertory prayer. The title track, with its shadowed opening and Western tinge, suggests promised revelations ahead, à la Twin Peaks. "Wildwood Flower," an homage to Maybelle Carter, one of Frisell's primary influences, offers toe-tapping counterpoint. Morgan's composition "Poet – Pearl" feels a bit shapeless but does feature that special anticipatory rapport. Small Town offers two comfortably accomplished players joined together in exploratory flight.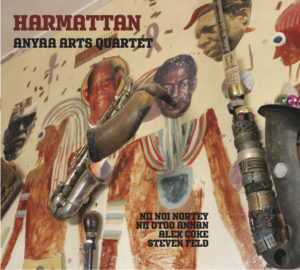 Anyaa Arts Quartet
Harmattan (VoxLox)
A review
Award-winning ethnomusicologist, anthropologist, linguist, documentarian, sound artist and ecologist, musician, and producer Steven Feld has had a long-running love affair with the music scene in Accra, Ghana, ever since he accepted an off-hand invitation from a grad student to visit some years ago. He connected with two accomplished and dedicated local musicians, multiinstrumentalist Nii Noi Nortey and guitarist and percussionist Nii Otoo Annan. Both gentlemen combine a deep appreciation of American jazz, a profound connection to traditional musical forms, and a thirst for experimentation. Feld (ashiwa box bass), Nortey (bowed ngoni string bass, an instrument he has recently developed), Annan (percussion), and Alex Coke (flutes) met at the Anyaa Arts Library, Nortey's "gathering place for improvised music and experimental art," as the liner notes describe it, to record Harmattan (VoxLox). A strangely fascinating recording, the album features five improvised pieces, three original melodies from Coke, and reimagined compositions from Rahsaan Roland Kirk, Thelonious Monk, Ornette Coleman, and Vincent Broderick. The unusual rhythm section—Feld, Nortey, and Annan—is really the star of the recording, creating a river of sound as folkloric as it is forward looking. No doubt there are traditional rhythmic and melodic elements at work here, but they are well beyond my scholarship. However, scholarship is not required to appreciate the breathing river of rhythm produced by these three musicians. Coke's flute flows over that river much as the Harmattan, a dry seasonal wind, flows over West Africa. His playing has a detached quality that stems, in part, from the fact that he is often not playing in any particular time (thanks to drummer Jefferson Voorhees for pointing that out), and listeners may need to accommodate themselves to his dry tonal quality. Highlights include Kirk's "Theme for the Eulipions;" the jamming "Takeaway," with fluteless trio and Annan on gbɛ clay pot; "Brother Yusef," an original celebration of Yusef Lateef; Vincent Broderick's "The Millennium Reel," charmingly recast as an Afro-avant composition; and Coke's "River of Birthdays," which explores a lively, repeating motif while Nortey seems to channel voices from another world on the ngoni. Harmattan can be found here.
Fabian Almazan and Rhizome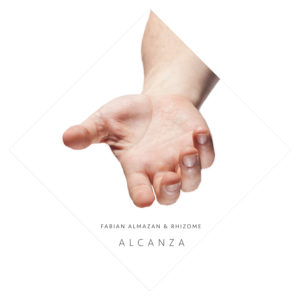 Alcanza (Biophilia Records)
A review
How does one render an epiphany? Cuban pianist/composer Fabian Almazan, whom you may know from his long and fertile association with trumpeter Terence Blanchard, has found a way on his newest release, Alcanza (Biophilia Records), whose 11-track arc captures a series of personal insights in an ambitiously imaginative project. Assisting Almazan (piano, electronics) are Camila Meza (voice, guitar), Linda Oh (bass), Henry Cole (drums), Megan Gould (violin I), Tomoko Omura (violin II), Karen Waltuch (viola), and Noah Hoffeld (cello). Almazan's eight-part Alcanza Suite offers a deft combination of improvised and composed music, beautiful melodies, a special sensitivity to sonic textures, romantic pianistic excursions, nakedly emotional performances, stunning musicianship, and vivid compositional colors. Three interpolated solo tracks—"La Voz de un Piano" (Almazan), La Voz de un Bajo" (Oh), and La Voz de la Percusión" (Cole)—punctuate the sentiments. It may take several moments before you realize that there are no horns on the album. Almazan uses the voice so effectively and Meza's clear and supple vocal instrument is so expressive that you won't miss the brass or reeds. Under Almazan's direction, the octet blends perfectly, though the musicians have clearly been encouraged to add their own personal voices to the music. As a result, each moment feels newly discovered, whether composed or improvised. Highlights include "Marea Baja," a most effective rendering of a singular epiphany; the exhilarating "Tribu T9," which recounts the breakneck whirl of a musician's life in the big city; "Pater Familias," a concrete expression of compassion and pride; and "Este Lugar," a lovely slow dance that feels like a breath held in wonder. The album, released on Almazan's Biophilia label, arrives in a Biopholio™. This 10-panel (16 edges), origami-inspired, double-sided, FSC-certified card-stock package opens like a flower to reveal annotations on each track, the lyrics found on four tracks, photos, etc. The package measures approximately 14 inches high by 28 inches wide. It's an ingenious and fun design, which would be great if you could simply flip it over top to bottom to read the other side, but that produces upside-down text. To get right-side-up text, you have to flip it left to right, changing hands, which is a bit awkward. There is no CD. Instead, you get a unique download code, which you redeem at the Biophilia website in your chosen format. The Biopholio reflects Almazan's commitment to renewable resources and to providing a satisfying tactile experience for the listener. Visit biophiliarecords.com to learn more about and to order Biopholios from the label's stable of artists, which include Oh, Bryan and the Aardvarks, and several others. Biophilia releases can also be found at live events and on most popular music-streaming devices.
© 2017 Mel Minter. All rights reserved.