This slideshow requires JavaScript.
New releases from Trio S, To Be Continued, and Anne Vanschothorst wander off the beaten path.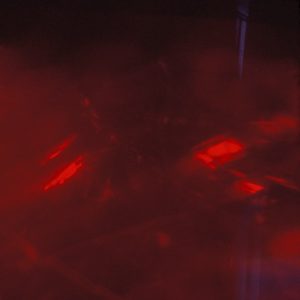 Trio S
Somewhere Glimmer (Zitherine Records)
A review
The music on Somewhere Glimmer, the second album from Trio S—leader Doug Wieselman (clarinet, tenor banjo), Jane Scarpantoni (cello), and Kenny Wollesen (percussion)—is as spartan in its form as it is lush in its sonority. Most of the eight original compositions derive from melodies that Wieselman has heard in bodies of water or in dreams. Only one is longer than five minutes, but each nonetheless drops the listener deep into its reverie. Wieselman deftly uses live looping of brief melodies on his clarinet to weave a mobile foundation for many of the compositions, with the three musicians—all well-known denizens of the downtown NYC scene—then interacting with the loops and one another, adding written and/or improvised elements. Nothing is overstated, much is suggested, and texture plays an essential role in the feel of the music. Highlights include the opening track, "Sesto," which feels like a haunted, indistinct memory slowly nudging its way into consciousness (or is it a body rising to the surface of the river?); "New River," on which you can hear the burbling, wind-caressed surface; "Dreambox," with its North African feel and the unobtrusive excellence of Wollesen's percussion; "Hallucination of a Storm," with a banjo jigging in and out of the forbidding cello and percussion. Richly evocative, often contemplative, and easily accessible, Somewhere Glimmer offers a welcome retreat from the manic distractions of the present day.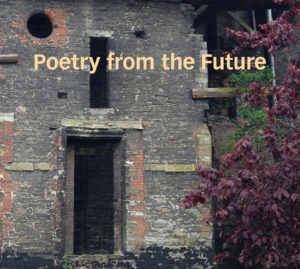 To Be Continued
Poetry from the Future (Line Art Records)
A review
"Listen, and respond to what you hear." That is the primary mantra in the highly effective acting technique developed by Sanford Meisner. The mantra offers a brilliantly simple approach that can take the actor out of their head and allow them to respond based on their own organic impulses. It trains actors to trust their ears and their responses—and one another. Something like this seems to underlay the work of the To Be Continued quartet—Carol Liebowitz (piano), Claire de Brunner (bassoon—and a flexible and nimble bassoon it is, too), Daniel Carter (saxophones, trumpet, clarinet, flute), and Kevin Norton (vibraphone, drums, percussion). Every track on Poetry from the Future is spontaneously improvised in the moment—no sheet music, no previous discussion, no map of any sort except "listen, and respond to what you hear." Their listening and responding skills are exquisitely honed—to the point of spiritual exercise—and with absolute command of their instruments, they deliver a three-dimensional music that is continually surprising and coherent. It keeps moving forward but in unexpected paths—kind of an aural equivalent of the three-dimensional patterns that a cloud of starlings creates in the air. Highlights include "Every Which Way," on which the entire quartet magically creates a multipart "composition;" "Cascadeoscope," which does exactly that; "Sonic Mirage," on which the piano and percussion contextualize the wind instruments' offerings; and the Alice in Wonderland quality of "Beautiful Outcast." The music breathes from beginning to end.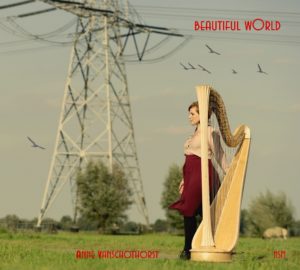 Anne Vanschothorst
Beautiful World (Harp and Soul Music)
A review
Dutch harpist Anne Vanschothorst variously describes her moody, minimalist music as "sound sculptures," "landscape music," and "harPoems"—apt descriptions one and all. Her constructions, which on Beautiful World typically include her harp and one or two other instruments, don't seek so much to develop a musical idea as to express and deepen a specific feeling. These still, warm pools of sound offer consolation and a spare beauty. From the repose and gratitude of "All Is Well" to the somber reflections of "Something Moved Me" to the lamentation of "Why" to the soothing lullaby of the title track—each composition carves out a time and space that you can almost walk around in. Vanschothorst records her harp parts in her home studio in The Hague, while her colleagues consult with her and add their parts at the Amsterdam studio of Thijs de Melker. Despite this displacement of time and space, the parts blend seamlessly. Collaborators include Michael Moore, who coaxes flutelike tones from his clarinet; the expressive cellist Jan Willem Troost; percussionist Arthur Bont; de Melker on organ, piano, and bass; and vocalist Rebecca Sier.
© 2017 Mel Minter. All rights reserved.