This slideshow requires JavaScript.
The Albuquerque/Santa Fe corridor boasts a vein of musical talent that is out of all proportion to the size of the population. Several of the folks featured in the two reviews below have gigged far and wide, exciting audiences on multiple continents, but what they all have in common is that they live here in northern New Mexico. We get to hear them quite frequently. So today we feature albums from fellow New Mexicans Arlen Asher and the trio Kadish Gagan Bartlit (aka KGB), and all you poor deprived coastal dwellers now have the opportunity to hear them, too.
Arlen Asher
Lovesome Jazz Woodwinds (The Santa Fe Jazz Piano Collective)
A review
"Revered" is not too strong a word for how the musicians in these parts regard woodwind maestro Arlen Asher. This gracious, self-effacing gentleman plays just about anything with a single reed stuck in it—his onstage forest of woodwinds is a sight to behold—and he plays them all with a passionate lyricism that is especially well-suited to the ballad. While Lovesome Jazz Woodwinds features a few upbeat tunes—the jaunty swing of Sonny Rollins' "Doxy," Charlie Parker's burning "Scrapple from the Apple," and Wayne Shorter's "Black Nile" come to mind—they function more as delightful palate cleansers between main courses.
The album grew out of a meeting between Asher and producer John Scanlan ("a prince," says Asher in a phone interview), who had appeared on The Jazz Experience, a radio show hosted by Asher and drummer John Trentacosta on KSFR (101.1 FM) on Monday mornings. Scanlan said he wanted to feature Asher on an album, and he followed up on that, arranging to record it at the studios of Santa Fe University of Art and Design, with Scott Jarrett engineering the sessions.
Asher's signature satin tone on the saxes (soprano, alto, and bari) and his liquid, organic improvisations on every instrument (flute, alto flute, clarinet, and bass clarinet also appear on the album) are front and center, ably supported by pianist Jim Ahrend, Jarrett on guitar and mandolin, bassist Andy Zadrozny, and drummer/vibraphonist Dave Brady.
You have to marvel at Asher's nuanced command of his instruments, which adds unanticipated color and depth to the familiar repertoire. His sensitivity to timbre and his ability to shape, bend, and twist tones to match his feeling give him an expansive sonic palette. His refusal to embellish the feeling—he approaches it with a straightforwardness nourished by his Midwestern roots—allows it to breathe but may take your breath away: just see how he turns the tone inside out on the bass clarinet at 3:14 of "Infant Eyes."
Among the many highlights are the alto flute/guitar duet with Jarrett on Jimmy Van Heusen's "But Beautiful" and the alto sax/piano duet with Ahrend on Cole Porter's "I Love You." (Ahrend's admirable capability as an accompanist puts the air under Asher's wings on this one.) "Skylark" is beautifully rendered, with special attention to the timbral possibilities of the soprano sax. On "Scrapple from the Apple," the band finds a fine line dividing trad jazz from bebop. Billy Strayhorn's "A Flower Is a Lovesome Thing" gets loving attention from Asher's alto after a long and lovely piano intro. Asher delivers a solo "a cappella" version of "Over the Rainbow" on alto sax that captures the tune's full range of hope and longing to close out the set.
Beautifully recorded by Jarrett—Asher praised his "magnificent control of the console" in our phone interview—Lovesome Jazz Woodwinds is a must-have for ballad and reed lovers everywhere.
Kadish Gagan Bartlit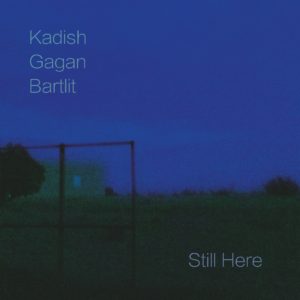 Still Here (indie)
A review
I caught this trio—Kirk Kadish (piano), Jon Gagan (bass), John Bartlit (drums)—for the first time at one of the summer concerts presented by the New Mexico Jazz Workshop. I was not familiar with Kadish's work, but the presence of Gagan and Bartlit, both well established on the local scene and both well-traveled musicians, promised that the set would satisfy, and the trio delivered on that promise. I was not surprised to discover along the way that their premier album, Still Here, recorded at Gagan's Electric Company recording studio in Santa Fe, had won the New Mexico Music Award winner for Best Jazz Album this year, and I managed to snag one.
The album's nine tracks, all originals from either Kadish or Gagan, offer accessible mainstream compositions played with muscularity and sensitivity in equal portions. Kadish enjoys exploring knotty propositions both in his composing and his improvising, while Gagan takes a somewhat more lyrical approach with softer edges. Bartlit can be counted on for collaboratively assertive support that pushes the trio forward and, on the burners, a take-no-prisoners approach to both his toms and cymbals.
Highlights include the opener, Kadish's "Hizzog" After the tasty head, Kadish begins his improv by trying several doors before finding one that opens onto an expansive space, keeping the listener engaged in his search. Gagan's "Quazimodo's Afternoon," written in Berlin while he was on tour, rolls along nicely, with intriguing cross-rhythms, and his bittersweet "Lausanne" expresses a nostalgic tenderness. "Acequia Madre," named for a culturally significant irrigation ditch in Santa Fe, flows urgently under composer Kadish's rolled chords, and Bartlit's single delicate touch on a cymbal at the very end elicits a smile of enchantment. The dancing celebration of the title track, from Gagan's pen, is followed by the reflective odyssey of Kadish's "Into the 7th Night."
Accomplished musicians playing fresh and engaging compositions, KGB delivers a straight-up winner on their first try.