Two pianists famed for their touch and lyricism, Fred Hersch and the late Bill Evans, have new releases coming. Hersch's brand-new solo album, Open Book, available September 8, provides a musical complement to his memoir, Good Things Happen Slowly, which will see bookstores on September 12. The tapes of the Bill Evans release, Another Time: The Hilversum Concert, surfaced only last fall. Recorded in the Netherlands on June 22, 1968, and available September 1, the album is only the third known recording of the short-lived and very distinctive trio featuring Eddie Gomez on bass and Jack DeJohnette on drums. Vijay Iyer's reputation rests on an intellectual rigor married to a passionate and progressive heart, along with serious chops, and his new sextet release, Far from Over (available August 25), manages to be invigorating, complex, and accessible all at once.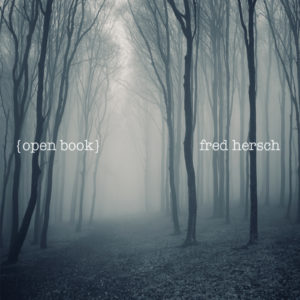 Fred Hersch
Open Book (Palmetto Records)
A review
Profoundly expressive and technically astounding, Open Book, pianist Fred Hersch's 11th solo release, carries you deep into the pianist's personal space via three originals and four compositions from Benny Golson, A. C. Jobim, Thelonious Monk, and Billy Joel. Recorded in a South Korean concert hall, the album opens with "The Orb," from Hersch's theatrical piece My Coma Dreams, which chronicles his extended near-death passage through a medically induced coma. An exquisite expression of gratitude, "The Orb" introduces the satin and steel in Hersch's playing—the delicate tenderness against the unflinching logic and almost classical clarity and restraint—that reappear hand in hand throughout the album. His astonishing left/right independence and his playfulness are on full display on Golson's "Whisper Not," whose head he withholds until the very end, allowing it to coalesce from what has preceded it. A funky Gershwin quote precipitates out of the improvisation along the way. His translucent harmonies render an impossibly beautiful version of Jobim's "Zingaro" before he embarks on the album's centerpiece, "Through the Forest." This 20-minute improvisation—along with the Golson, the only tracks recorded in concert—resulted after Hersch overslept and rushed to the concert hall for his afternoon performance, jet lagged and coffee wired. My advice: just hand him the keys and let go as he spatiates through a musical vocabulary that stretches across centuries. The lush dreamscape of "Through the Forest" is balanced by the astringent lyricism of Hersch's "Plainsong," which owes more to the classical than the jazz tradition. His take on Monk's "Eronel" manages to lyricize Monk without losing his logic, his quirk, or his stride roots. Billy Joel's "And So It Goes" ends the album on a welcome benediction.
Bill Evans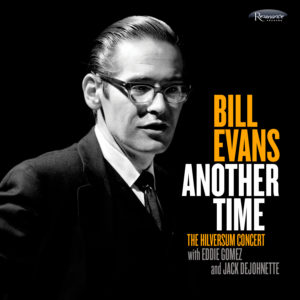 Another Time: The Hilversum Concert (Resonance Records)
A review
The second "lost" album to have turned up from the 1968 European tour of the Bill Evans Trio, with Eddie Gomez (bass) and Jack DeJohnette (drums), Another Time: The Hilversum Concert was recorded in front of a live audience in Hilversum, the Netherlands, by the Netherlands Radio Union. Nicely engineered by André Louwerse, the recording—only the third ever released of this trio—was made for producer Joop de Roo's show Jazz in Actie and then essentially disappeared for 48 years, before a jazz enthusiast brought its existence to the attention of music columnist Marc Myers in October 2016. Myers contacted Resonance Records producer Zev Feldman. Once he heard the quality of the music and the recording, Feldman worked with the Evans estate, DeJohnette, Gomez, and the Universal Music Group, parent company of Verve Records, to which Evans was under exclusive contract at the time of the recording, to acquire the rights to the material. As it did with its 2016 release Some Other Time, which was recorded in Germany on the same tour and languished in the possession of the producer's family for nearly half a century, Resonance Records has put together a splendid package with exclusive photos; knowledgeable essays from Feldman, Myers, and Dutch jazz writer Bet Vuijsje; a profile of de Roo; and interviews with Gomez, DeJohnette, and pianist Steve Kuhn.
The music? Well, what do you expect? It's terrific. The trio plays with a verve and energy that captures the ear instantly. Gomez and NEA Jazz Master DeJohnette are not present as mere complements to Evans. They are coequals, and all three betray a remarkable ability to listen to one another. Gomez takes a highly dynamic, almost aggressive approach with the bass, bending and sliding his solid intonations, soloing characteristically high up on the neck, and allowing tones to dramatically bloom and decay. Check out his solo on "Whom Can I Turn To," as Evans lays out, and his turn up front on "Embraceable You." DeJohnette splashes a wide array of bold colors across the musical canvas, but he also knows how to stay out of the way while keeping things moving, as on "Embraceable You," which features lovely brush work. He paints his percussive solo on "Nardis." Evans takes with a more muscular approach than he did in the LaFaro/Motian trio, but he doesn't lose either his touch or his luminous harmonies. He's assertively bright on the opener, "You're Gonna Hear from Me," and touchingly reflective on "Alfie," which features exceptional chordal melodies and harmonic mastery. Another Time gives us a delightful artifact from a well-tuned and underrecorded trio with all three musicians at the top of their game.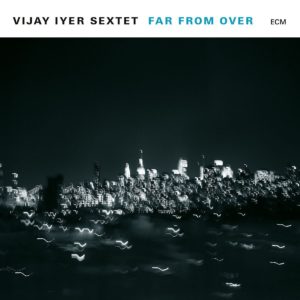 Vijay Iyer Sextet
Far from Over (ECM Records)
A review
You might find that time has stopped, that you are so completely absorbed in the music that you lose normal points of reference. You've been transported elsewhere. Fervent, often funky, and ever fearless, Far from Over, the new album from pianist Vijay Iyer's sextet—with Iyer on piano and Rhodes, Graham Haynes (cornet, flugelhorn, electronics), Steve Lehman (alto sax), Mark Shim (tenor sax), Stephan Crump (double-bass), and Tyshawn Sorey (drums)—takes layered and interlocking lines and rhythms to the edge and launches dangerously rocketing solos that threaten to explode but lift you into a rarefied atmosphere. Iyer's mathematically satisfying and emotionally supercharged compositions build from the groove—and what grooves this rhythm section cooks up, pulling from Southern U.S.A., South Indian, and West African traditions. Check out the way Iyer's Morse code piano on the energetic opener, "Poles," locks up with the counterpunches from Sorey and the shaping bass line of Crump. Iyer takes full advantage of the wide latitude that three horns offer, crafting intricate, expressive, and stunningly difficult interactions that the three knock off with gusto. The 10 tracks deliver breathless burners ("Poles," "Far from Over," "Good on the Ground," and "Down to the Wire"), extrapolated funk ("Nope" and "Into Action"), atmospheric reflections ("End of the Tunnel" and "Wake"), and delicate elegy ("For Amiri Baraka"). The album ends with "Threnody," which slowly rises through layers of lamentation on Lehman's alto, searching for a release that it finally locates in a piercingly beautiful keening. The track, like the rest of the album, blends dignity, compassion, defiance, and vulnerability into a potent and uplifting statement of determination.