This slideshow requires JavaScript.
Jazz is an omnivorous music. It has munched on classical, rock, funk, Cuban, and a host of other musics from around the globe, transforming them and itself in the doing. Two new releases, Gendhing for a Spirit Rising from pianist David Lopato and Under One Sun from the eponymous group founded by saxophonist/composer Billy Drewes and percussionist Jamey Haddad, take different routes to making global connections for jazz.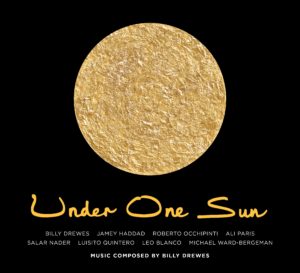 Billy Drewes and Jamey Haddad
Under One Sun (Oberlin Music)
A review
Longtime friends reed man Billy Drewes and percussionist Jamie Haddad, whose personal journeys have carried them across multiple genres of music, formed Under One Sun by bringing together a group of eight musicians who hail from five countries and whose ages span five decades to perform jazz compositions by Drewes. The eponymous album celebrates the unique characteristics of these musicians' musical heritages and, at the same time, blends them into a coherent whole that charms the ear and aspires to underscore their shared humanity. Joining Drewes (tenor and soprano sax, clarinet, bass clarinet, C and alto flute) and Haddad (drums, percussion) are Michael Ward-Bergeman (USA; hyper accordion), Luisito Quintero (Venezuela; congas, timbales, and percussion), Roberto Occhipinti (Canada; acoustic bass), Leo Blanco (Venezuela; piano), Ali Paris (Palestine; qanun and voice), and Salar Nader (born in Germany to Afghan parents and raised in the USA; tabla). Guest appearances from Oberlin faculty trombonists Jay Ashby and Lee Allen, Oberlin Conservatory brass students, vocalist Jo Lawry, and Hadra des Femmes de Taroudant, an all-female vocal ensemble from Morocco, also contribute. The soft contours of Drewes' melodic lines and their long, winding paths combine the familiar and the exotic, drawing from traditions that reach from the Americas to Africa, the Middle East, and the Subcontinent, and the unique instrumentation tantalizes the ear with the spice of distant places. The music's buoyancy reflects it aspirational intention, and while there are moments of darkness, as on the slow, stately march "Tinker," they resolve in light. The three-part tune "Walk Talk—Walked, Talked" offers a satisfying development, with a lovely exchange between the tenor and the accordion along the way. "Excursions through a Field of Yellow Daffodils," which finds the intoxicated clarinet soaring over a shimmering rhythmic foundation, refrains from a distinct resolution to maintain a delightful sense of breathless anticipation. The fond elegy "For Those We Know" showcases Occhipinti's sensitive bass, while "High Above," with solos from Blanco and Ward-Bergeman, blends Latin and Indian touches. The album closes with the benediction of "Ode to Brigadoon—A Path to All," which adds a beautifully arranged brass quartet. For anyone looking for an antidote to the violent and partisan divisions of our struggling planet, Under One Sun offers balm and a ray of hope. As guitarist Bill Frisell said in a 2010 interview with me: "If everybody played music, I can't imagine how there'd be all these problems." Under One Sun takes an affirmative step in that direction.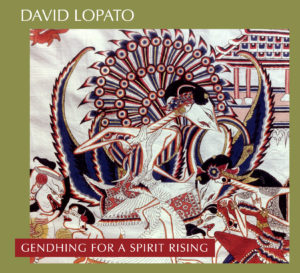 David Lopato
Gendhing for a Spirit Rising (Global Coolant Records)
A review
Blending Indonesian gamelan music with jazz presents several challenges, given the musics' very different aesthetics, structures, scales, and instrumentation. Just for starters, modulation, a sine qua non of jazz and most other Western music, barely exists in traditional Indonesian music, and improvisation is limited. Pianist—actually multi-instrumentalist—David Lopato did not allow that to prevent him from trying, and he has created a fascinating and unusual album that sprawls across two discs, offering exotic flavors from a deeply musical mind. For Lopato, the minimalist aesthetic bridges the two musical worlds. The repeating and shifting patterns of a composer such as Steve Reich, with whom Lopato has worked, have a textural sensibility and a structure that parallel gamelan music but which can also accommodate jazz stylings. The first disc, which comprises the title track, a four-part suite written over 15 years, is a Western cognate of gamelan music, but with a jazz accent. The second disc comprises two relatively straight-ahead pieces that include South Asian influences, and the more freely styled two-part 911 Suite. Disc one finds Lopato on an array of instruments, several chosen for their sonic similarities to Indonesian instrumentation, that includes piano, Embertone Friedlander virtual violin, marimba, vibraphone, glockenspiel, gongs, Sundanese kendhang, and sampled marimba and zither. He is joined by a shifting group of sidemen and -women, including, among others, Erik Friedlander (cello), Marty Ehrlich (alto and soprano sax), Ratzo Harris (bass). The second part of the title suite, titled "This Life," a musical hybrid blending Sundanese inspiration with jazz improvisation, marks one of the album's high points, with Ehrlich's soprano sax and Mark Feldman's violin silky pennants of sound astream in a rhythmic wind. The last part of the suite, a 20-minute track titled "Gendhing," may prove challenging for listeners whose ears are tuned to Western forms. It's the "most purely Javanese" track on the album, as Lopato describes it in his informative notes, with all the churning activity of gamelan music, and like that music, it does not develop in a narrative sense common to Western music. It can, however, mesmerize with its hovering resistance to resolution. On the second disc, the South Indian–flavored "Jakshi," with its lovely coda, marks another high point. The harrowing 911 Suite, though powerful, seems to belong to another album altogether, and its inclusion jars and puzzles. Part one, "Ambush and Aftermath," reflects a world cataclysmically out of joint before concluding with a gentle swell of hope in part two, "Peace March." Disc two features Lopato on piano, Lucas Pino on soprano sax and clarinet, Harris on bass, and Michael Sarin on trap set, with help from Bill Ware on vibraphone and John Hadfield on percussion.
© 2017 Mel Minter