It may take you a while to get past "That's the Way of It," the opening track of saxophonist Glenn Kostur's new album, The Way of It (Artist Alliance Records), because you may keep hitting the repeat button. An optimistic blues shuffle with a hard bop edge, this Kostur original has a punchy head that can bubble up out of nowhere while you're loading the dishwasher or daydreaming at a red light, and set your head to bobbing.
It's an excellent start to this welcome collection of 10 mainstream tracks—6 originals and 4 standards—with Kostur on bari and tenor, backed by Steve Kovalcheck (guitar), Dana Landry (pianos), Erik Applegate (bass), and Jim White (drums). Kostur will celebrate the album's release in concert at the Outpost this Thursday with these same sidemen, as well as special guest vocalist Hillary Smith. "That's the Way of It" could well open the set, so don't be late.
Comfortably himself
After three years traveling and recording with Maynard Ferguson's band, as saxophonist, music director, and arranger, Kostur decided that the road was not his career path. Instead, the Oregon native took an academic route that, in 1995, brought him to UNM, where he is now head of jazz studies. The first-call saxophonist has become an integral part of the New Mexico jazz scene, appearing with the Albuquerque Jazz Orchestra, Hip Pocket, Chill House, and many other aggregations in need of a soulful player with impeccable chops.
That soulfulness infuses every track of The Way of It, which brims with Kostur's easygoing personality. He sounds like himself: you can hear the quiet passion, the balance, the humor, and the intelligence that distinguish his personality. He plays from the heart. He's not jumping through any hoops to impress the chops police, though his technical abilities are vividly apparent.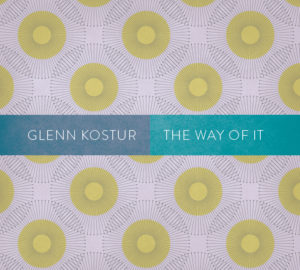 "I think the way this record came out is a result of me feeling a little bit more comfortable in my own musical skin," says Kostur. "Kind of coming to comfortable terms with what I feel like my musical strengths are and recognizing what my musical strengths are not.
"Hopefully one of my strengths as a musician is having a sense of melody," he adds. "So then that translates into a little bit more melodic approach to improvising, instead of playing a lot of technique for technique's sake. . . . That's not really what I'm about. Realizing that I don't have to do that gave me the freedom to just play the way that I play."
Colorado connection
The personnel on the album also contributed to Kostur's comfort and sense of freedom. Drummer Jim White is a friend of some 30 years, stretching back to school days and time together in Ferguson's band. Over the last few years, White has been dealing with pancreatic cancer, and though he's been cancer-free for a while, the uncertainties of his condition made Kostur eager "to make some music with him," he says. "In some ways, it's a celebration of Jim still being alive and still being able to play the drums."
White and the other three guys all teach at the University of Northern Colorado in Greeley, and having played together for years, they've formed a telepathically adept combo. Kostur has traveled up there every year to play with them and gotten to know the individuals musically and personally. So here was a tight, ready-made rhythm section that also happened to have access to a splendid recording studio on campus and a first-rate engineer, Greg Heimbecker. It was a no-brainer. Kostur sent the charts up to the guys, and in June, he traveled up to Greeley. After an afternoon rehearsal and a shake-down gig at a local brew pub in the evening, the quintet recorded the album over the next two days.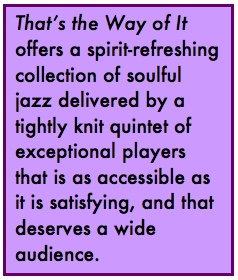 Personal statements
All of the tunes on the album, which is nicely sequenced, have a personal connection for Kostur, which no doubt also contributes to his comfort level. "That's the Way of It" references his mom: when faced with "life's realities," she'd deliver this go-to statement, whose comfortable Buddha-like wisdom comprises equal parts acceptance and determination. The track features excellent bari and guitar solos, and you'll hear echoes of Kostur's big band arranging. Next, Kostur offers up one of his dad's favorites, "Canadian Sunset," incorporating the groove from Ahmad Jamal's "Poinciana," another paternal fave.
The liner notes indicate that the gospel-inflected original "Gather the Spirits" is about cocktails, but this is a heart-swelling visit to church. Horace Silver's "Quicksilver" burns up the oxygen ahead of the original "A Longer Table," a song that begs for lyrics and appeals to our better selves. McCoy Tyner's lovely ballad "You Taught My Heart to Sing," with a particularly nice piano solo with a tasty bass under it, is dedicated to Kostur's wife, "the lovely Kathy."
The next two originals, "Romp and Run," a fast bebop that does exactly that, and "Ella," which alternates periods of jazz ballad calm and metal freakout, respectively celebrate the family critters: the dog, Hildegard, and the eponymous cat. "Everything Is Canceled" burns through the political and social turbulence of the times and features a terrific conversation between bari and drums.
The album closes with the balm of "America, the Beautiful," which appeals to a sense of tolerance, peace, and compassion. The affecting arrangement draws you in with a "tickle" on the piano and withholds the well-known melody until the very end, when the tickle returns, underneath, to put a bow on it.
The Way of It offers a spirit-refreshing collection of soulful jazz delivered by a tightly knit quintet of exceptional players that is as accessible as it is satisfying, and that deserves a wide audience.
Glenn Kostur Group
with special guest Hillary Smith
Thursday, October 5, at 7:30 p.m.
Weil Hall at the Outpost Performance Space
210 Yale SE, Albuquerque
Tickets: $25, general admission/$20, Outpost members/students
For more info and tickets, go here or call 505-268-0044.