Two new releases cover an old but still fresh performance by a classic quartet featuring Eddie Daniels and Roger Kellaway at the Village Vanguard, and a solo excursion on the shores of Newfoundland by pianist Florian Hoefner.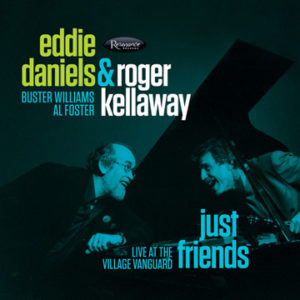 Eddie Daniels and Roger Kellaway
Just Friends (Resonance Records)
A review
On November 26, 1988, at the iconic Village Vanguard in New York City, Eddie Daniels (clarinet) led a quartet that included Roger Kellaway (piano), Buster Williams (bass), and Al Foster (drums). Sitting in the front row, producer and audio engineer George Klabin laid a stereo microphone attached to a Sony cassette recorder on his table and hit Play. Twenty-nine years later, Klabin, who now devotes himself to Rising Stars Jazz Foundation, an organization dedicated to preserving jazz and discovering its stars of tomorrow, came across the recording and found that he had captured an exuberant and, at times, breathtaking set. Resonance Records, a subsidiary of the foundation, has released the music in another of its quality archival packages, Just Friends, complete with interviews with the principals, notes from music journalist John Murph, and photos. The limitations of the recording device make this a merely adequate audio experience, but the quality of the music itself quickly outweighs those limitations. In addition to the title track, the set includes two numbers from Daniels' pen and two from Kellaway's. On every one, the clarinet takes flight in Daniels' hands, burbling, swirling, trilling, thrilling, with fabulous support from the rhythm section. Daniels may have wings, but Kellaway and friends stay with him while keeping the music grounded and the space overhead open for flight. Daniels and Kellaway enjoy a startling concordance throughout—especially on the pianist's "The Spice Man," a burner that covers ground from French classicism of the early 20th century to ancient Arabian modes. Williams' tart tone and his imaginative lines—check out "Wolfie's Samba"—and Foster's ever-melodic and propulsive drumming make this a rhythm section for the ages. At times, Daniels seems intoxicated by his own virtuosity, which, unfortunately, becomes an end in itself, but he's intoxicated us, too, so we'll give him a temporary pass on that as we retrieve our jaw from the floor.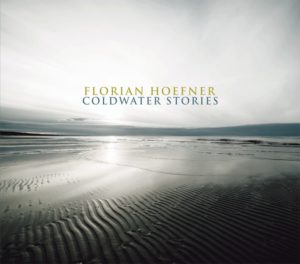 Florian Hoefner
Coldwater (Origin Records)
A review
German-born pianist Florian Hoefner enjoys challenging himself, and the evidence indicates that he is up to a good challenge. On Luminosity, his excellent quartet recording, for example, he required one composition to operate within the space of an octave. On Coldwater (Origin Records)—his latest and first solo release—he has set himself quite a different obstacle, as he explains in the liner notes: "Many of the pieces on this album consist of one or more composed islands, surrounded by a sea of open space that is left to be filled with improvisation." Where composition and improvisation begin and end is intentionally left indistinct on the album's 10 original pieces, and Hoefner has no difficulty sustaining a continuous, engaging line as he sails from one island to another—despite the fact that only one track incorporates a traditional song form with a repeating set of chord changes. The improvisation is free, restricted only by the logic of each tune's feeling and conception. The music owes as much to the European classical tradition of the late 19th and early 20th century as to the jazz tradition (and perhaps more than), but Hoefner seamlessly blends his influences as he explores the possibilities of the open sea. The tunes are inspired by his newfound home base, Newfoundland, where he moved three years ago from New York City. Auks, puffins, icebergs, sea currents, burbling brooks populate the tracks, which range from stately melancholy ("The Great Auk") to comic playfulness ("Migration") to stark and ominous beauty ("Iceberg 2). There's tenderness and touch, as well as strength, in his performances, which were recorded in the Sendesaal in Bremen, Germany (four tracks live in concert). On Coldwater, Hoefner shows himself to be a muscular poet of the piano and a daring composer.
© 2017 Mel Minter