Three of the more original voices in the jazz world—drummer Matt Wilson, trumpeter Taylor Haskins, and trombonist Joe Fiedler—have new releases that show three different faces of jazz.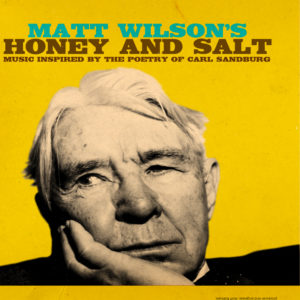 Matt Wilson
Honey and Salt (Palmetto Records)
A review
If I were making a "Best of" list for the year, drummer Matt Wilson's Honey and Salt would most definitely find a spot on it. In fact, almost any of his releases would have to be included on such lists of mine because of his exuberantly idiosyncratic compositions and the juice with which they are delivered. The man is so deliriously alive, and his uncontainable and wonderfully infectious spirit makes you grateful that you are, too. Honey and Salt sets the gems of poet Carl Sandburg, with whom Wilson's family shares a Midwestern connection, into Wilson compositions, performed by a sterling quintet that takes palpable pleasure in them: Ron Miles (trumpet), Jeff Lederer (reeds, harmonium, voice), Dawn Thomson (guitar, voice), Martin Wind (acoustic bass guitar), and Wilson (drums, voice). Readers include Wilson, Lederer, and a clutch of jazz luminaries—Christian McBride, John Scofield, Bill Frisell, Rufus Reid, Joe Lovano, and Carla Bley—as well as actor Jack Black and Sandburg himself. In his liner notes, Wilson says that Sandburg's "non-rhyming style and free-flowing rhythm welcomes the sound of surprise, a key element in a jazz performance." Surprises abound, thanks to the dynamic imaginations of the quintet's players. The musical settings range across a wide palette, including Americana, gut-bucket blues, country, NOLA second-line funk, and hard bop—all underpinned by Wilson's ever-melodic drumming and his inscrutably right-on choices of sound. The palette of feeling is just as wide, from spooky mystery ("Night Stuff") to raucous celebration ("We Must Be Polite"), from elegiac recognition of creation's rhythms ("As Wave Follows Wave") to the antic ("Choose"). Wilson, like Sandburg, possesses the unusual ability to make complex, even disquieting issues and feelings accessible without diminishing their complexity. He allows us to entertain them while being entertained.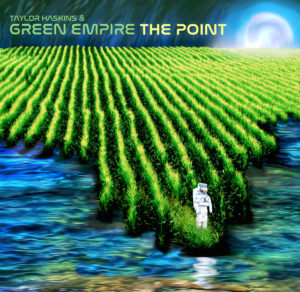 Taylor Haskins and Green Empire
The Point (Recombination Records)
A review
Taylor Haskins' latest release, The Point, adds a refreshing chapter to the experimentally inclined trumpeter's résumé, which includes work with the Richard Bona Group, Dave Holland Big Band, Nels Cline's "Lovers" project, and Guillermo Klein's Los Guachos ensemble. Fresh off his jazz-electronica excursion, Gnosis, Taylor explores an entirely different soundscape with an unorthodox quintet that fuses Americana, jazz, and electronica. The centerpiece of the quintet is Haskins' Steiner/Crumar analog EVI (electronic valve instrument), a rare analog synthesizer with a seven-octave range and a world of possibilities. The group also includes Brett Lanier (pedal steel), Michael Chorney (acoustic guitar), Robinson Morse (bass), and Geza Carr (drums), musicians whom Haskins met after moving, as he says, "deep in the Adirondacks near Lake Champlain" over seven years ago. The quintet's sound glistens, as sleek and slippery as an otter in the water. The EVI slides and glides as the pedal steel swoops and wheels—in unison, in counterpoint, in conversation. Despite the small group size, there's an orchestral feel to eight original compositions, which lean strongly on melody and atmosphere. The unusual instrumentation lends an otherworldly quality to the music. Nevertheless, all the tracks have a handmade, artisanal feel, drawing their inspiration from the mountains and Haskins' sensitivity to environmental issues. However lively the music might get, it always contains a germ of silence at its core, whether probing mysteries as in "Hunter's Moon;" painting an imposing landscape, as in "Palisades," country music from Mars; evoking the blue-green depth of the northern woods, as in "Up North (Ennio)," a tribute to both the composer Ennio Morricone and the Adirondacks; or lauding environmentally conscious farming, as in "Theme for a Farmer."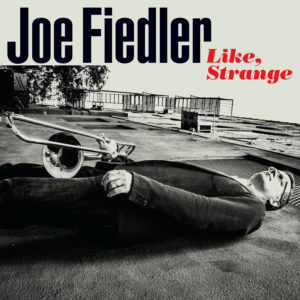 Joe Fiedler
Like, Strange (Multiphonics Music)
A review
Like, Strange, trombonist Joe Fiedler's latest release (it dropped back in February but only recently worked its way back to the top of my "must listen" pile) might just as well have been titled Great Instincts Trusted. (The album's title comes from the assessment of Fiedler's music by his daughter Cleo when she was younger.) Wanting to broaden the harmonic and textural possibilities for his compositions, Fiedler chose to expand his longtime trio—with Rob Jost (bass) and Michael Sarin (drums)—to a quintet, and he could not have chosen two more suitable additions. Both the empathic Jeff Lederer (tenor and soprano sax) and the shape-shifting Pete McCann (guitar) are as ridiculously virtuosic and inventive as the original three, and they respond to Fiedler's nine snappy compositions with the same cheerful fearlessness. All five members of the quintet go where their instincts lead them—in, out, up, down, upside down—it matters not. The feeling is true, the surprises are frequent, and the music is compelling. (Isn't that the true value of virtuosity—the full and true expression of feeling? Otherwise, it's just a freak show.) The seed for this project came from a Fiedler/Lederer exploration of boogaloo, but it expanded well beyond that. You'll find a tasty and greasy tango ("Maple Street Tango"); a hiply ironic Steely Dan feel on the title track, with a stinging guitar; a tour de force for both Fiedler and Lederer on "E.T. (For Eje Thelin)," in tribute to the great Swedish trombonist; a near boogaloo, appropriately named "Quasi . . . ;" and a positive vibe throughout. The best a listener can do is just hop on board and say, "Take me away, s'il vous plaît."
© 2017 Mel Minter