The latest releases from Tom McDermott and Chloe Feoranzo, and from Don Messina deserve consideration for the stockings of friends and family with eclectic musical tastes.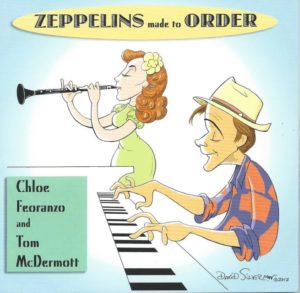 Tom McDermott and Chloe Feoranzo
Zeppelins Made to Order (Rabadash Records)
A review
On our last visit to New Orleans, in November 2016, pianist/composer Tom McDermott was singing the praises of reed woman Chloe Feoranzo with whom he had been gigging regularly around town. Unfortunately, we did not get to hear the duo live, but their new album, Zeppelins Made to Order (Rabadash Records), provides an excellent option.
We're in familiar McDermott territory here: older forms—ragtime, choro, boogie-woogie, trad jazz—that are refreshed, reinvented, overlaid, and turned lovingly inside out. It's done with a rakish sense of humor and an honest affection informed by curiosity and scholarship. So, for example, on "Brazil 1866" one of the six McDermott originals on the album, whose title plays off Brazil 66, the bestselling Sergio Mendes album, McDermott attempts to create what Brazilian music might have sounded like then, before the country developed its own native forms. In an email, he says: "According to my Brazilian musicologist friend Alexandre Dias, Brazil hadn't really developed its own music yet. But it did know [Louis Moreau] Gottschalk's music, and the music of Cuba. So it's not unlikely that people were writing music with habanera rhythm as demonstrated in this piece." (To my ears, it could have been cowritten by Randy Newman, who is one of the secret pleasures shared by McDermott and Feoranzo, and whose tune, "Losing You," makes an appearance on the album.)
Highlights include McDermott's "Curvìlineo," with its reeling, intoxicating piano line and nimble clarinet, and his whirling "Musette for Nanette," which induces a sort of musical vertigo not unlike what you get when you spin around quickly with your eyes closed. Joplin's Italianate "Rosebud March" is supercharged with James Booker–isms, and Ellington's "Everything but You" is graced with a lovely clarinet solo from Feoranzo. Her playing throughout has a rough-edged lyricism and immediacy that contributes significantly to the live, off-the-cuff feel of the album, as if it had been recorded at a gig at Buffa's. Her vocals have a similar quality, especially on "Mona Lisa" and "Everything But You." She may not rank among the cream of female vocalists, but her voice's sweetness and the stand-and-deliver quality of her vocals work well in this context.
Together, McDermottt and Feoranzo have a ball percolating through these old forms. It's hard to know what is more impressive, their sheer musicianship or their invigoration of the material, whose vivacity and resiliency are once again confirmed by these keepers of the flame.
P.S. Not content to be a top-flight composer and musician, McDermott is also a sketch artist and an addicted writer of limericks. His fine collection of limericks and sketches, Five Lines No Waiting, offers to the eye the same incisively off-kilter qualities that his music offers to the ear.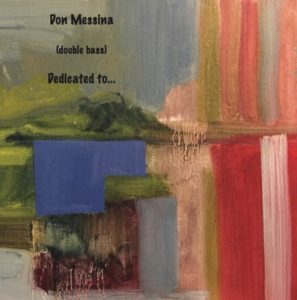 Don Messina
Dedicated to . . . (Cadence Jazz Records)
A review
On his latest release, Dedicated To . . . (Cadence Jazz Records), bassist Don Messina pays tribute to the bassists who have most influenced and impressed him, and the friends and colleagues who have enriched his musical life. Judging from the quality of Messina'a playing on this solo double-bass project, he has been an astute observer and a dedicated student.
Also obvious from this 15-track collection of standards, originals, and one Bach composition is Messina's deep feeling. He wears his heart unapologetically on his sleeve, drawing from this heavy, reticent instrument a nuanced and fluid expression of his feeling for the tributees. They range from world-renowned giants, such as Oscar Pettiford and Scott LaFaro, to lesser-known masters such as Eddie Safranski and Vinnie Burke, and Messina's extensive liner notes offer interesting background information on his personal connection to each.
He reserves his deepest feeling for the late pianist Connie Crothers, whom he remembers on "Reminds Me of You." On "Embraceable You," a tribute to Niels-Henning Ørsted Pedersen (NHØP), he expands the tune's harmonic landscape just two notes at a time, offering a short and entertaining course in double-stopped reharmonization. Speaking of double stops, "It's Always Sonny in Dallas" gives a skipping and playful nod to double-stopping master Sonny Dallas, and on "Uncle Vinnie," Messina breaks out a fat, dense tone in honor of Burke. "Three Flights Up," an earnest original dedicated to pianist Sal Mosca and saxophonist Jimmy Halperin, enters mystical territory, with Messina ruminating on the nature of inspiration and gratitude. Perhaps the most astonishing track is Messina's ode to LaFaro, "Bandmates," on which you can hear the rest of the band that isn't there. (Think I'm nuts? This article makes it clear that we can sometimes hear what isn't there.)
Messina took an interesting approach to recording the album. In five different sessions, he worked his way nonstop through the material in whatever sequence the tunes presented themselves that day, with no preconceptions on how to play them, not even the tempo. The listener is rewarded with an immediacy and freshness in the recording that reflects Messina's committed presence in the living moment.
© 2017 Mel Minter