This slideshow requires JavaScript.
Music can be put to many uses, from washing away the dust of everyday life, as Art Blakey put it, to stirring martial resolve on the battlefield. I submit that its highest calling is to expand our consciousness, elevate our spiritual awareness, foster compassion both for ourselves and others. That requires musicians of exceptional skill and daring who are willing to unmask themselves. The personnel of the two trios reviewed here—Kate McGarry, Keith Ganz, and Gary Versace; and Eric Vloeimans, Tuur Florizoone, and Jörg Brinkmann—meet all the requirements. The two albums—respectively, The Subject Tonight Is Love and Act 2—make excursions deep under the skin, into the heart of the matter.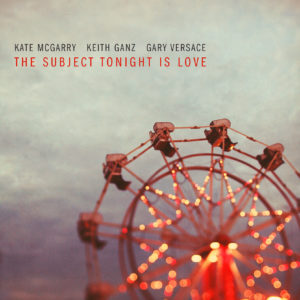 Kate McGarry, Keith Ganz, Gary Versace
The Subject Tonight Is Love (Binxtown Records)
A review
Vocalist Kate McGarry, guitarist Keith Ganz, and keyboardist Gary Versace have worked together in various combos for at least a decade, but their new release, The Subject Tonight Is Love (Binxtown Records), is their first release as a trio. The only disappointment is that it didn't come much sooner. The three each possess a formidable musical intelligence and a prodigious but transparent technique that allow them to freely communicate a deep well of feeling, and they always serve the moment and one another. In short, they are quintessential jazz musicians and artists of the first water.
Spacious, unhurried, and lucid, The Subject Tonight Is Love excavates layers of unsuspected meaning from the eight standards and sets the four thought-provoking originals in musical settings that show their multiple facets to best advantage. "My Secret Love" becomes a love letter to our innermost dreams, and "My Funny Valentine" an ode to self-acceptance. McGarry's original "Climb Down" coaxes, cajoles, condemns, and consoles her Irish ancestors—gathering all the complex dynamics of tribe and family in a clear-eyed and compassionate embrace.
Oh, and her voice, that guileless instrument that has, at times, a childlike vulnerability that just undoes you. Her openhearted vocalizations, supported by astute arrangements, discover unexpected channels in the changes, with free expressions of feeling instinctively calibrated with microtonal exactitude.
Ganz and Versace, as exceptional storytellers as McGarry, deliver sensitive and inventive accompaniments, and they shine on the instrumental sections. On "Gone with the Wind," they masterfully trade complex unison sections with sections of improvised duets. Some of the album's most musically arresting moments, though, come in the trio's freewheeling three-way conversations, as on "Playing Palhaço," the Egberto Gismonti tune equipped with new lyrics from Jo Lawry.
The album closes with a most fitting impromptu finale, a short, playful take on the Beatles' "All You Need Is Love," with a guest appearance from trumpeter Ron Miles. It's a delicious and celebratory bowl of ice cream, and it seals the deal on this complex, well-balanced, and exceptionally tasty 12-course feast for the ears and the heart and the brain.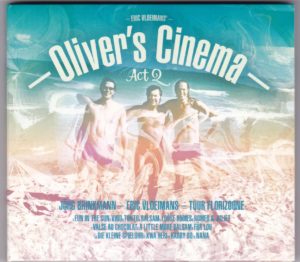 Eric Vloeimans' Oliver's Cinema
Act 2 (V-Flow)
A review
OK, I'm a little late—all right, a lot late—on this one, but I figure if an enthralled Vloeimans fan such as myself missed the second release from Eric Vloeimans' Oliver's Cinema, then some of the readers on this site might also have. Better late than never.
The oddly perfect combination of trumpet (Vloeimans), accordion (Tuur Florizoone), and cello (Jörg Brinkmann) known as Oliver's Cinema has indeed turned on the sonic projector for a second time, and the result, Act 2, is as stunning as the first effort. The trio inhabits a point where several musics—jazz, classical, world, musette, new age, folk—intersect in a sui generis cinematic genre. On Act 2, these three musicians from damp and chilly northern climes—the Netherlands, Belgium, and Germany, respectively—infuse this unclassifiable genre with the warmth of the Mediterranean sun.
The upbeat opener, Vloeimans' "Fun in the Sun," has a Latin flavor, and in his solo, Florizoone situates the tune on the beaches of northern Africa or southern Spain. The Mediterranean rises up again in Vloeimans' "Tonto," which is graced by a splendid pas de deux between trumpet and pizzicato cello, and in Brinkmann's "Valse au Chocolat," which seems to ride on a cushion of air and includes a lovely Brinkmann solo. Vloeimans' "Die Kleine Spieluhr" offers an impossibly beautiful melody in a slow waltz that features a most delicate accordion solo. Vloeimans' moody "Balsam" and "A Little More Balsam" dive into deep feeling, with Vloeimans' supple, breathy trumpet, which almost always carries a baroque coefficient, taking on a woody tone. "Loose Bodies," a Vloeimans and Brinkmann collaboration, swings playfully, featuring a short trip to the carnival and closing with a vibrant three-way improv. Perhaps the most arresting performance on the album—almost painful in its restraint—comes on Nino Rota's movie theme, "Romeo and Juliet," which harnesses beauty and tragedy as a summons to compassion.
Edgar Allen Poe wrote: "Beauty of whatever kind, in its supreme development, invariably excites the sensitive soul to tears." There is beauty aplenty in this album, and it may excite you to tears as it carries you on beachfront romps to haunts of ancient peace.
© 2018 Mel Minter