Pianist/composer Leslie Pintchik has done it again, turning out yet another elevating musical experience on her latest album, You Eat My Food, You Drink My Wine, You Steal My Girl! (available 2/23). The album's title comes from a snatch of overheard conversation on a Manhattan street, and its humor, underlaid with angst, perfectly suits the funky title track, a new Pintchik composition, which opens the album.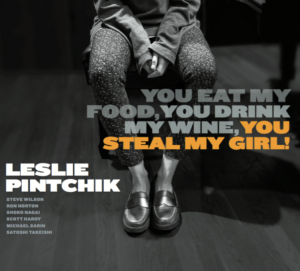 Leslie Pintchik
You Eat My Food, You Drink My Wine, You Steal My Girl! (Pintch Hard)
A review
Pintchik's writing and playing manage to be both complex and eminently accessible at the same time. Her lines—both the written and improvised varieties—have a fluid transparency that carries you irresistibly along her route and makes every surprise along the way feel as welcome as it does inevitable. There is such an immediacy and openness to her improvisations that you know she is surprising herself, too, following the music where it takes her rather than making the music follow her. (It reminds me of characters in a novel, who, as many novelists will tell you, determine their own fate.) Her refracted harmonies—you can hear the influence of Bill Evans, especially on "I'm Glad There Is You"—splash intricate, shifting patterns of color across these lines. There is all that, and we haven't even mentioned her wonderfully nuanced touch. She is equally nuanced when it comes to the rhythmic elements of her playing. She keeps things moving forward, with little pushes and pulls, accelerations and retards, that enliven the music. Check out her rhythmic touches on the lovely samba arrangement of "Smoke Gets in Your Eyes."
One quibble: As on her album In the Nature of Things, the piano sounds somewhat dampened to me, its brightness stifled. I wish we could hear the full range of frequencies.
Pintchik is backed by her longtime sidemen Scott Hardy (acoustic and electric basses and guitars; horn arrangements), who turns in a lovely dancing solo on "Smoke Gets in Your Eyes," Michael Sarin (drums), and Satoshi Takeishi (percussion). On two tracks, she is also joined by longstanding colleagues Ron Horton (trumpet, flugelhorn), whose solo on "Mortal," a revisited Pintchik original, simultaneously embraces and laments life's fragility, and the ever-intense and -melodic Steve Wilson (alto sax). Newcomer to the group is accordionist Shoko Nagai, who appears on two tracks.
The album is rounded out with four originals, one new and three that premiered on previous albums but which have evolved over time to the point that they required a fresh take, as did "Mortal." The brand-new "Your Call Will Be Answered by the Next Available Representative, in the Order in Which It Was Received. Please Stay on the Line; Your Call Is Important to Us" offers, with a Monkish touch, seriocomic program music for rising blood pressure. "Hopperesque" suspends us in anticipation and uncertainty, while the upbeat "Happy Dog" marries simplicity and depth. The album closes with "A Simpler Time," which Pintchik aptly describes as an "adult lullaby."
From the edgy opener to the balm of the closer, You Eat My Food, You Drink My Wine, You Steal My Girl! charms our attention and reminds us that clarity and accessibility are no impediment to deep feeling and satisfying jazz.
© 2018 Mel Minter