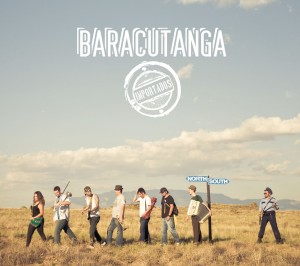 Baracutanga, Importados
A Review
You don't need to know a cumbia from a
festejo from a candombe to dig Importados, the first full-length album from Albuquerque's rhythm wizards, Baracutanga. A seven-piece band whose members come from as far north as Kansas and as far south as Bolivia, Baracutanga mixes South American rhythms in innovative ways, making unusual rhythmic combinations that might also include Middle Eastern and Cuban forms. They incorporate folkloric instruments, such as the quena, an Andean flute, and top it off with modern North American harmonies and instruments—electric guitar, vibes—to create a unique and highly danceable fusion.
The album's sheer musicality might come as a surprise to those who know the band only as a high-energy live act that fills the dance floor. Yes, you can play the album at high volume and dance till you drop, but you can also settle back in your easy chair and appreciate the
craftsmanship of the writing and arranging, the attention to detail, and the sonic textures. Recorded in four different studios in Albuquerque, Santa Fe, and Cadiz, Spain, the album
features more than 50 instruments and 25 musical styles, and just about every one of those
instruments and styles finds just the right place. Continue reading →