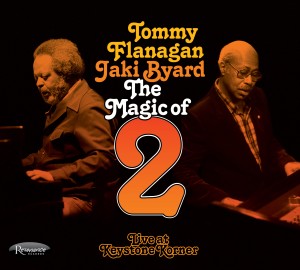 Tommy Flanagan and Jaki Byard
The Magic of 2 (Resonance Records)
A Review
Pianists Tommy Flanagan and Jaki Byard lived at different frequencies along the spectrum of jazz music. Flanagan, who was dubbed a "jazz poet" by critic Whitney Balliett, typically relied on fluidity, touch, and continuity. For many fans, he is best remembered as Ella Fitzgerald's accompanist, though he led his own trios and played on such iconic
recordings as John Coltrane's Giant Steps and Sonny Rollins Saxophone Colossus. Byard's style tended to the spiky and episodic, mixing an
encyclopedic collection of genres, and his best-known associations were with the fearless Charles Mingus and Rahsaan Roland Kirk.
Putting the two on the same bill could be an instructive and entertaining study in contrasts. Putting them on stage together in a jazz club could be just plain odd. But that is exactly what Todd Barkan, manager and programmer of San Francisco's legendary Keystone Korner, did in February 1982. Monster jazz musicians that they were, Flanagan and Byard made it work.
In general, the playing from both pianists is more spirited, rambunctious even, than thoughtful, with a careering, devil-may-care attack on their instruments and their improvisations. They play together on five tracks, and what makes it work is their commitment to swing, their shared
vocabulary, and the willingness and ability to move toward one another's style. So you have Flanagan muscling up a bit more than usual, and Byard connecting more dots than he
otherwise might. On Todd Dameron's "Our Delight," Flanagan makes the connection quite
explicitly, starting off his solo in a very Flanagan-like manner but ending up on the Byard side of the tracks.
The Charlie Parker warhorse "Scrapple from the Apple," finds a whitewater Flanagan flowing over Byard's rocky rhythmic bed, the two styles meshing nicely, and Byard takes his first of
several excursions down the stride path on his muscular solo. (The liner notes indicate who is playing when, which helps the ear identify what's happening, since the two pianos are not
separated by channel but inhabit a shared space.)
On "Satin Doll," Flanagan's solo seems to work judiciously from the inside of the tune outward, following a series of logical implications wherever they may lead. Byard works on the tune's edges, shaping and reshaping his solo from
different angles like a sculptor.
They also pair up energetically on Cole Porter's "Just One of Those Things" and Miles Davis's "The Theme," on which they trade fours with particular panache.
Each pianist takes three solos, which provide some of the highest points on the album. Flanagan pays homage to Billy Strayhorn on all three of his: a lyrically romantic "Something to Live For," a burly but swinging "All Day Long," and a near-impressionistic "Chelsea Bridge." Byard takes a percussive, angular attack on Stevie Wonder's "Send One Your Love," gentles with a stride-filled performance on the Jule Styne standard "Sunday," and adventures out on Chuck Mangione's "Land of Make Believe" with a thunderous left hand against a space-filled right hand.
Barkan's cassette tape recordings have been painstakingly restored by Resonance Records, a label that is taking a leading role in the release of historical jazz recordings, and while the sound is a bit heavy, it is also astonishingly nuanced. The nicely designed CD package features an illustrated 24-page booklet with superior notes from a host of notables—among them, jazz historian Dan Morgenstern, critic Howard Mandel, and pianists Renee Rosnes and Bill Charlap. There's also a digital download and a limited-edition two-LP set on 180-gram vinyl at 45rpm.
© 2013 Mel Minter. All rights reserved.