Myra Melford, Life Carries Me This Way (Firehouse 12 Records)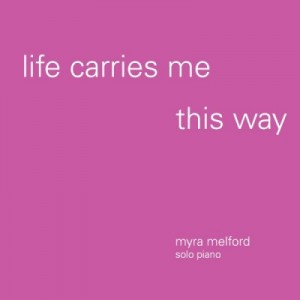 Pianist Myra Melford came through town
recently, appearing at the Outpost as a
member of drummer Allison Miller's group Boom Tic Boom. When she sat down at the piano, I wondered if all the piano teachers in the room were cringing, because her seat was set so low that she had to reach up to get her hands on the keyboard. Glenn Gould is the only other pianist I've seen who sits so low, but neither his nor Melford's expressive abilities seem to be compromised by the
unorthodox elevation.
I spoke briefly with her after the show, and shaking her hand, I was reminded just how diminutive she is. Her hands are quite small by
pianist standards, but that doesn't seem to get in her way, either. She brings a ton of
inspiration and information to the piano, and she has enough of a reach to get to some very interesting and unexpected places in your ear.
She confessed to being nervous about her new album, Life Carries Me This Way, because first, the subject matter is close to her heart, and second, it's her first solo recording. It's remarkable that so mature, inquisitive, thoughtful, and well-established an artist as Melford—a 2013 Guggenheim Fellow and Doris Duke Performing Artist Award winner—has never ventured into the studio alone. I'm glad she did, and she's got nothing to be nervous about.
The album was inspired, literally, by a group of paintings lent to her by the late artist Don
Reich, a longtime close family friend. Melford lived with the paintings for some months, waiting patiently for musical responses to begin crystallizing around the canvases, and crystallize they did. (The album title comes from a Reich painting owned by Melford but not included in the project.)
Reich did not dwell in a single genre. The 11 pastels in question, which are nicely reproduced in the pamphlet accompanying the CD, range from cubist works with a gruff solidity (Park
Mechanics) to diaphanous meditations (Curtain) to boldly colored abstracts (Disassembled Still Life). Melford, whose fingertips have access to an equally wide range of musical settings, seems a perfect match for the material. She moves from dense, thundering polytonal engines to open, unguarded melodies of sublime simplicity to syncopated and percussive abstract blues—whatever a particular painting evokes in her. It's nice to have the paintings to look at while
listening, but the music stands on its own.
Melford displays a nimble touch—the harplike sound at the opening of "Japanese Music" is
astonishing, as are the crystalline high notes in "Barcelona"—and an equally ferocious attack, as exhibited by the building block chords that begin to tower over your head in "Curtain." There's the shimmering, impressionistic heat of "Red Beach" and the stalwart soulfulness of a singing piano in "Red Land." Contrast that with the hard darkness and drunken harmonic high-wire walk of "Piano Music," and the brooding contemplation of "Moonless Night." In "Attic," Melford playfully teeters between stops and starts that suggest uncovered memories. Perhaps the most beautiful track is the last, "Still Life," a lyrical, consonant, hymnlike melody that
reminded me of Robin Holcomb.
One thing that's constant through all these various musical landscapes and still lifes and
abstracts is the unexpected. You never quite know where you're headed till you get there, and you feel that Melford is exploring right along with you—but you do get somewhere. Maybe more accurately: you are always somewhere.
I'd be hard put to tell you how much of the material is through composed and how much is
improvised. I'm reminded of jazz critic Whitney Balliett's comment about Monk: his
compositions are like frozen improvisations, and his improvisations are like molten
compositions. That would apply equally well to this album, and like Monk, Melford has the
ability to give the most abstract music a concrete physicality.
This is an album to sit quietly with and absorb, eyes closed, ears open.
© 2013 Mel Minter. All rights reserved.