The last time gregarious Dutch trumpeter Eric Vloeimans (pronounced Vlouie-mahns) came through Albuquerque, he brought his electronically supplemented quartet Gatecrash, which
delivered eloquent and funky kick-ass jazz at a fairly high volume. No louder than Vloeimans' wardrobe, though, which is as floridly splendid as anything Carnaby Street ever produced.
This time around, Vloeimans, as sartorially colorful as ever, enlists his stunning virtuosity in the service of a very different musical experience: Oliver's Cinema, a trio that also includes
Belgium's Tuur Florizoone on accordion and Germany's Jörg Brinkmann on cello, virtuosi in their own right, and which inhabits the other end of the volume spectrum. The three, who sound as if they've been together for years, draw on both original and popular compositions to produce
expressive, delicate, and uncategorizable chamber music played in the open air of jazz. Forget "third stream." This music blends several streams—from jazz with a folkloric memory, to
popular movie scores with a classical sensibility.
This Thursday at the Outpost, if their eponymously titled album (Buzz/Challenge Records
International) is any indication, Eric Vloeimans' Oliver's Cinema will unreel an evening of lyrical moving sounds.
Changing Taste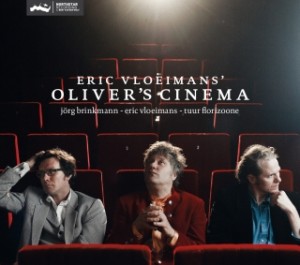 The classically trained Vloeimans held the
accordion in contempt for many years. "I
hated it so much," he says by way of Skype from his home studio in Rotterdam. "The
instrument was just connected to music that was stupid"—a repertoire he identifies in the album's liner notes as "commercial tripe and oompah . . .  waltzes for the elderly and circus drollery."
But somewhere over the last couple of years, Vloeimans heard some accordion players
producing a different kind of music, and he began to reevaluate the instrument's potential for interpreting his music. Driven by "some kind of intuition," he went searching for a simpático accordion player.
Over a pint of beer in a Belgian pub after a club date, Vloeimans asked the patrons if there was any good accordion player in Belgium. "Well, you want our Tuur," was the answer, and a
Florizoone disc was promptly cued up. Impressed, Vloeimans contacted Florizoone, and they agreed to meet and see what happened.
Their first time together, it was clear that they had something. "You know this already in 15
seconds that it's OK," says Vloeimans. "We started playing, and it was amazing, and I knew I'd met a brother, a new partner in crime." (Check out this video of the two improvising on a
Salvador Dali painting, music that shows up on the album as the Vloeimans composition "Les Vapes.")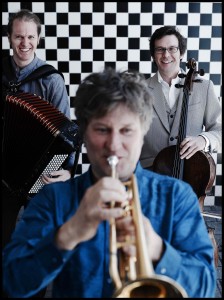 Like Vloeimans, Florizoone has a predisposition to
lyricism and a command of his instrument that allows him to plumb its grand expressive range—from the
delicate tweet of a songbird to the growling thunder of a pipe organ and everything in between.
They started playing quite happily as a duo, but Vloeimans thought, " 'I know this fantastic violin cello player from Germany'—I played with him quite a bunch of times, also duo—'I think those two people have to meet each other. This would be great.' "
Enter cellist Brinkmann, who brings the same level of
virtuosity and lyricism to his instrument, strumming, plucking, and bowing his resonantly expressive way into the heart of every musical moment.
Vloeimans, Florizoone, and Brinkmann met for the first time about two hours before their first public performance. Each brought some music, and they went at it. "I thought, 'This is so good. This is a new band,' " says Vloeimans.
He immediately went about searching for a name and came up with an anagram based on his own: Oliver's Cinema. It fit nicely, given that much of the music in the trio's repertoire has its roots in film: the themes from Cinema Paradiso and Rosemary's Baby; Florizoone's score for the documentary L'Amour des moules (Mussels in Love); and "Fellini's Waltz," an Enrico Pieranunzi composition inspired by the Italian filmmaker.
The Conversation
As unusual as this trio's instrumentation is, the timbres of the three blend amazingly well, sometimes so well that it is hard to identify them separately. A bemused but proud Vloeimans, who can hardly believe his good luck in putting the three together, laughingly calls it "a genius combination."
The trio plays, as most jazz musicians do, from a cryptic lead sheet with only the melody and chords. About 30 to 40% of the music heard is written out; the rest is improvised. The arrangements often involve two or all three of them soloing together, as opposed to the skein of single-instrument solos in a typical jazz group. Vloeimans likens it to a conversation, but one that requires extremely sensitive participants because it's a balancing act to stay on a truthful musical path.
"It's very small where the truth— The vibration is on a very thin course, where the music is very good or not so good at all," he says. "If you dare to jump— If you want to make the connection with somebody else— It's really making a
connection, really going into the sound of somebody else.
Really to dare. Exit your ego. Your ego can be very good in wanting to play your instrument very well, but maybe
sometimes the ego wants to play a high G on the trumpet or be very virtuoso, and the music doesn't ask for that. It's very interesting to play with people who can also let the music go its way, let the music exist . . . let the process show you the way and not want to prove something right away. Just let it be and see what there is."
What there is on every track of Eric Vloeimans' Oliver's Cinema is a rich expression of emotional depth and sublime musicality, and a daring playfulness in the service of beauty.
Eric Vloeimans' Oliver's Cinema
Thursday, October 16, 2014, 7:30 p.m.
Weil Hall at the Outpost Performance Space
210 Yale SE, Albuquerque
Tickets $20/$15 members and students
For tickets or more information, go here or call 505-268-0044.
© 2014 Mel Minter. All rights reserved.