A number of listeners were so captivated by pianist Virg (rhymes with urge) Dzurinko's solo album, Fun City (New Artists Records, 1999), that they wrote to the label asking how they could acquire the sheet music. They wanted to dive into the voluptuous shadows of "Swimming in the Dark," float in the tender luminosity of "Another City," with its final poignant dissonance. They wanted to see how she so completely transforms "Darn That Dream" over and over, and what makes her block chords go in two directions at once in "Quitting Time." They needed to get a look at the map for the prickly "Traffic and Weather Together."
Imagine their surprise—were Dzurinko to send it to them—when they discover that, except for the title at the top, the sheet music comprises blank page after blank page. That's because every track—9 standards and 12 originals—is entirely improvised from beginning to end.
What's telling in the requests for the sheet music is how coherent each of these tracks is in establishing feeling and narrative. For all their illuminated divagations, they sound as if they could have been written out or at least sketched out in advance. They're complete and beautiful. But until she sat down at the piano, Dzurinko had no more idea than the man in the moon what was going to happen.
But happen it did.
Writer manqué
Dzurinko never intended to be a pianist. Sure, she'd had lessons as a kid but didn't like them.
After majoring in English in college, she moved to New York City intending to be a writer. "For some reason, I bought a junky old piano," she says. Through a series of coincidences and friends, someone played for her some of Lennie Tristano's music.
"There was one track in particular—and I'm not alone in this by the way—"
" 'Requiem'?" she's asked.
"Yes."
"Requiem," Tristano's spare blues tribute to Charlie Parker, hit the sweet spot. "I thought, 'Gee, that sounds fantastic,' and I had it in my head that I could kind of play that because it seems very direct and simple. Of course, then I realized it was so very direct yet far from simple."
She discovered, much to her amazement, that Tristano was alive and living in Queens, New York. She couldn't bring herself to contact such a "mythological figure," but she did begin to study with saxophonist Lenny Popkin, a member of the Tristano community. Then she found her way to pianist Connie Crothers, "and that really locked me in to trying to figure out if I really wanted to do this or not," she says.
An adult with no academic musical training, she was not exactly the typical student. "I thought I wanted to be a writer, and one day, it occurred to me, 'Gee, I'm not writing anything, but I am playing the piano,' " she says with a laugh. She plunged into studying with Crothers. Although she never took a lesson with Tristano, she did consult with him, perform at his house, and play at his memorial concert (Lennie Tristano Memorial Concert, Jazz Records).
Her career includes countless gigs at New York watering holes and composing for documentary films, television, and animated cartoons (notably the song "Monsters Lead Such Interesting Lives," sung by Mel Tormé in the feature-length cartoon Night of the Living Duck). Meanwhile, like many of her colleagues, she supplemented her income with "a billion jobs," she says—typesetting (a job that both Crothers and pianist Carol Liebowitz also held), design, editorial work, and a stint at a stock photo agency.
Follow the first note
Dzurinko's improvised music—aka spontaneous composition, free improvisation—begins with an impulse, or maybe with a sound. She's not sure.
"So you have an instrument—right?—and it can make all these different sounds—right? You're a musician . . . so you've got a relationship with what your instrument can do," she says. "So you might want to play really loud—just go nuts. Or you might want to just have a feeling of mystery, or you might want to have a feeling of sadness or happiness."
Out of that impulse comes the first note, or maybe the first note excites that impulse. "It's a chicken and egg thing," Dzurinko says. "Does the sound create the feeling, or do you have a feeling that leads you to the sound. I don't really know."
What she does know is that she just follows one sound to the next. Where that next sound comes from, she can't say. There is a logic to it, perhaps not a rational logic, but a feeling logic. "Connie says it's prerational," she says. "You're not thinking about what you're playing. You're pulling from somewhere else."
It requires an altered state of mind, which Dzurinko believes is true of any kind of artistic expression, as well as a profound trust in the connection to that creative state and in your fingers. "You let it take you where it's going to take you," she says.
She knows that the phrase "free improv" just means "a bunch of noise" to many people, but she also knows that when she is connected to that creative state, which may not always happen, the music has a logic that commands attention.
When improvising on standards, the approach is much the same, but Dzurinko tethers herself to the tune's foundation—its 32-bar structure is running through her head—and her feeling for the song, which is what she wants to express. That may require stating the melody or not, or perhaps breaking away from the structure along the way and returning to it later. She really likes a groove, she says, and that helps keep her rooted in the tune, no matter how far out she might go.
Doubling the trust
Composing spontaneously with another musician requires another level of trust altogether and a connection to another set of sounds, another set of impulses. On her latest album, the profoundly satisfying Undertow, Dzurinko pairs up with the astonishing trumpeter Ryan Messina to spontaneously improvise on seven standards, plus an alternate take on one of them, and six originals.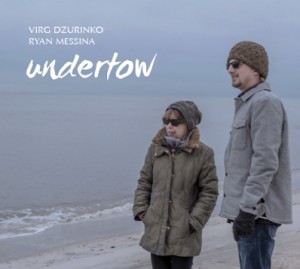 Their freewheeling conversation ranges from the sublimely lyrical to the viscerally Rabelaisian, and it addresses everything from the tenderest of feelings on tracks such as "Out of Nowhere" to the most outrageous aggravation, in a deeply humorous way, on "St. Elmo's Fire." The playing is intense and relaxed at once, completely un–self-conscious. They connect on some prerational plane that must be terrific fun to play on. Their absolute command of the full range of their instruments' capabilities allows them to reach into the deepest interstices of human feeling, exciting wonder, surprise, laughter, and contemplation. (Messina's trumpet is a funhouse of sound.)
Undertow pulled me completely under the spell of these two musicians, completing the work that Fun City began and confirming Dzurinko's standing as one of the more inventive, sensitive, and expressive musicians on the planet.
Interlace I and II
Thursday and Friday, May 5 and 6, 7:30 p.m.
Weil Hall at the Outpost Performance Space
210 Yale SE, Albuquerque
Tickets $20, general admission/$15, members and students
$35, two-night pass/$25, two-night pass, members and students
For more info and tickets, go here or call 268-0044.
Program details can be found here.
Up next: "Bill Payne and Carol Liebowitz's 'Movie Music.' "
© 2016 Mel Minter. All rights reserved.