On February 19 at the Indian Pueblo Cultural Center, the magical trio hONEyhoUSe—Mandy Buchanan, Yvonne Perea, and Hillary Smith—will celebrate the release of their live album, Raw Honey. It's a double shot of hONEyhoUSe love: a live concert, all but guaranteed to lift the spirit and open the heart, and a new album that captures the special energy of their live performances and cements their standing as one of the finest singing/songwriting groups in the country today.
Look, I can't even begin to feign objectivity about this album. Before the third track ended, I had tears of joy running down my face. That's pretty much the same reaction I had on April 17, 2016, at the two hONEyhoUSe concerts at the Outpost Performance Space in Albuquerque, where the album was recorded. Raw Honey offers 18 tracks, with 13 favorites from their three studio albums—Sun, Medicine Lodge, and Sweep—with a couple of tweaks to the harmonies, and 5 previously unreleased tunes, including one from their Nashville collaboration with Grammy-nominated singer/songwriter Roxie Dean.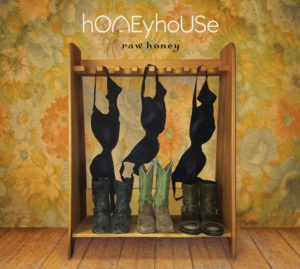 That tune, "Catch Us," features another of the signature hONEyhoUSe choruses, with a delicious three-part harmony, that sticks in your head the first time you hear it. The audience had it by heart the second time it came around. The trio's very different voices blend so perfectly that it sounds almost like a single voice refracted by harmony. Another new release, "Under the Light," adds to the list yet one more chorus with that irresistibly uplifting harmony.
The hONEyhoUSe magic derives, in part, from the blending of different musical genres, often stereotyped with different cultural backgrounds. Country, blues, gospel, soul, funk, Americana, rock and roll—these three ladies make all these tribes work together harmoniously. In these times, this is an accomplishment worth noting. Country tunes are seasoned with a touch of gospel ("Under the Light"), and soul tunes are graced with country harmonies ("Catch Us").
hONEyhoUSe sends an authentic message of hope and redemption, and we know from the songs that these have been hard won by all three ladies. They own it because they've struggled through self-doubt, loved ones who passed on too early, and faithless lovers to achieve it. We believe it because they don't spare themselves or others in their songs, telling the self-righteous to take a hike ("Sweep"), admitting their own shortcomings ("Conquer the World" and "Perfect Mess"), speaking plainly to lovers who've disappointed ("I Can't Wait"), and owning their self-
inflicted romantic disasters ("Notch").
Through all of these trials, they find their way to affirmation, reveling in their self-worth ("Helicopter"), their self-sufficiency (Closet Space"), their resilience ("Fearless"), and their faith and hope ("Catch Us" and "Big Life"), and taking the time to lend a hand to others ("Beautiful You" and "On and On").
The audience at the Outpost got the message. The album opens with a lusty cheer from the approximately 160 souls in the audience as the band takes the stage, and the audience never quits, singing along with the songs they know and cheering the new ones. They are most present in their spellbound silence as Smith dives into calendar-sharpened heartbreak on "I Can't Wait"—you can feel them holding their breath. The audience also closes the album, harmonizing en masse with the trio on the chorus of "On and On," which has become a sort of hONEyhoUSe theme song. Kudos to Andres Martinez, Kirk Brown, and John Wall, who are responsible for the very live sound.
The trio, who were all in excellent voice on the day of the concert (Uh, Mandy, holy mackerel, that was one looong, HIGH note you held on "Rio Grande"), is ably assisted by bassist Danielle Andrade and percussionist Dianne De Leon, with a tasty guest appearance from saxophonist Glenn Kostur. Perea provides the only other instrumentation, and she is a force to be reckoned with on rhythm guitar. She keeps things aboiling.
If you weren't at the concerts, Raw Honey gives you a chance to attend, and if you were, the album will refresh the very happy memory you have. If you don't know hONEyhoUSe, this will be a good place to start.
hONEyhoUSe CD Release Party for Raw Honey
Sunday, February 19, 1:00–4:00 p.m.
Indian Pueblo Cultural Center
2401 12th St NW, Albuquerque
Tickets $20, general admission
For tickets, go here.
© 2017 Mel Minter. All rights reserved.