In his memoir, Good Things Happen Slowly: A Life In and Out of Jazz, award-winning pianist and composer Fred Hersch chronicles his ongoing journey of self-discovery both as a musician and a man. In particular, it's the account of a gay man coming to embrace his sexual identity amid cultural upheaval and the devastation of the AIDS epidemic, and struggling to align his artistry with his self in the testosterone-heavy atmosphere of the New York jazz scene. It's not always a pretty story—Hersch addresses his shortcomings and weaknesses with the same honesty he applies to his strengths—but it is often fascinating.
Hersch did not start out to become a world-class jazz artist or a gay rights advocate or an AIDS activist. A privileged and musically gifted child of a prominent Jewish family in Cincinnati—as arrogant as he was insecure, and deeply closeted—he drifted aimlessly toward a career as a classical pianist before deciding that was not what he wanted. Besides, Vladimir Horowitz already had that gig down pat. Hersch wasn't interested in becoming the next Horowitz, even if he could. He wanted to be Fred Hersch, but who was that?
Back home in Cincinnati, on a winter break from his incomplete freshman year at Grinnell College, Hersch got a taste of who that was when he worked up the courage to ask to sit in with an accomplished local jazz quartet. The experience led to a liberating epiphany: "In jazz it's individuality, not adherence to a standardized concept of excellence, that matters most. With this music, musicians are completely free to be themselves within the tune. Difference matters—in fact, it's an asset, rather than a liability. . . . In jazz, difference is the key element that makes artistry possible."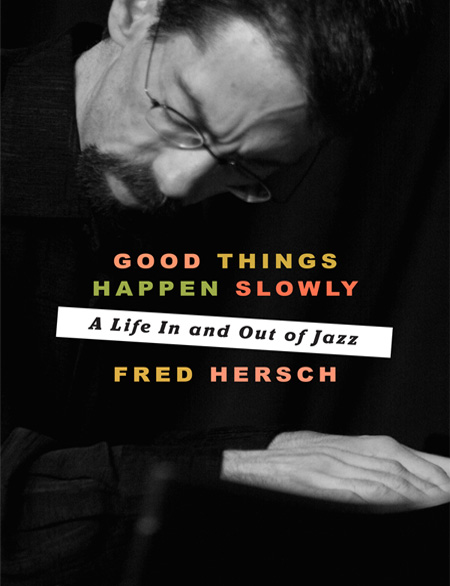 Hersch offers a detailed map of his path through the music business and his development as a player and composer—from his first New York gig, which paid him a paltry but oh-so-sweet seven dollars; through his gigs at the acoustic jazz mecca Bradley's, where we see Art Blakey hitting on an NYU coed at the bar; to his stint as recording entrepreneur in the studio he built in his illegal downtown loft; and through his relationship with various labels and through his increasingly ambitious projects. He notes that he was at the tail end of the last generation of players who learned their craft on the job (though he also graduated from New England Conservatory), and he relates the insights gleaned from the jazz greats with whom he rubbed shoulders. (A lesson he got from saxophonist Joe Henderson stuck with him: "If you feel it, it's right. If you think it, it's probably not right.")
He offers an equally detailed map of his path from closet to pride, from sexual promiscuity to a loving, long-term relationship, and from health to near death and back again. In one telling episode, as Stan Getz arrives for a session at Hersch's studio, Hersch realizes that his partner's toothbrush is beside his in the bathroom and frantically rushes to hide it. After the session, he decides this behavior has to stop. It's the beginning of the end of life in the closet, and Hersch ultimately finds that his openness about who he is has a profoundly positive effect on the music he creates.
AIDS nearly killed Hersch, who was put into a medically induced coma in the successful attempt to save his life. The disease, for a time, robbed him of control of his body and his ability to work, but he marks that coma as "the B.C./A.D. point of delineation in my history as a man and as a musician." His laborious recovery from the "dark tyrannies" of the disease brought with it "a deeper sense of myself as well as a heightened appreciation for the gift of the opportunity to make music." Hersch stopped micromanaging his improvisations, became more forgiving of his errors, and found that he had escaped the "internal judgmental chatter" that had accompanied his public performances.
The coma also produced one of Hersch's signal works, My Coma Dreams, a hybrid performance/multimedia work that he identifies as "jazz theater." (One tune from that project, "The Orb," opens Hersch's latest album, Open Book, a companion to the memoir, reviewed here.)
In the memoir as in his playing, Hersch reveals himself as a sensitive but strong-willed individual who, with luck, courage, and self-acceptance, has turned his musical gifts into deeply personal, expressive, and enduring works of art, and himself into a fervent advocate for AIDS education, services, and research. As the book and the album Open Book demonstrate, Fred Hersch has found a path that leads to himself, and to all of us.